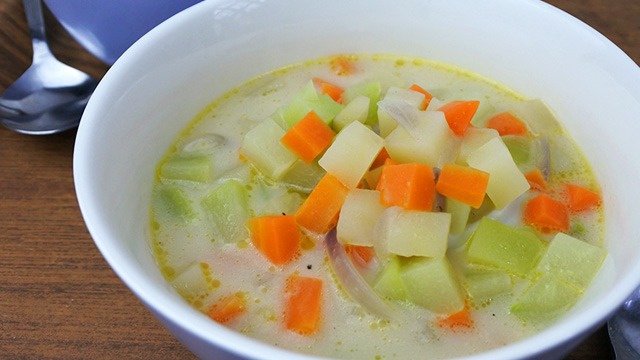 What's more Pinoy than the sopas? The milky soup chockful of macaroni, cubed vegetables, and shredded chicken is one of the most familiar comfort food. So, when it comes to a vegetable soup that every Pinoy will love, we have to make it as delicious if not more delicious than the sopas.
This easy vegetable soup has all the flavors of sopas, including the milky soup, but instead of the usual ingredients, it's loaded with vegetables. You can use any kind of vegetables you want, too, because you still get a hearty and comforting bowl that makes you think of home.  
READ THESE: MORE VEGETABLE SOUP RECIPES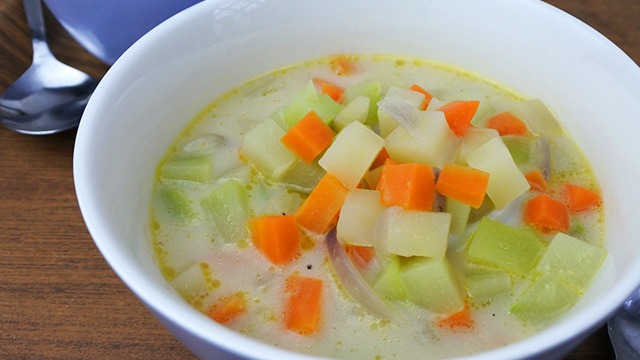 Easy Pinoy Vegetable Soup Recipe
This all-veggie soup tastes like sopas!
Ingredients
Easy Pinoy Vegetable Soup Ingredients
2

tablespoons

salted butter

1

medium

red onion

peeled, sliced

1

large

carrot

peeled, cubed small

1

piece

sayote

peeled, cubed small

1

medium

potato

peeled, cubed small

1

liter

water

2

pieces

chicken bouillon cubes

or any flavor as desired

1

154-ml can

evaporated milk

ground black pepper

to taste

Salt

to taste
Instructions
In a small pot over medium heat, add butter. Once butter is melted, add onion, stirring to prevent sticking. Cook until aromatic.

Add carrots, sayote, and potatoes. Stir to combine. Pour in water and add the bouillon cubes. Bring it to a boil and then lower heat to a simmer. Cook until the vegetables are tender.

Pour in evaporated milk and stir to combine. Season with salt and ground black pepper. Serve while hot. READ THESE: MORE VEGETABLE SOUP RECIPES Laswa (Vegetable Soup) Recipe Utan Bisaya Recipe