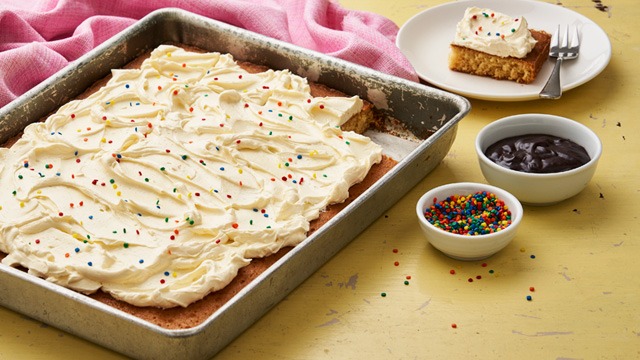 There are many easy cake recipes you can make but this is one vanilla cake recipe that doesn't require a special cake pan. In fact, you don't even need a cake pan for this recipe and that's what makes this a wonderful and easy cake recipe.
It's called a sheet cake. 
Sheet cake recipes are the easy and no-fuss cakes for parties since once it's baked, you just dollop frosting on top, decorate as desired, and it's done! 
We used a brownie pan to make this, and it's paired with an equally easy buttecream recipe that's light and not-too-sweet, too. You can also use your favorite frosting recipe so your vanilla sheet cake can be the star of the party. Top it with sprinkles, drizzle with melted chocolate, or leave it as is with pretty swirls of frosting for a truly festive cake you can share.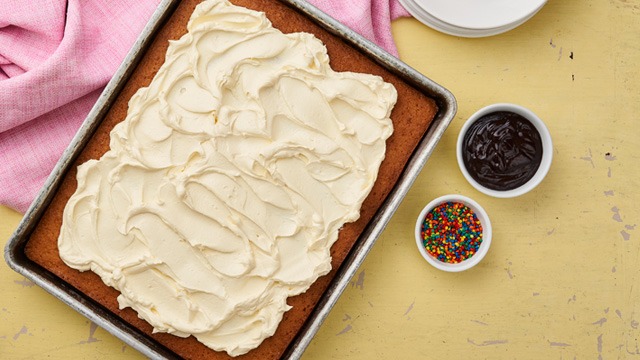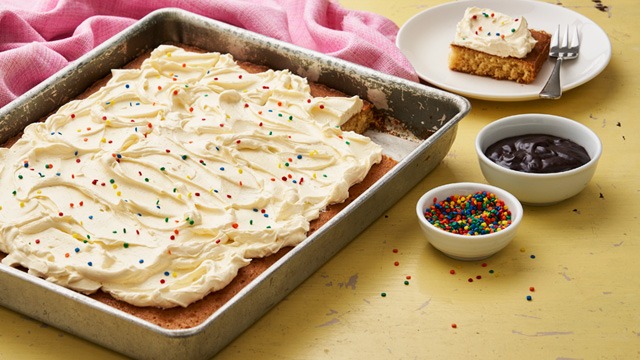 Easy Vanilla Cake Recipe
This is the easy vanilla cake recipe every party needs.
Ingredients
Easy Vanilla Cake Ingredients
1 1/2

cups

all-purpose flour

1/2

tablespoon

baking powder

1/2

teaspoon

Baking soda

1/2

teaspoon

Salt

1

Cup

fresh milk

1

tablespoon

Vinegar

3/4

Cup

unsalted butter

softened

1

Cup

sugar

2

large

eggs

1

tablespoon

vanilla flavoring

2

large

egg whites

2/3

Cup

sugar

1/2

teaspoon

Salt

1

Cup

unsalted butter

cubed, softened

2

teaspoons

vanilla flavoring

Assorted sprinkles

Optional

melted chocolate

Optional
Instructions
In a large bowl, sift flour, baking powder, baking soda, and salt. Set aside. In a measuring jug, mix fresh milk and vinegar and stir to combine. Set aside for at least 5 minutes.

Preheat oven to 350 degrees F (180 degrees C). Lightly butter and line with parchment the bottom of a 9 x 13 -inch baking pan. Set aside.

In the bowl of a stand mixer, beat butter and sugar together until light and fluffy. Add and beat in eggs, one at a time, followed by the vanilla flavoring. Gradually add flour mixture alternating with the homemade buttermilk. Mix only until blended.

Pour into the prepared baking pan, and spread until the batter reaches all the edges of the pan. Tap the pan lightly on the counter gently to release any bubbles.

Bake in the preheated oven for 30 minutes or until a skewer inserted in the cake emerges clean. Cool completely on a wire rack.

While the cake bakes, make the vanilla buttercream: In the stainless steel mixing bowl of the stand mixer, combine egg whites, sugar, and salt. Place over a gently simmering pot of water and gently mix constantly using a silicone spatula until the sugar has dissolved and the egg whites are fully warmed. (You can use a thermometer; pasteurize the egg whites until its temperature reaches 70 degrees F or 21 degrees C.)

Place in the stand mixer and using the whisk attachment, whisk the warmed egg whites until it forms a meringue with stiff peaks and has cooled to the touch. Add one tablespoon softened butter at a time, whisking until each has been mixed in before adding the next cube. Once all the butter has been added and mixed in, add vanilla flavoring and whisk until light and fluffy.

When ready to serve, top sheet cake with buttercream frosting using an offset spatula or a spoon. Decorate as desired with sprinkles, melted chocolate, or leave plain. Slice into squares and serve.