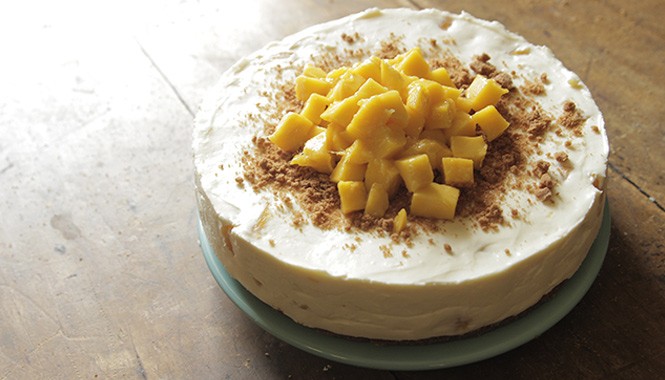 This stunning dessert is easier to make than you think! This cheesecake may look intimidating to make but at the center of it all, it's really all about mixing delicious ingredients together to create it. The ingredients alone tell you it's a delicious one to try. Even the crust is not your usual! The cream cheese alone may be enough of a lure, but those who want to level up their cheesecake game will want to try it mixed with white chocolate. Instead of plain sugar like you normally would add to a cheesecake, the white chocolate delivers more than just sweetness. It's milky, too! Since it's also got cacao butter in it when it was solid, this helps the cheesecake set firmer, similar to what gelatin would do. Plus, the little extra butter that's also added helps, too. To truly make this cheesecake irresistible, especially to Filipinos, sweet Philippine mangos are folded into the cheese mixture, too, so you get a dose of a fruit flavor that compliments the tangy flavor of the cream cheese as well as gives a fresh contrast to the creaminess of the milky ingredients. Top it off with more crushed cookies and mangoes to make it appetizing and you've got a dessert worthy of any buffet table or gathering you plan to serve it.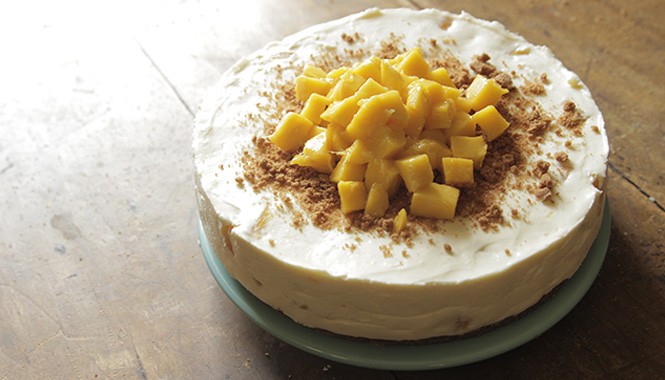 Easy White Chocolate Mango Cheesecake Recipe
Level up your cheesecake game with this mouth-watering combination!
Ingredients
Easy White Chocolate Mango Cheesecake Ingredients
2

cups

Graham Crackers Crumbs

2

teaspoons

Ground Ginger

1/2

teaspoon

Salt

1/2

Cup

Unsalted Butter

2

227-gram packs

Cream Cheese

3/4

Cup

Heavy Cream

3 1/2

cups

White Chocolate

1/2

Cup

Unsalted Butter

1 1/2

cups

Mango

1/2

Cup

Mango
Instructions
Grease and line the sides and bottom with parchment paper an 8-inch round cake pan with a loose bottom or a springform pan. Set aside. 

Crush biscuits or cookies into a fine crumb using a food processor or using a resealable bag or kitchen towel using a rolling pin. Transfer to a bowl.

Add ground ginger, salt, and melted unsalted butter. Stir until the mixture resembles wet sand. Transfer the biscuit mixture into the prepared pan. Pat the mixture down evenly onto the bottom of the pan to create the cheesecake base. Chill until ready to use. 

In a separate bowl, add cream cheese and beat using an electric whisk or stand mixer until smooth and creamy without any lumps, about 2 to 3 minutes. Alternatively use a wooden spoon, silicone spatula, or a large whisk to cream the softened cheese until smooth.

Add heavy cream and whisk until soft peaks form. Add melted and cooled white chocolate to the mixture. Mix until well combined. Add the melted and cooled unsalted butter and mix until incorporated and smooth.

Add diced mangoes and gently fold into the cream cheese mixture until blended.

Pour cream cheese mixture into the prepared cheesecake base. Smooth the top of the cake with a spoon or offset spatula. Chill the cheesecake overnight or at least 3 to 4 hours to set completely.

Once chilled and set completely, remove the cake from the pan and discard the parchment paper. Smooth the sides if desired for a better presentation. Top with more crushed biscuits and top with another 1/2 cup mangoes, diced. Keep and serve chilled.