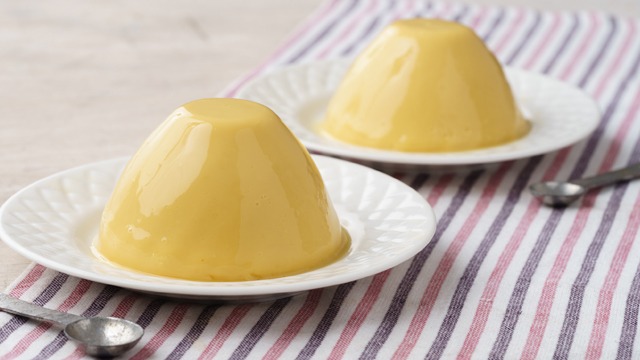 This gelatin is a cross between a leche flan and panna cotta, giving you spoonfuls of creamy, milky, custardy goodness. This egg pudding is a pleasant, cool treat to eat as is, or scoop into your homemade milk tea for the perfect sinker.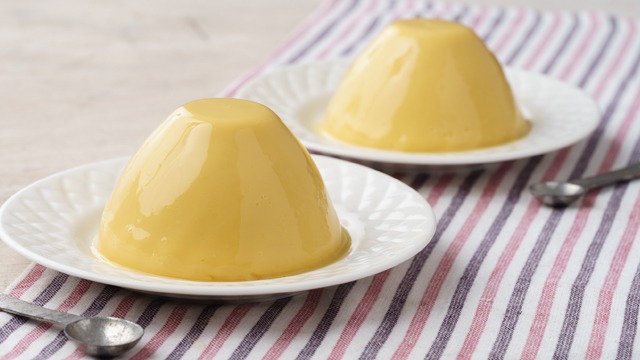 Creamy Custard Egg Pudding Recipe
Melt-in-your-mouth creamy goodness!
Ingredients
Creamy Custard Egg Pudding Ingredients
5

large

egg yolks

1

Cup

evaporated milk

1/2

Cup

hot water

10

gram-pack

unflavored gelatin powder

1/4

Cup

white sugar

1/2

teaspoon

vanilla flavor

1

teaspoon

vegetable oil
Instructions
In a bowl, whisk five egg yolks and set aside, near stove. In a small saucepan, simmer evaporated milk over medium-low heat. When it begins to simmer, immediately take off the heat and gradually pour into the egg mixture while whisking. (This will temper the eggs.)

In another bowl, briskly whisk hot water and gelatin together. Once smooth, add in sugar and whisk until smooth. Add in the egg mixture and vanilla, then stir together with a spoon. Set aside.

Lightly oil a gelatin mold. (You can choose cups, a big bowl or a small Bundt pan.) Gently pour in the gelatin mixture through a fine sieve and into the mold. (The sieve will strain out any clumps of gelatin, unwanted egg solids, and minimize bubbles.)

Cool the gelatin down at room temperature for 30 minutes before putting in the freezer, covered for 3 hours and 30 minutes. (If you have more time, place in the refrigerator.)

To unmold, run a knife around the sides or place upside down on a plate and use a hot damp towel to warm the container. (This will help release the gelatin from the mold.) Keep refrigerated until ready to serve.