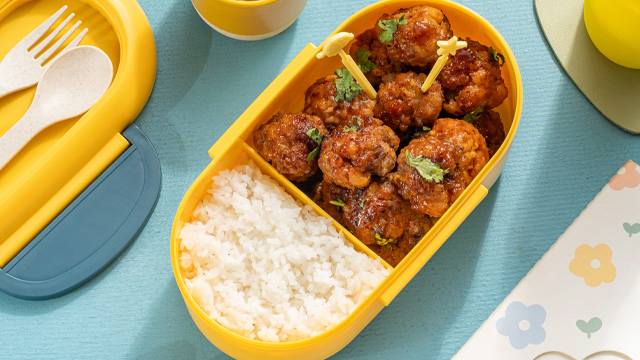 Sweet and sour meatballs is a classic sauce for Pinoy-style meatballs. Why not swap the sauce for one that we love just as much or even more: Filipino style barbecue sauce? 
What Is Filipino-Style Barbecue Meatballs?
The Filipino-style barbecue sauce of these meatballs is a sauce that is unique because of not one but two ingredients: the lemon-lime soda and banana ketchup. The soda together with the calamansi juice, another classic Filipino barbecue ingredient, is said to help tenderize the meat as it marinated but for this recipe, there's no need to tenderize the pork.
The meatballs are instead made tender with the addition of some bread crumbs while the marinade is turned into a delectable sauce you'll want to use for more than just meatballs.
How to Serve Filipino-Style Barbecue Meatballs
Here are other ways to enjoy serving this dish beyond the dinner table:
Make smaller and serve as appetizers: Providing appetizers is just a common courtesy for hosts, and this meatball recipe is one you should make. Just form the balls smaller so they're bite-sized. 
Add to spaghetti: Who doesn't love a good spaghetti and meatballs meal? We do and we bet you do, too. However, while these meatballs do have a sauce, the wonderful thing about it is that it can be added to tomato sauce to make a sweet style spaghetti with a twist. 
How To Cook Filipino-Style Barbecue Meatballs
The most important part of this recipe is the sauce. You can grab ready-made meatballs from the store or palengke but the sauce is something else that needs to be homemade. It just tastes better! Plus, it's super simple to make. 
To make the sauce, just dump all the ingredients into a saucepan and simmer until thickened. That's it! 
The meatballs meanwhile can be store-bought or you can make this version that uses breadcrumbs to make them more tender but also give them another reason to become toasted.
You can make either of these two components beforehand and just combine when ready to serve. 
Tips To Make Easy Filipino-Style Barbecue Meatballs
1 Use store-bought meatballs and barbecue sauce. 
There is no shame in buying ready-to-cook or eat products. No need to worry about making them from scratch if you do not have time. Just as stated, the meatballs can be store-bought. Just cook or reheat the meatballs and add to the sauce and voila! No one will ever know. 
2 Make the sauce ahead of time. 
The barbecue sauce is easily doubled so you always have this sauce on hand, ready to drizzle onto meatballs.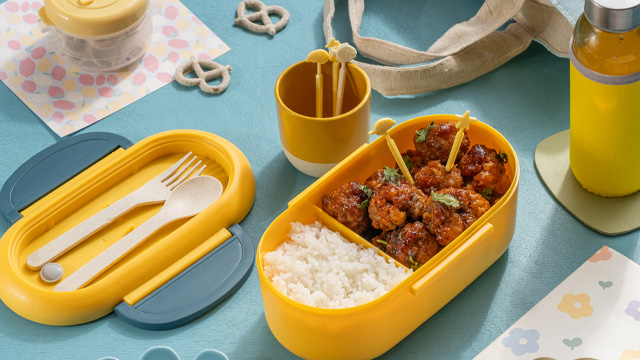 Filipino-Style Barbecue Meatballs Storage Tips
These meatballs an sauce can be refrigerated and frozen.  
The meatballs can be frozen as soon as they're formed! In fact, you can even half-cook the meatballs, cooking them at a lower heat and only until the centers are cooked through. No need to brown just yet if freezing. 
ADVERTISEMENT - CONTINUE READING BELOW
Recommended Videos
The barbecue meanwhile can be refrigerated in a bottle or jar until you're ready to slather it on something tasty.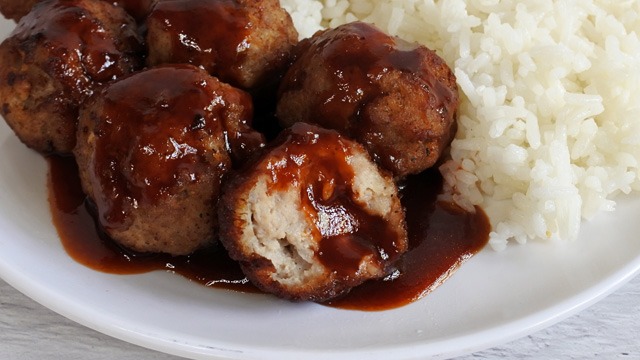 Filipino-Style Barbecue Meatballs Recipe
Ditch the sweet and sour sauce. Serve it with barbecue sauce!
Ingredients
Filipino-Style Barbecue Meatballs Ingredients
1/4

Cup

lemon-lime soda

Sprite or 7-Up

1

teaspoon

fresh calamansi juice

1/3

Cup

brown sugar

1/4

Cup

banana ketchup

1/4

Cup

Tomato sauce

2

tablespoons

Soy Sauce

3

cloves

Garlic

peeled, finely chopped

1

Cup

fresh breadcrumbs

from 1 large pandesal

1/4

Cup

water

1/2

kilo

ground pork

1/2

medium

red onion

peeled, finely chopped

1 1/2

teaspoons

Salt

or to taste

1/2

teaspoon

ground black pepper

or to taste

cooking oil

for deep frying
Instructions
Combine soda, calamansi juice, sugar, banana ketchup, tomato sauce, soy sauce, and garlic in a small saucepan. Place over medium heat and bring to a boil. Lower heat and simmer until thickened, about 4 minutes, stirring. Remove from heat and set aside to cool until ready to serve.

Meanwhile, in a small bowl, mix together fresh breadcrumbs with water. Set aside to soften, about 2 minutes. In a large bowl, combine ground pork, onion, salt, ground black pepper, and softened breadcrumbs, and mix well. Test for seasoning by cooking a small piece, adjusting seasoning to taste as needed, before forming into balls. (We made 1-tablespoonful-sized balls, around the size of ping-pong balls.) If desired, freeze formed balls. Thaw before cooking.

When ready to cook, heat enough oil in a small saucepan for deep frying. Once hot, add meatballs in batches into the hot oil and cook until cooked through, about 4 minutes. Remove from the oil using a slotted spoon. Repeat with remaining meatballs. Serve while hot with the homemade barbecue sauce.
Try These Other Yummy Recipes: