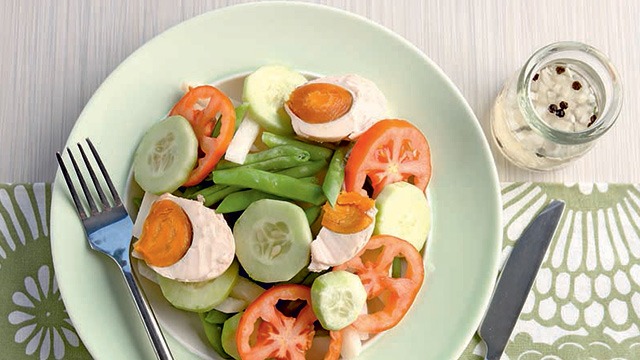 Try this easy Filipino vegetable salad recipe: Toss everything in a simple vinaigrette and enjoy the sweet, fresh veggies.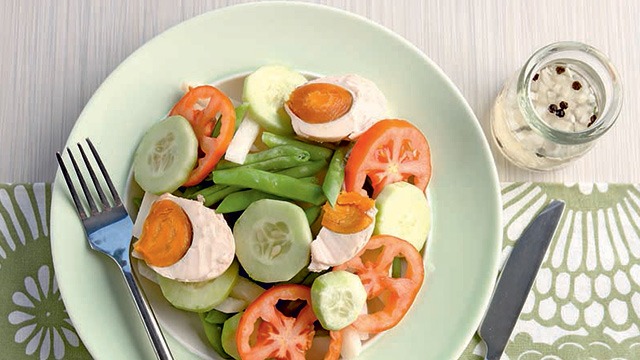 Filipino Fiesta Salad
Toss everything in a simple vinaigrette and enjoy the sweet, fresh vegetables.
Ingredients
Filipino Fiesta Salad
250

Grams

string beans (sitaw)

strings removed on both sides and ends trimmed

1

80- to 150-gram piece

jicama (singkamas)

peeled and julienned

1

medium

Cucumber

peeled and sliced thinly

3

Salted Egg (itlog na maalat)

sliced into 6 to 8 pieces

3

Salad Tomatoes

sliced thinly

1

Cup

water

1/4

Cup

sugar

1/3

Cup

white vinegar

1/2

teaspoon

black pepper

cracked

1

tablespoon

fish sauce (patis)

1

teaspoon

Soy Sauce

3

tablespoons

onion

finely chopped

1

Small

red chili pepper (siling labuyo)
Instructions
Blanch beans in a pot of boiling salted water. Before water boils again, remove beans and immediately plunge in a bowl of iced water. Let rest for a few minutes; drain. (This will keep the beans green and crunchy.) Place in the refrigerator.

 

Immerse jicama in salted water for 5 to 10 minutes. Set aside.

Assemble the salad: place beans on a platter. Top with drained jicama, cucumber, salted eggs, and tomatoes, making sure that all ingredients are evenly distributed. Cover and refrigerate.

Make the vinaigrette: Combine water and sugar in a saucepan. Let boil until sugar melts. Remove from heat and let cool. Add vinegar, pepper, fish sauce, soy sauce, onions, and chili (if using) to the cooled syrup; mix until well combined. Season with more soy sauce, fish sauce, and pepper, if desired.

Drizzle vinaigrette over salad right before serving.