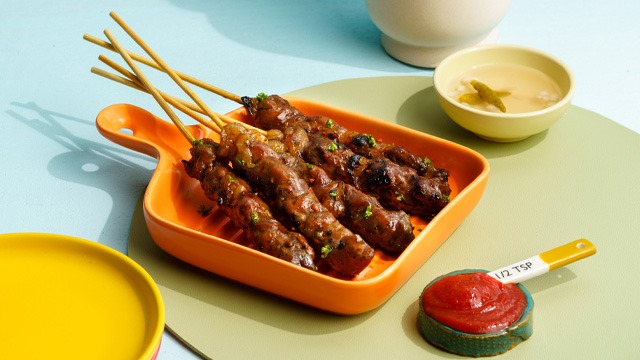 This is one of your six favorite recipes! This August, we celebrate the top recipes you love on Yummy. The barbecue that we all know and love is a unique mix of sweet, spicy, and a little tangy. This version amps up the heat with sriracha. 
How do you make Filipino pork barbecue?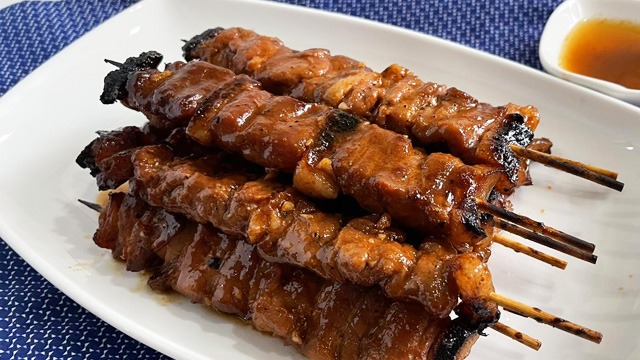 The secret to tender and juicy pork barbecue skewers is in the marinade. It's a delicious combination of ingredients that not only impart its flavor to the meat but also tenderizes the meat so it's ready to put on the grill sooner than later. 
Two ingredients, in particular, are responsible for getting that meat tender: calamansi juice and lemon-lime soda. Calamansi juice is a natural acidic ingredient while lemon-lime soda, whether it's Sprite, 7-Up, or any lemon-lime flavored soda, contributes more flavor along with its tenderizing properties from the citric acid.
Why add both ingredients and not just one or the other? It's all about how these two ingredients work to make our pork barbecue tender. You can certainly add calamansi juice only but you might need more to get it working for that amount of meat, making your marinade sour. To avoid that, use soda in place of that extra calamansi juice. Soda is not as acidic as calamansi juice, and thus, soda won't cook the meat when you add it but still acts as a tenderizer at the same time. This is great news since you won't have to squeeze more calamansi fruits than you need. 
For those who enjoy some heat, the sriracha in this barbecue marinade delivers it without making you break out into a sweat. Combined with the sweet-spicy flavors of the banana ketchup, this is one pork barbecue marinade few will be able to resist!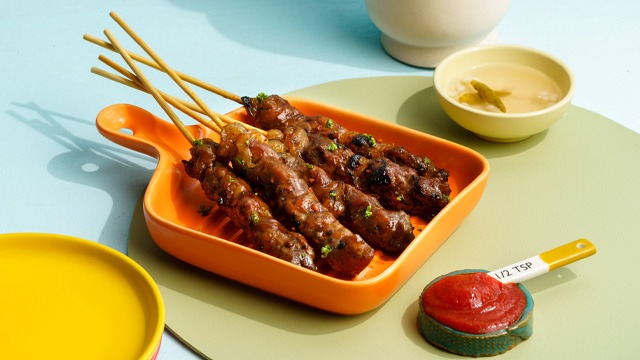 Filipino Pork Barbecue Recipe with Sriracha
This pork bbq gets extra spicy from the thick hot sauce.
Ingredients
Filipino Pork Barbecue Ingredients with Sriracha
1

Cup

banana ketchup

1/2

Cup

Soy Sauce

1

head

Garlic

minced

1/4

Cup

Calamansi Juice

1/2

Cup

lemon-lime soda

3

tablespoons

Sriracha

1/2

Cup

brown sugar

1/2

teaspoon

ground black pepper

1/2

teaspoon

Salt

1

kilo

pork shoulder (kasim)

cut into 1/2-inch cubes

1/2

Cup

vegetable oil

spiced vinegar

for serving
Instructions
Make the marinade: In a large bowl, mix banana ketchup, soy sauce, garlic, calamansi juice, lime-flavored soda, sriracha, brown sugar, black pepper, and salt.

Thread meat onto barbecue sticks. Add fat at the end of each skewer.

Arrange skewers in a container. Set aside 1 cup of the marinade for basting, then pour the remaining marinade over the skewers. Marinate overnight in the refrigerator. After marinating meat should be dark with a little bit of red color as it has absorbed the marinade.

For the basting sauce: Mix reserved marinade with oil.

When ready, cook skewers on a hot grill, brushing the meat with the basting sauce as you grill. Grill until the meat is cooked through. Serve hot with spicy vinegar.
ADVERTISEMENT - CONTINUE READING BELOW
Recommended Videos