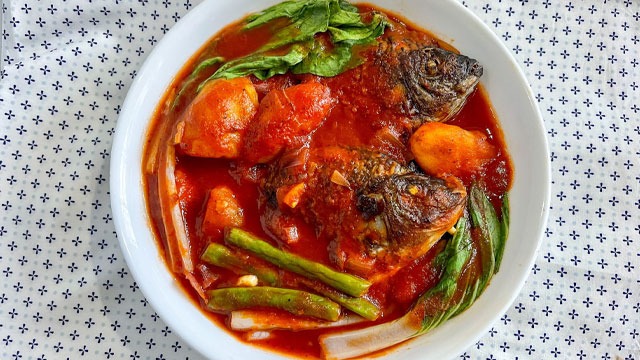 This dish still has the flavors and ingredients you look for in a classic pochero recipe made with pork but made lighter using fish instead. 
What is a pochero recipe? 
The pocherong Tagalog normally contains potatoes to make it into a heartier meal but it's the other ingredients that gives it a different taste. The saging na saba, in particular, gives the entire dish a sweetness it would not normally have. The cabbage is also added in to give it that fresh flavor that only leafy greens have. For the sauce, tomatoes or tomato sauce give the pochero sauce a delicious tang.
For this recipe, the substitutions take little away from the dish but instead, gives it a lighter taste with the fish instead of pork. It also swaps the cabbage with pechay which is a common pairing with fish. It's still part of the cabbage family but delivers a different texture and look to the dish. 
To make this fish dish extra delicious, the fish is fried first to stimulate and develop the golden brown flavors that frying creates in fish. This infuses the dish with its unique fried fish flavor. 
With all that going for it, you should give this fish version of the pochero a chance! Try it today.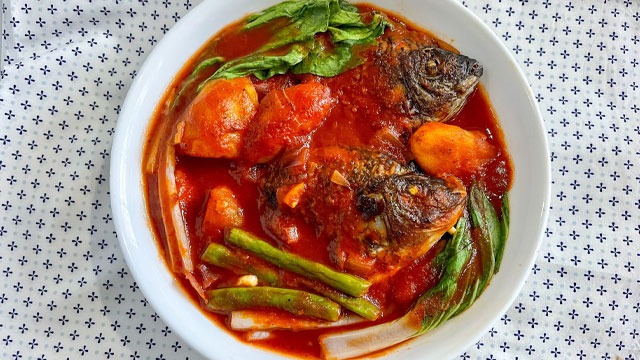 Fish Pochero Recipe
This meaty dish just turned fishy!
Ingredients
Fish Pochero Ingredients
1

kilo

tilapia

Gutted, cleaned, and rinsed well, cut in half

Oil

for frying

2

medium

Potatoes

cut into 4

5

pieces

saging na saba

cut in half

1

bunch

pechay Tagalog

1

medum

red onion

chopped

5

cloves

Garlic

minced

1/4

Cup

tomato paste

1

Cup

water

15

pieces

Baguio beans

trimmed and cut in half

Salt

to taste

ground black pepper

to taste
Instructions
Fry the tilapia in oil until crispy and set aside.

In the same pan and the oil, fry the potatoes and saging na saba until browned and cooked. Set aside.

Still using the same pan, remove excess oil. Leave about 2 tablespoons oil. Saute garlic, onions, and green beans.

Add the tomato paste and water. Return the cooked saging na saba and potatoes. Let it simmer for 10 minutes. Season with salt and pepper.

Add the cooked tilapia and let it simmer for 5 minutes. Serve warm.