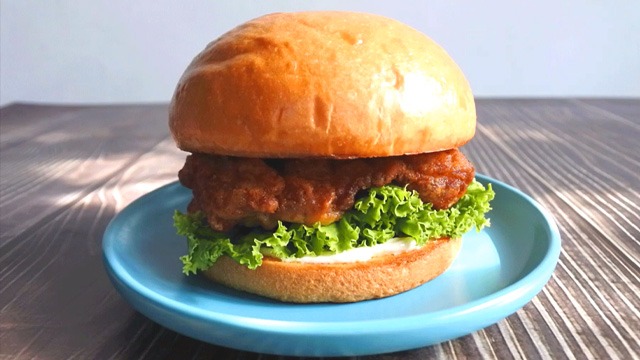 You can recreate your favorite chicken sandwich at home using this fried chicken fillet recipe and a delicious bun that instantly elevates your chicken meal up a notch!
What Is A Fried Chicken Sandwich?
A fried chicken sandwich is a piece of boneless chicken between halves of a bun. You might be wondering why this is called a sandwich. The differences between a sandwich and a burger are that a sandwich is made with meat and veggie fillings placed between two slices of bread. A burger meanwhile is commonly made of ground-up meat formed into a patty and placed between the halves of a bun.
While this chicken fillet is placed between the halves of a bun, this is called a sandwich because the meat is a whole fillet of chicken instead of a patty made from ground meat. This fillet is breaded and fried until crisp and together with a little mayonnaise and some lettuce, it's placed between buttered and toasted buns.
How To Serve Fried Chicken Sandwich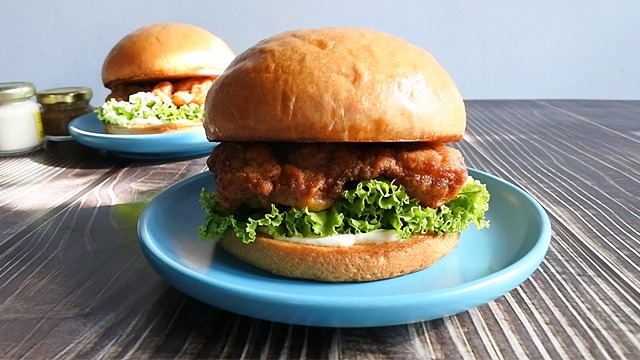 Just like most burgers and other sandwiches, this sandwich is also best served immediately after assembling. It's all because the fresh lettuce can wilt, the mayonnaise can eventually make the bun soggy, the bun can become stale, and finally, the chicken will go cold and lose its fried crispness.
How To Make Fried Chicken Sandwich
For a true fried chicken taste, we used easy-to-make homemade buttermilk using fresh milk and vinegar. You can also use buttermilk powder and just dilute 1/4 cup of the powder into enough water to make 1 cup. If you need a substitute for fresh milk, use any of these easy swaps to make 1 cup fresh milk:
• 1/2 cup evaporated milk + 1/2 cup water
• 1/4 cup powdered milk + 1 cup water
• 1/2 cup all-purpose cream+ 1/2 water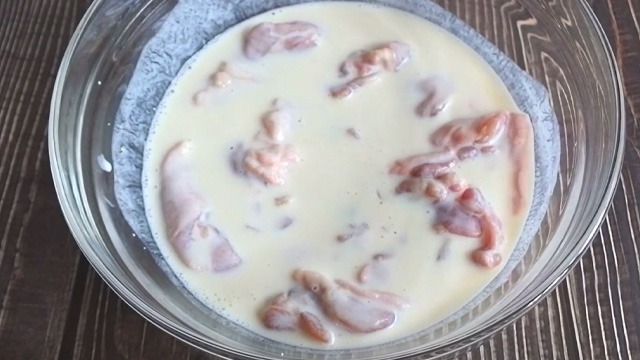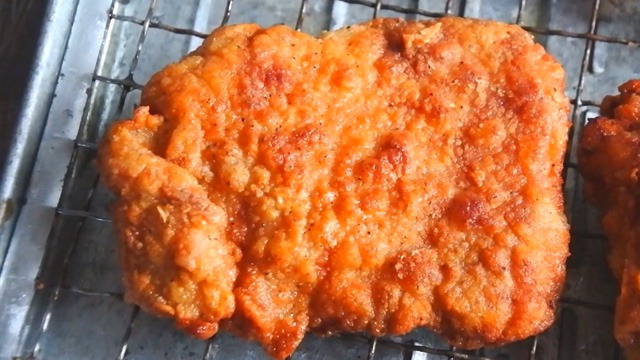 Plus, we used a juicy chicken thigh instead of a chicken breast fillet. While the breast fillet is meatier than the chicken thigh, the chicken thigh is juicier and cooks faster, too. Feel free to use a breast fillet, pounded evenly, for this recipe for that big fried chicken bite.
ADVERTISEMENT - CONTINUE READING BELOW
Recommended Videos
Finally, we ordered these awesome brioche buns online so we didn't have to make bread buns from scratch! While the buns you use can be normal burger buns, we do highly suggest elevating your chicken sandwich-eating experience.
Tips For Making A Delicious Fried Chicken Sandwich
1 Season the flour as desired.
We used a classic paprika, salt, and pepper spice mix with a touch of cumin and fried chicken seasoning to season our flour. You can of course jack up the flavor profile of the seasoned flour as you like! Use herbs as well as spices to make the seasoning of your fried chicken unique and delicious according to your taste.
2 Use other buns.
We used buttery brioche buns for this chicken sandwich but you can also use normal buns, large pandesals, or even sandwich slices to make this sandwich.
3 Pound the chicken fillets thinner.
Are you worried you can't take a bite of this sandwich? Pound the chicken fillets out! Use a big bottle, a rolling pin, or a meat mallet to pound the chicken down to a thinner piece. You can even stuff two slices of chicken into this sandwich if thin enough so you can adjust your sandwich to what your jaw can handle.
4 Double coat the chicken for extra crunch.
Do you know how some fried chicken is extra crunchy? One secret behind that could be the double coating of the chicken in the flour mixture. The extra layer is going to be responsible for those craggy bits that become crunchy. You can even use other crisp ingredients such as crackers or even nuts to deliver more texture!
How To Store Fried Chicken Sandwich
There's a reason why sandwiches are so easy to put together: they're best served immediately. If you find that you need to store this chicken sandwich, it's best to store the chicken separately from the buns and the lettuce wrapped separately in damp paper if you haven't assembled the sandwich yet.
If you have already assembled the chicken sandwich already, you can wrap the sandwiches in parchment or paper to serve later. For longer storage like overnight, you can wrap these in plastic wrap, too, and placed in the refrigerator so the sandwiches won't dry out before they're consumed.
Fried Chicken Sandwich Recipe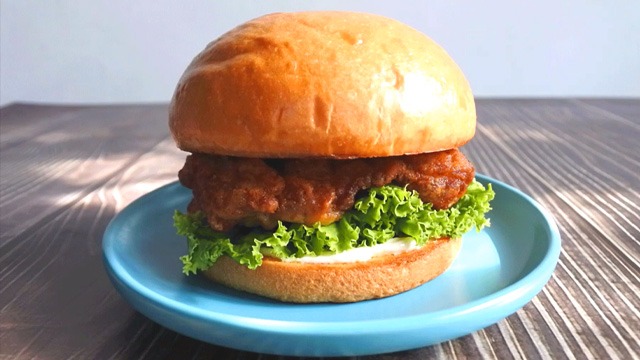 Fried Chicken Sandwich Recipe
Fried chicken meets sandwich.
Ingredients
Fried Chicken Sandwich Ingredients
1

Cup

full-cream milk

1 1/2

tablespoons

Vinegar

6

pieces

chicken thigh fillets

skin on

1

Cup

all-purpose flour

1

teaspoon

ground paprika

1/4

teaspoon

ground cumin

1

teaspoon

fried chicken seasoning

1/2

teaspoon

ground black pepper

1

teaspoon

Salt

or to taste

6

pieces

Brioche bread

buttered and toasted, to serve

mayonnaise

as needed, to serve

Lettuce

as needed, to serve
Instructions
In a large bowl, combine fresh milk and vinegar to make homemade buttermilk. Let it sit for 5 minutes to thicken. Add chicken and toss to coat evenly. Cover and set aside overnight.

To make the breading, whisk together flour, paprika, cumin, fried chicken seasoning, ground black pepper, and salt.

Add the marinated chicken and toss to coat in the flour well. Set aside onto a tray. (You can freeze this if cooking later.) 

When ready, heat enough oil in a frying pan. Use a thermometer to fry at the right temperature every time. Add the breaded chicken. Cook until golden brown and delicious on both sides. Set aside to drain on a rack.

To assemble, place a buttered and toasted bun on a plate, spread with mayonnaise, add lettuce and the chicken fillet on top. Finish with the top of the bun. Serve immediately.