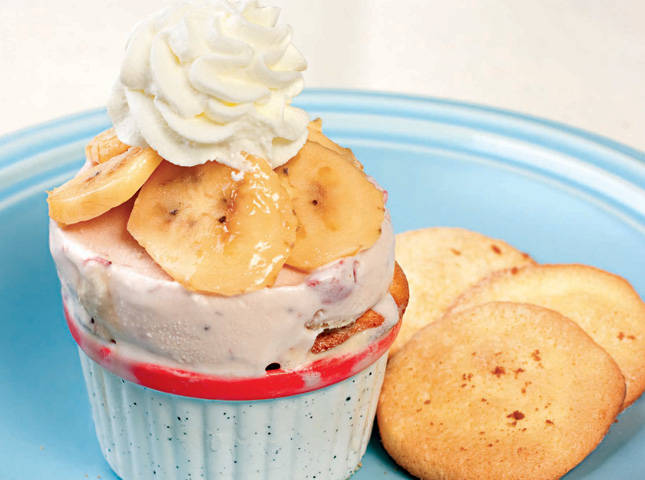 Hot soufflés may be difficult to perfect, but this cold version is so easy to make. You can prepare and store these "soufflés" in the freezer a day or two before serving.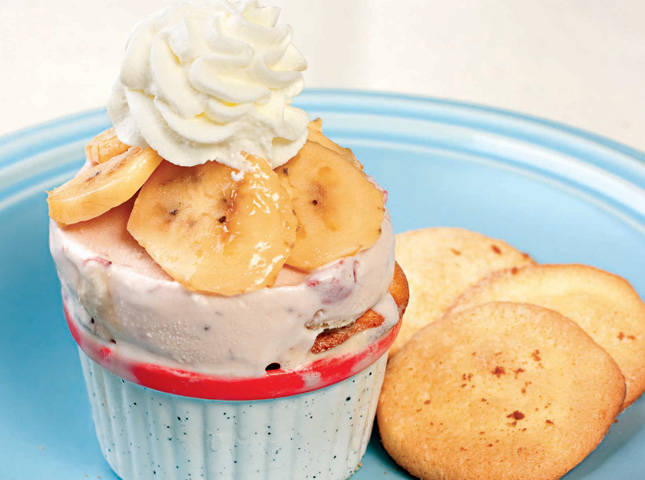 Frozen Souffles
Layers of ice cream, lady fingers, topped with fruits.
Ingredients
Frozen Souffles
6

Egg

yolks only

10

tablespoons

sugar

5

Egg

whites only

1/8

teaspoon

cream of tartar

3/4

Cup

cake flour

5

tablespoons

all-purpose flour

sugar syrup

(mix of 1/2 cup each water and sugar)

2

tablespoons

coffee-flavored liqueur

1

pint

coffee ice cream

1

pint

chocolate ice cream

strawberry slices
Instructions
Make the lady finger discs: Whisk together egg yolks and 4 tablespoons of sugar on top of bain marie until warm. Beat with a mixer on high speed until light yellow and fluffy.

In another bowl, beat the egg whites on high speed until frothy. Add the cream of tartar and beat until soft peaks form. Add the remaining sugar and beat until stiff peaks form. Fold the egg yolk mixture into the egg white mixture. Fold in flours over the egg mixture until just combined.

Place mixture in a piping bag with a round tip. Pipe 12 round discs the same size as your ramekin on a cookie sheet lined with parchment paper. Bake at 375ºF for 8 to 10 minutes or until light brown. Set aside.

Mix coffee liquor with sugar syrup. Soak each lady finger in the syrup. Use half to line the bottom of the ramekins. Follow instructions on the left to assemble.

Assembling tip: Scoop coffee ice cream into ramekins, level, and freeze to set. Top with sliced fruits, then a lady finger. Place a scoop of strawberry ice cream. Level and freeze to set. Top with fruits and whipped cream, and freeze to set.