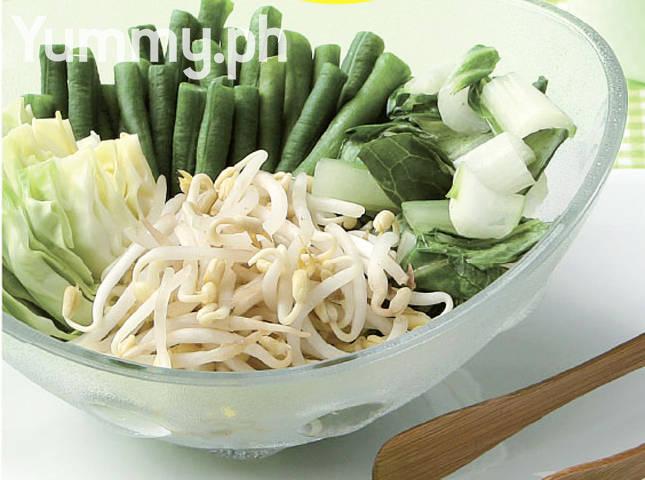 Taken from the traditional Indonesian dish and simplified, this salad of mixed blanched vegetables gets its yummy factor from the satay sauce and whatever toppings you want to dress it up with. Suggested add-ons: sliced boiled eggs, boiled potatoes, fried crispy onions, grated coconut, rice noodles. But if you only have the veggies and sauce, you've still got a very good thing.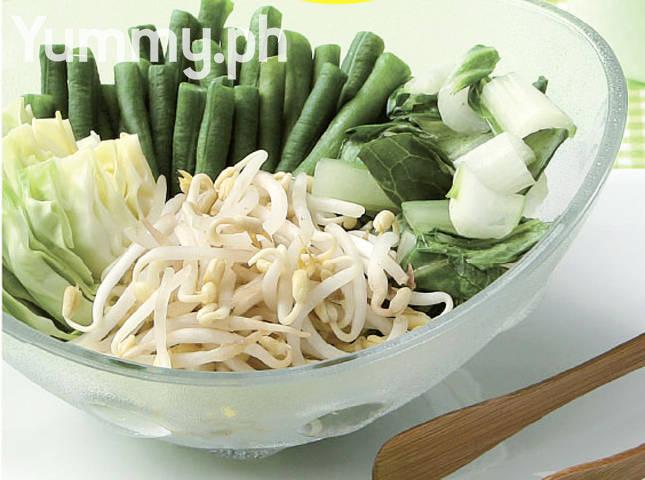 Gado Gado Salad
A light salad to balance a heavy meal.
Ingredients
Gado Gado Salad
1

teaspoon

Salt

1

wedge

ginger

peeled

2

cups

bean sprouts (togue)

cleaned and drained

2

bundles

long beans (sitaw)

cut into 2-inch sections

1/2

head

cabbage

chopped into 2-inch wedges

2

bundles

pechay leaves

cleaned and chopped

bottled satay sauce

chili oil
Instructions
Fill a large pot halfway with water, salt, and ginger. Bring to a boil then reduce to medium heat.

With the water at a gentle boil, add and remove each bunch of vegetables one by one. It will take 2 to 4 minutes to cook each vegetable group, but use your eyes to guide you as well. Once the vegetables appear brightly colored, give it an extra minute to cook, then drain and refresh it with cold water. Set aside to drain and cool.

Once cooled, arrange equal amounts of each semi-cooked vegetable in shallow bowls, garnish with any of the optional toppings, and serve with the satay sauce as dressing.Veggie-cooking tip: Barely cook the vegetables so it stays bright, crunchy, and nutritious. To cut on prep time, it is acceptable to use bottled satay sauce. If you find that it's too thick, go ahead and thin it with some warm water. A dash of chili oil is also a good idea.Veggie substitions: You may also use cauliflower, green beans, carrots, cucumbers, or whatever veggies you want to try, but stick to what is recommended in this recipe if you want to be authentic.