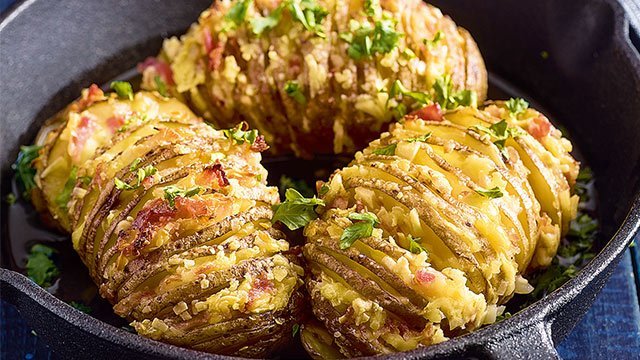 A Swedish invention, hasselback potatoes have the soft texture of baked potatoes and the crisp exterior of french fries.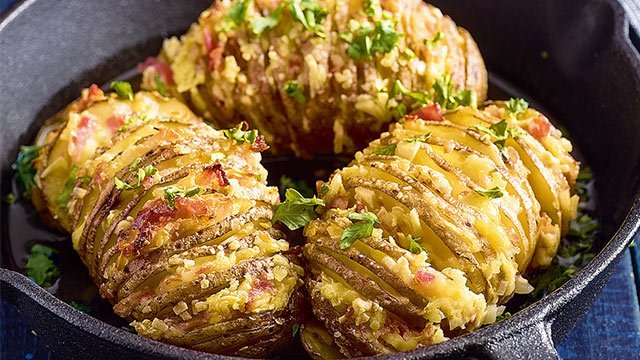 Garlic and Cheese Hasselback Potatoes
This potato dish is crisp on the outside and soft on the inside.
Ingredients
Garlic and Cheese Hasselback Potatoes
1

Cup

cheddar cheese

grated

1

Cup

ham

chopped

1

tablespoon

Garlic

chopped

1

tablespoon

fresh parsley

chopped

6

medium

Potatoes

1/2

Cup

Butter

melted

2

teaspoons

Salt

1

teaspoon

black pepper
Instructions
Mix together cheese, ham, garlic, and parsley in a bowl; set aside.

Place 1 chopstick on each side of a potato. Thinly slice potato crosswise, stopping when the knife hits the sticks, creating uniform slices. Dip in melted butter and place in a baking dish. Repeat with remaining potatoes. Season with salt and pepper. Cover and bake for 40 minutes.

Remove potatoes from oven. Fill spaces in between slices with cheese-ham mixture. Drizzle with remaining melted butter and bake again, uncovered, until cheese is melted. Serve immediately.