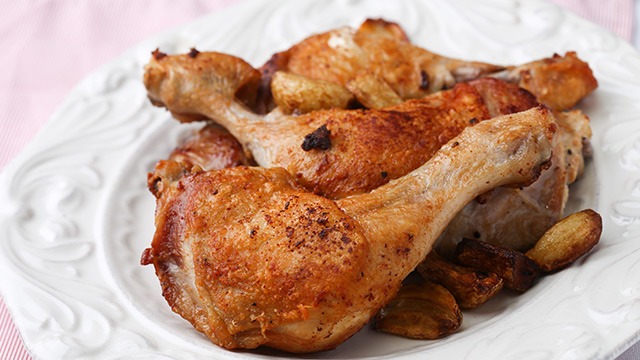 Everyone loves fried chicken! Change it up a bit and make your fried chicken plate extra garlicky with this easy recipe.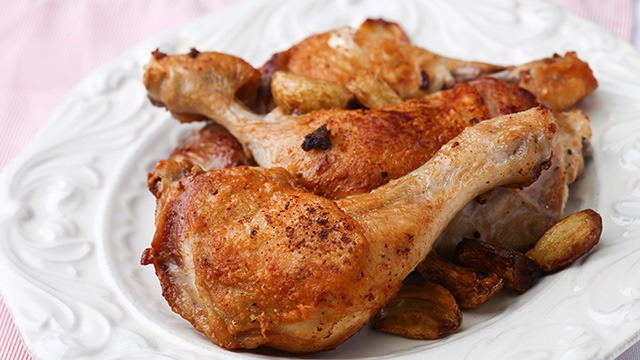 Garlic Fried Chicken Recipe
Everyone loves fried chicken. This version is extra garlicky!
Ingredients
Garlic Fried Chicken Ingredients
1

kilogram

Chicken

2

tablespoons

fish sauce (patis)

5

pieces

calamansi

juiced

1

teaspoon

Pepper

Salt

to taste

10 to 12

cloves

Garlic

2

cups

cooking oil
Instructions
Marinate chicken legs in fish sauce, pepper and calamansi juice for a few hours. Prick the chicken legs with a fork so the chicken will absorb the marinade.

Heat the oil in a frying pan and place the chicken with the skin side down and fry for about 5 minutes. Add the cloves of garlic and fry until golden brown.

Turn the chicken on the other side after 5 minutes and fry until chicken is cooked through. Remove the garlic from the pan once color turns golden brown and set aside.

Once cooked, remove chicken from the pan and place them on paper towels to absorb excess oil. To serve, transfer to a serving plate and top with the pan-fried garlic.