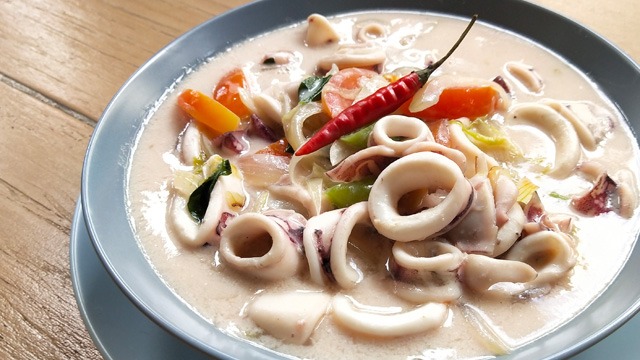 Squid is one of those seafood ingredients that you either like or don't. Pusit has a tendency to be tough and chewy if you don't know how to cook it right. The good news is that this ulam Pinoy recipe is an easy one to master with a few tips to remember when you're ready to cook: 
• Make the sauce first so the squid isn't overcooked. 
• Cook it fast once the squid is added in. 
• If you've overcooked squid, cook it until tender again. 
• If you're unsure how long to cook it, add it last and cook it only until it turns opaque. 
What's great about this recipe is that it not only makes a great pusit dish but it also makes a fantastic meal that can be cooked in minutes. Since squid along with other seafood cook in less time than meat, the preparation is what will take up most of your time. If you're new to using and preparing fresh squid, you need to learn how because fresh squid is delicious! 
We have a video help you through the process of cleaning and preparing that kilo of squid but note these step-by-step procedure so you know exactly what you'll be doing when it's time to do it for real: 
1 Remove the head from the body.
2 Remove the beak from the tentacles.
3 Remove the ink and reserve sac if intact and if desired. 
4 Remove the transparent "pen" or bone. 
5 Slice as directed in the recipe. 
Now that you're armed with all you need to prepare the squid, you can prepare any squid dish with ease! The sweet and savory flavors of this gintataang pusit recipe is sure to make your ulam meal extra appetizing!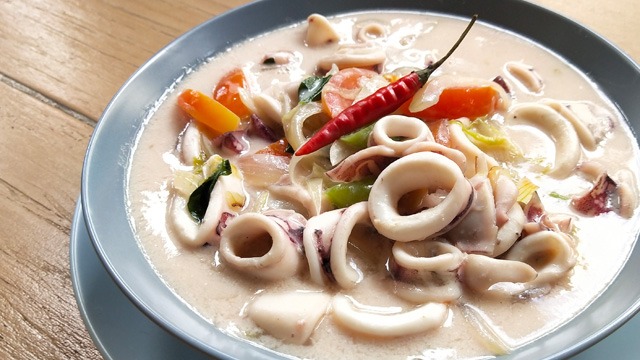 Ginataang Pusit Recipe
The sweet and savory flavors make it extra appetizing!
Ingredients
Ginataang Pusit Ingredients
2

tablespoons

cooking oil

3

cloves

Garlic

minced

1

medium

red onion

chopped

1

medium

tomato

chopped

1

kilo

medium-sized squid

cleaned, cut into rings

1 1/2

cups

coconut milk

3

teaspoons

patis (fish sauce)

1

teaspoon

ground black pepper

2

pieces

green finger chilies (siling pangsigang)

sliced

2

tablespoons

fresh basil leaves

chopped

red chili pepper (siling labuyo)

for garnish
Instructions
In a saute pan, heat oil. Saute garlic, onion, and tomatoes for a few minutes then add the squid. Stir fry for a few minutes again until the squid are slightly cooked. Set aside.

Pour in coconut milk and season with fish sauce and black pepper. Simmer again for a few minutes until the sauce is thickened.

Add the green chili and basil. Add squid and cook 1 minute or so. Do not overcook. Top with red chili before serving. Serve hot.
ADVERTISEMENT - CONTINUE READING BELOW
Recommended Videos