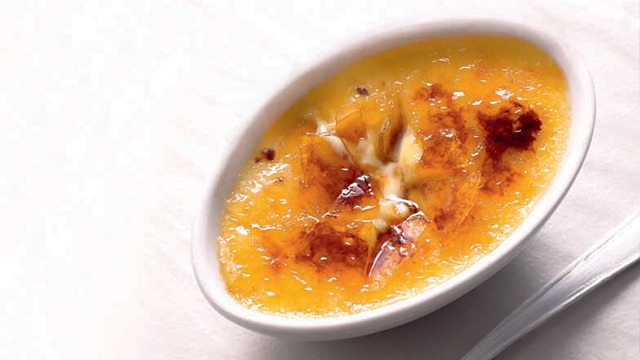 Ginger gives this rich custard a nice spicy kick.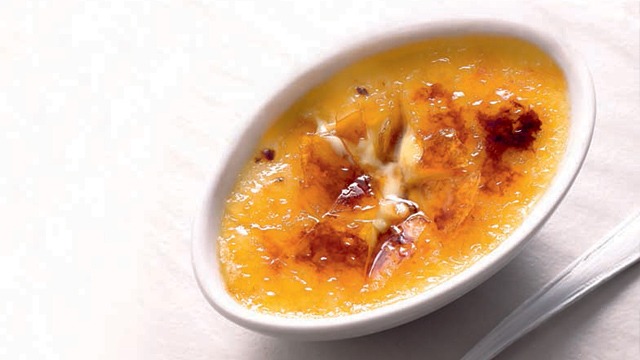 Ginger Creme Brulee
Ginger gives this rich custard a nice spicy kick.
Ingredients
Ginger Creme Brulee
4

cups

whipping cream

divided

1

piece (thumb size)

ginger

peeled and sliced into thin strips

1/2

Cup

sugar

pinch

Salt

12

yolks

Egg

10-12

tablespoons

sugar
Instructions
Combine 2 cups whipping cream, ginger, sugar, and salt in a heavy-bottomed saucepot. Bring to a simmer over medium-low heat. Once mixture comes to a simmer, turn off heat and cover pot. Let mixture steep for at least 30 minutes.

Place egg yolks in a medium bowl. Pour ginger mixture into egg yolks, whisking constantly. Whisk in remaining 2 cups whipping cream. Strain mixture into a pitcher for easy portioning.

Pour mixture into individual ramekins or baking dishes until 3/4 full. Place ramekins, 1 inch apart, in a large roasting pan. Fill pan with hot water until water reaches halfway up the ramekins. Cover pan with foil and bake for about 45 to 60 minutes, or until centers jiggle slightly.

Remove pan from oven and carefully place each ramekin on a cooling rack. Let cool completely, then refrigerate for at least 8 hours or up to overnight.

About 30 minutes before serving, prepare the topping. Evenly distribute sugar (about 1 tablespoon each) on top of each ramekin. Using a blowtorch, slowly caramelize sugar, moving torch around in circles. Serve immediately.