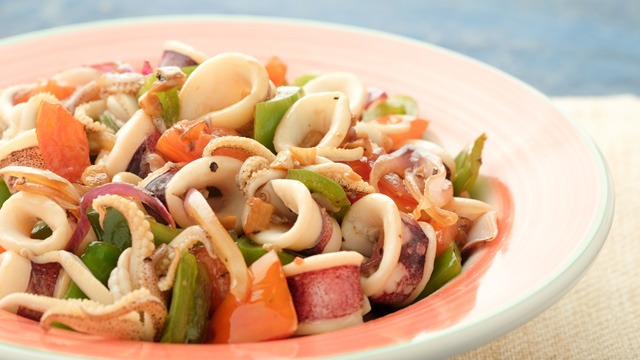 Craving Filipino food? One of the easiest ways to cook a Filipino ulam dish is by sauteeing your meat or seafood of choice in garlic, onions, and tomatoes: that is, to make a ginisa dish! 
One such ginisa recipe is ginisang pusit or sauteed squid. This recipe only takes minutes to make, especially once if you've already prepared the squid. Garlic, onions, and tomatoes, plus some additional ingredients make this ginisang pusit recipe taste delicious. 
Ginisang Pusit Recipe
Squid cooks fast and easy and becomes flavorful just as easily, too.
Ingredients
Ginisang Pusit Ingredients
Instructions
Heat oil in a pan or wok over medium-high heat. Saute garlic and onions until fragrant.

Add tomatoes and bell peppers, and saute.

Add squid and saute for about 30 seconds.

Add soy sauce and sugar. Saute until squid is completely cooked. Season with salt and pepper. Remove from heat and drizzle with calamansi juice. Serve immediately.