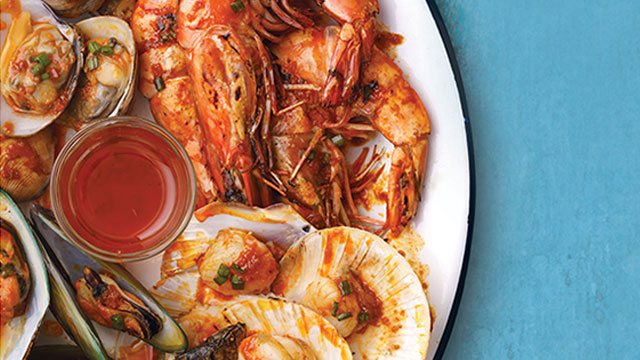 What Is Grilled Seafood Platter?
A grilled seafood platter is anything you want freshly caught from the sea, grilled over hot charcoals, spread out on an oversized plate — or three. The seafood can be anything from squid, shrimp, fish, crabs, lobsters, scallops, mussels, and even oysters.
For this platter, we choose scallops, tahong or mussels, small fish like danggit, tawailis, silay or salay ginto (gutted and descaled), and suahe (deveined). All of these  seafood are fresh from the market and when ready for the grill, are brushed with the prepared sauce. It's simple yet oh-so-tasty! 
How to Serve Grilled Seafood Platter
This platter of different kinds of seafood is a joy for anyone who adores seafood in all its forms. They have their choice of shellfish, fish, or succulent shrimps. In fact, these are fantastic if served as part of a boodle fight! 
This is how you can fully enjoy this dish:
Pair it with sabaw. All of these seafood are grilled so a sabaw would be perfect for serving on the side to help your food slide down faster and easier. Plus, seafood with soup is a classic combo. 
Serve inihaw na pork, manok, or even beef, too. It can't be said that you're a bad host if you provide all the dietary requirements. With so much seafood on that platter, someone is bound to wish for hearty meats! You can grill those, too, alongside the seafood. 
Balance all the meat with veggies. Grilled veggies are also a required part of the meal, so if you got eggplants, corn, okra, peppers, and other veggies, feel free to cook and grill those, too. If needed, have a pot boiling seasoned with butter and seasonings so your veggies will be just as appetizing as the rest of the meal. 
How To Cook Grilled Seafood Platter
The biggest challenge of this meal is prepping the seafood. The shrimp is best deveined, the tahong should have its beard removed just before cooking, the small fish should rinsed free of errant scales and guts, and the scallops should already be thawed.
All you need after all that prep would be to make the sauce which easily comes together in minutes! The calamansi should be juiced already so it's easy to just add to the atsuete seeds steeping in the butter. Remember to discard the seeds and season it well. You're ready. 
Get your grill red hot and be ready with tongs and a serving platter or plates because seafood cooks fast! Just before grilling, you can brush each one with the calamansi-atsuete sauce as desired. You can also leave these plain so people are free to spoon as much or little of the sauce over their choice of seafood.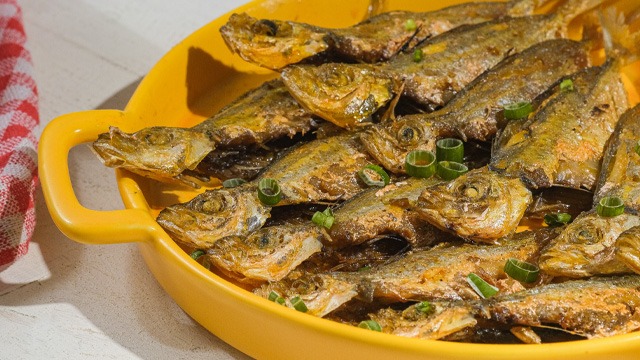 Tips To Make The Best Grilled Seafood Platter
1 Grill fast but properly. 
The thing with grilled seafood is that although these cook fast, it's not that fast. You have time to check each one before it's time to flip and maybe remove it from the grill grates. While you can overcook seafood on the grill, unless you add a big pile of it on the grill, these will cook and be perfect if you pay attention to each piece you place on the hot grill. 
2 Use the shells! 
It might not be obvious but you can use the shells as tiny cooking "pots". If you're thinking of baked tahong and oysters, you are on the right track! You don't even need cheese if you don't have it. You can just add butter and garlic to each oyster and shellfish you have and grill until simmering in each cavity. Ready!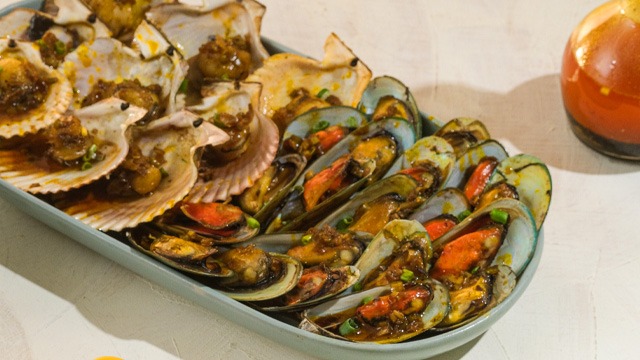 Grilled Seafood Platter Storage Tips
1 Seafood is best eaten within the day or two. 
Seafood is a highly perishable food and as such, we highly suggest not storing any leftover grilled seafood for longer than a few days. In fact, for best results, it's best to consume seafood within the day or two from cooking so you can stay safe. 
2 If you need to, refrigerate and freeze immediately and properly. 
If you do need to store these, wrap these well in plastic wrap or in an airtight container with a lid. These can then be refrigerated for a few days and for a week in the freezer for best results. You can leave the seafood frozen for longer if needed. However, check the seafood for any bad smells or tastes after defrosting for safety purposes. 
ADVERTISEMENT - CONTINUE READING BELOW
Recommended Videos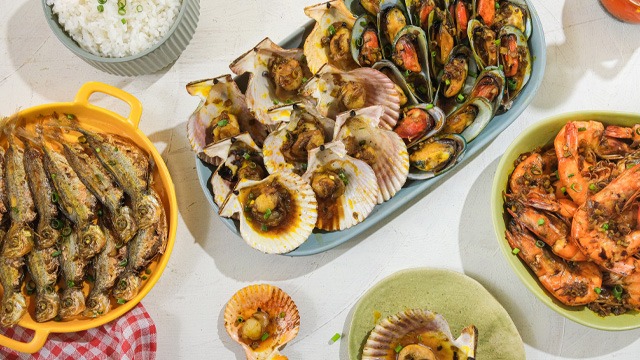 Grilled Seafood Platter with Atsuete-Calamansi Sauce Recipe
This grilled seafood dish is surprisingly simple to make!
Ingredients
Grilled Seafood Platter with Atsuete-Calamansi Sauce Ingredients
3/4

cup

canola oil

3/4

cup

margarine

2

teaspoons

garlic

grated

1

10-gram pack

atsuete powder

we used Mama Sitas

3 to 4

tablespoons

calamansi Juice

2 1/2

tablespoons

soy sauce

or to taste

1 1/2

tablespoons

sugar

or to taste

chili flakes

to taste

ground black pepper

to taste

1/4

cup

green onions

finely chopped

500

grams

mussels

beards removed and scrubbed

500

grams

clams

scrubbed and soaked in water

500

grams

scallops

in shells, top shell removed

500

grams

prawns

back slit open using kitchen shears

350

grams

tawilis

small, cleaned, scaled, and gutted
Instructions
Make the atsuete-calamansi sauce: Heat oil and melt margarine in a saucepan over medium heat. Add garlic and atsuete powder; mix for a few seconds. Turn off heat and add remaining ingredients. Season to taste with chili flakes and black pepper. Add green onions and mix. Divide sauce into 2 portions. Set a portion aside.

Preheat a charcoal grill until very hot.

Place mussels and clams on a disposable aluminum baking pan. Toss in 3 tablespoons atsuete-calamansi sauce. Cover with foil and place pan on hot grill. Cover grill with lid and cook for 15 to 20 minutes or until shells open. Remove from grill. Discard shells that remain closed.

Baste scallop meat with atsuete-calamansi sauce. Place scallops, meat side up, on the hot grill. Cover grill with lid and cook for about 5 minutes or until meat is plump and firm but still moist. Remove from grill and keep warm.

Place prawns and tawilis in separate bowls. Toss 3 tablespoons sauce into each bowl. Place prawns on the hot grill and cook for 2 to 3 minutes on each side or until prawns turn pink. Remove from grilland keep warm.

Place tawilis on the hot grill and cook for 2 to 3 minutes on each side. Remove from grill and keep warm.

Arrange seafood on a large platter. Serve remaining atsuete-calamansi sauce on the side.
Notes
Swap out seafood for other kinds you may find in the palengke and supermarket. Got mantis shrimp? Use that? Slipper lobsters? Those are delicious! Got fish fillets? Go for it. These all pair deliciously with the calamansi-atsuete sauce.