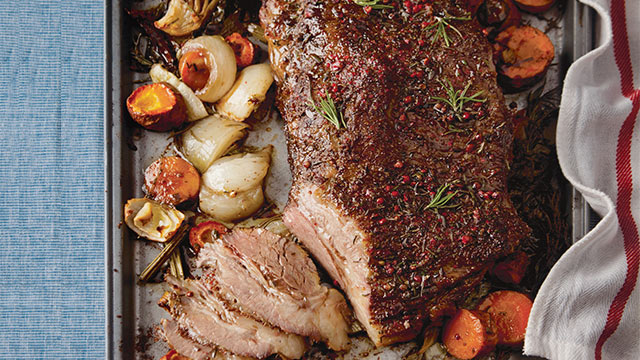 This herb-crusted roast beef recipe uses a beef short plate cut instead of the usual tenderloin. It is more budget-friendly and just as delicious for weekend roasts.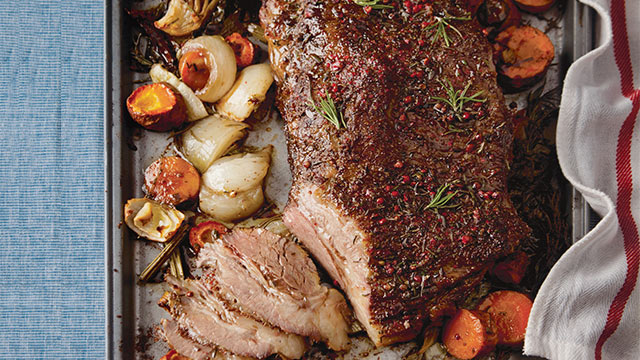 Herb-Crusted Roast Beef Recipe
Make this roast beef recipe with lots of herbs and spices.
Ingredients
Herb-Crusted Roast Beef Ingredients
2 1/2

kilos

Beef

(use whole beef short plate), trimmed of fat and silver skin

sea salt

1

tablespoon

pink peppercorns

freshly cracker, available at Santis and Marketplace by Rustans

6

sprigs

thyme leaves

chopped

6

sprigs

fresh rosemary

chopped

5

cloves

Garlic

crushed

1/4

Cup

vegetable oil

2

tablespoons

Dijon mustard

2

large

carrot

sliced into 1/2-inch rounds

2

white onion

quartered

3

stalks

celery

sliced into 2-inch lengths

1

Cup

dry red wine

1

tablespoons

Butter

1

tablespoon

all-purpose flour

1

14-ounce can

whole button mushrooms

2

tablespoons

All-purpose cream

Salt

to season
Instructions
Preheat oven to 350°F.

Season beef with salt and pepper. Set aside for 15 to 30 minutes.

Combine pink peppercorns, thyme, rosemary, and garlic in a bowl.

Heat a shallow, heavy-bottomed pan or griddle over high heat until almost smoking. Add oil and sear beef on both sides until brown and crusty.

Remove beef from pan. Spread mustard on top then sprinkle evenly with herb mixture.

Place carrots, onions, and celery in a roasting pan. Place beef on top of the vegetables. Roast in the oven for 11/2 hours for medium-rare doneness or 31/2 to 41/2 hours for well done, cooking it slowly until tender.

Remove pan from the oven, transfer meat to a platter, and let rest for 10 minutes before slicing.

Make the mushroom sauce: place roasting pan with vegetables and drippings on the stove over medium-high heat. Deglaze pan with red wine and scrape off the brown bits at the bottom. Let wine reduce to 1/4 its original amount. Strain drippings.

Melt butter in a saucepan. Sprinkle flour and cook for 1 minute. Add drippings and whisk until smooth. Add mushrooms and cream. Season with salt and pepper.

Slice beef into 1/4-inch-thick pieces and serve with mushroom sauce on the side. Tips: Short plate is a flavorful cut from the cow's front belly, just below the rib. Choose meat with a rich pink color and creamy, white fat throughout. Before roasting, make sure to trim the excess fat and silver skin covering the meat. Short plate is a tough meat cut, so remember to cook it slowly on low to moderate heat to get tender, tasty, and juicy meat.