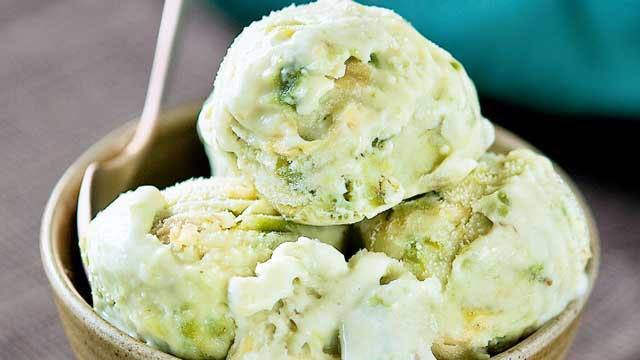 What is Avocado Ice Cream?
Avocado ice cream is a chilled dessert that uses any ice cream base flavored with avocadoes. Our avocado ice cream recipe is made with heavy cream, condensed milk, milk, sliced avocadoes, and it also has crushed almonds for that extra crunchy bite. It's an easy-to-make homemade ice cream recipe that is perfect to make during hot days!
Table of Contents
• How to Serve Avocado Ice Cream
• How to Make Avocado Ice Cream
• Tips to Make the Best Homemade Avocado Ice Cream
• Avocado Ice Cream Storage Tips
• WATCH: How to Make Homemade Avocado Ice Cream Video
• Homemade Avocado Ice Cream Recipe
How to Serve Avocado Ice Cream
Just as any ice cream recipe, this homemade avocado ice cream is best served frozen. The earthy, creamy avocado is balanced by crunch of the almonds in this recipe, and it can be eaten as is. It can also be served in an ice cream cone, but you can also pair it with a lot of different toppings and desserts!
For example, you can create an ice cream bar with different ice cream sauces, like this tablea chocolate sauce or this salted caramel sauce. You can also include candied nuts, or other ice cream topping combos that kids (and kids-at-heart) are sure to enjoy mixing and matching.
If you love a good contrast in temperature, you can also use the avocado ice cream as a topping on warm desserts, like brownies, waffles, or even as a palaman or filling in hot pan de sal!
How to Make Avocado Ice Cream
Making homemade avocado ice cream is easy, especially when you have an ice cream maker. All you need to do is mix all the avocado ice cream ingredients together, chill them, and add them to your ice cream maker! In this case, most of the work can be done by the machine (just make sure to follow the ice cream maker manufacturer's instructions).
However, if you don't have an ice cream maker, you can also easily turn this into a no-churn ice cream recipe, too. To do this, mix the mashed avocado, almonds, condensed milk, and milk in a bowl. Then, in a separate bowl, whip up the heavy cream. Carefully fold the whipped cream into the avocado mixture until fully incorporated. Then, transfer the mixture in a container, and freeze for at least six hours.
How to Make the Best Homemade Avocado Ice Cream
1 Choose ripe avocadoes.
Most of the flavor in this avocado ice cream recipe will come from the star ingredient: avocadoes. Knowing when an avocado is ripe enough to open is a skill you'll need to learn, but if you don't know how just yet, you can always ask your local fruit vendor to help you choose. Here's how you can ripen avocadoes faster, and here's how to tell if they're overripe.
2 Toast the almonds (or any nut of your choosing).
Toasting nuts allows you not only to add that delicious toasted flavor; it brings out more of the natural flavors of the nuts. Aside from the boost in flavor, it also ensures that the nuts stay crunchy, even after it's been frozen in the ice cream for hours.
3 No ice cream maker? No problem! You can make no-churn ice cream instead.
Check out this video on how to make no-churn homemade ice cream! While there will be some differences between churned and no-churn ice cream, you shouldn't let the lack of equipment stop you from enjoying these chilled treats. In ice cream making, churning is important for two reasons: it prevents large ice crystals from forming in the ice cream, which creates a smoother product; it also incorporates air into the ice cream, which gives it its signature velvety texture. Churning is usually done as the cream is cooled, which is what makes ice cream makers so handy.
But don't worry: there's an easy workaround for those who don't have an ice cream maker! You can still make smooth and velvety ice cream without churning: whip up the heavy cream instead before mixing up the ingredients and freezing them. Ice cream made this way can be denser compared to churned ice cream, you'll still end up with an airy and delicious frozen dessert.
How to Store Avocado Ice Cream
Whether it's homemade or store-bought, churned or not, ice cream should always be stored in the freezer. This particular homemade avocado ice cream uses fresh fruit. And will keep for up to a month in the freezer!
WATCH: How to Make Homemade Avocado Ice Cream
Homemade Avocado Ice Cream Recipe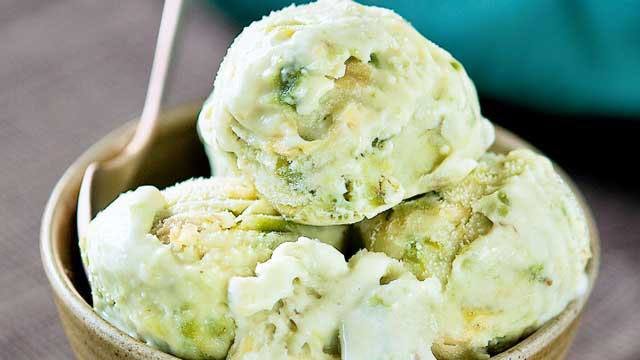 Homemade Avocado Ice Cream Recipe
Stored in the freezer, this can keep for up to a month.
Ingredients
Homemade Avocado Ice Cream Ingredients
4

pieces

avocado

1

can

condensed milk

300-ml can

1

Cup

heavy cream

3/4

Cup

milk

1/4

Cup

almonds

chopped
Instructions
Slice avocados in half and remove pits. Scoop out flesh and place in a bowl; mash using a fork.

Add condensed milk, heavy cream, and milk. Stir in almonds.

Cover bowl with plastic wrap and place in the refrigerator for a few hours or until thoroughly chilled.

Pour the mixture into an ice cream maker and process according to manufacturer s directions.

Transfer to a container and place plastic wrap on the surface of the ice cream. Cover with a lid and freeze for 5 hours or longer before enjoying.