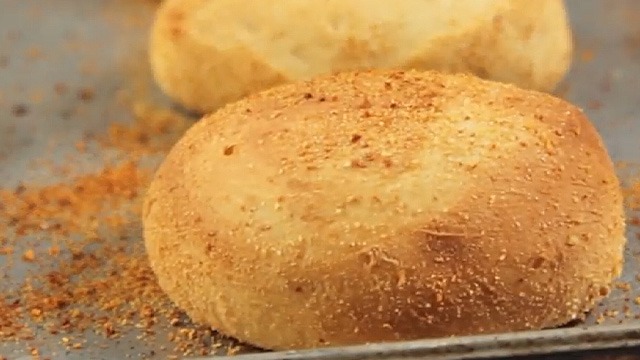 Products recommended on our website are independently selected by editors. If you buy something through our links, Summit may earn an affiliate commission at no extra cost to you.
Pandesal are soft and fluffy bread rolls. It's a staple for every Filipino breakfast! Pandesal is typically enjoyed warm with a little butter, jam, or dipped in coffee, Filipino-style. Kids can also enjoy this delicious treat with a heaping spoon of peanut butter or their favorite sandiwch spread.
What Is Pandesal?
Pandesal is known as a "salt bread" or "pan de sal" in Spanish. However, its meaning has changed over the years and morphed into one word. Even the recipe has changed as well and is no longer the salt bread that it was originally associated with.
Now, the pandesal is an enriched bread dough made with water, wheat bread flour, salt, sugar, milk powder, and margarine and is leavened with yeast. The most basic bread dough normally only has flour, water, salt, sugar, and yeast. The pandesal is known as an enriched bread because it contains "enriching" ingredients such as milk powder and margarine. Some enriched dough also includes eggs and fresh milk. These extra ingredients not only make the bread extra tasty and delicious but also gives it a better texture as well as flavor to the dough.
Like many basic bread recipes, this pandesal recipe is ripe for tweaking! You can add malunggay leaves to make malunggay pandesal, roll them up with a filling like Spanish bread, and we even think that this recipe can be the bread you use to make cheesy Korean garlic cream cheese bread!
How to Serve Homemade Pandesal
Pandesal, and any bread for that matter, are fabulous fresh out of the oven! They're still warm so smearing some margarine in each cut-up pandesal is going to instantly melt. (YUM.) These are awesome no matter what filling you stuff it with!
However, if you wake up late or get to the panaderya after the rolls have already come out of the ovens, you can still enjoy these bread rolls because they remain soft. You can reheat these easily if you have an oven, toaster oven, or even your air fryer or turbo broiler!
How to Make Homemade Pandesal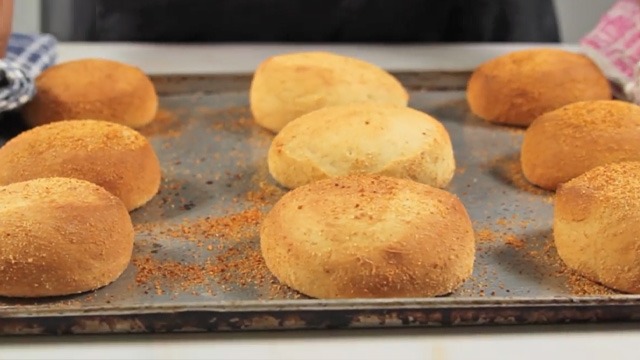 The pandesal starts off like many bread recipes: water, wheat bread flour, salt, sugar, milk powder, and yeast. This recipe uses instant yeast which is used differently from active yeast. This dry pebbly kind of yeast is added directly to the dry flour ingredients before the water is added.
Once a rough dough is formed, butter or margarine is kneaded in, too. You'll need to knead this dough for several minutes or until the window test is successful. (This is the moment where you discover why bread flour is really the best for baking bread.)
If the dough passes this test, you can let it rest for its first rise. You'll actually need to let this dough rise a few more times but this time is one of the most important since you'll know if your yeast is doing its job or if you have made a mistake. (You should check if your yeast is still active with a simple test.)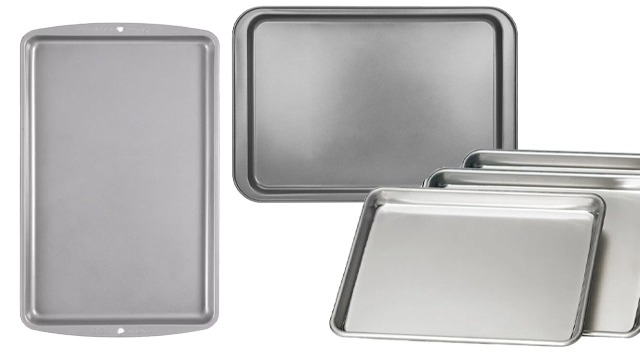 You'll form this dough into balls, place these on baking sheets, and let it rest again (briefly this time) before placing these in the oven to bake.
ADVERTISEMENT - CONTINUE READING BELOW
Recommended Videos
Wilton Recipe Right Nonstick Medium Cookie Sheet, 15.2×10.2-inches (38.7×26 cm), P495, Gourdo's, Lazada
Royal King Non-Stick Cookie Sheet, 47cm, P289.75, Landmark Flagship Store, Lazada
Tramontina PRO Line Quarter-Size Baking Sheets, 3 pieces, 13×1.5 inches (33×24.1 cm), P1,299, S&R Membership Shopping, Lazada
Tips to Make Delicious Homemade Pandesal
You really can make delicious bread at home. With these tips, we hope each attempt is a successful one:
1 Check the yeast.
Yeast is actually an organism so it's important that it's still "alive" or active when you use it. Yeast that is no longer active has basically "died" and should be tossed out. The only way to tell is if you test the yeast. You can make and use a sourdough starter which is a kind of a wild yeast. However, not everyone has this readily available.
2 Add flour while kneading using cues, not measurements.
While kneading dough, you need to pay attention to the cues. The amount of flour you add may differ from day to day because the weather can have an effect on how sticky your dough is. Dough made on a rainy, humid day may need more while a dry summer day will need less. When the dough has enough flour mixed in, you'll know: it won't be as sticky and it will be elastic enough to pass the windowpane test.
3 Be patient.
One of the biggest differences between a cook and a baker is patience. A baker needs to have lots of it since there are many instances when the food needs time to do something that you cannot help with, such as letting bread dough rise. While a cook can finish a dish in minutes, a baker may need hours to do the same. If you become impatient, find something useful such as cleaning up your area or washing dishes so your pandesal can immediately be enjoyed with less waiting.
How to Store Homemade Pandesal
Pandesal is one of those bread that are not meant to be stored for very long. While you can store pandesal in the original paper bags it was first placed in from the panaderya, it will turn stale and hard when you wake up the next morning. This means that this kind of bread do not contain preservatives to keep it soft and tender for hours on end. (This is a good thing in our opinion.)
If you do want to store your pandesal, store it as you would other bread normally: wrapped in plastic and stored in the refrigerator or freezer for thawing and eating later.
Links are updated regularly and as much as possible, but note that products can run out of stock, discounts can expire, and listed prices can change without prior notice.
Watch: Homemade Pandesal Recipe
Homemade Pandesal Recipe