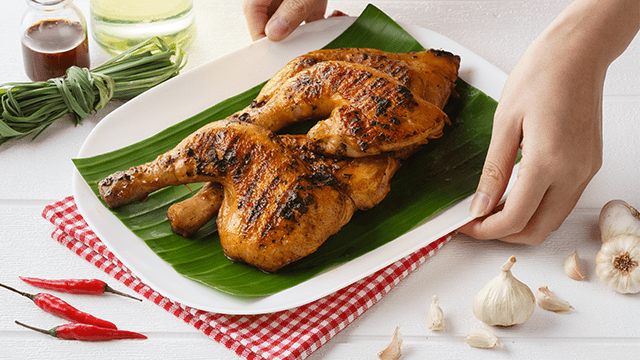 Expecting guests? Skip the crowded resto-grills and make this balikbayan favorite at home. Chicken Inasal gets its name from the Ilonggo word for being roasted, but the key to that mouthwatering flavor is in the marinade. Keep these must-have special ingredients handy—Sinamak vinegar, lemongrass, atsuete oil, and Knorr chicken cubes—and have a batch soaking in the flavor in the fridge, ready to throw on the grill for gatherings of all sizes.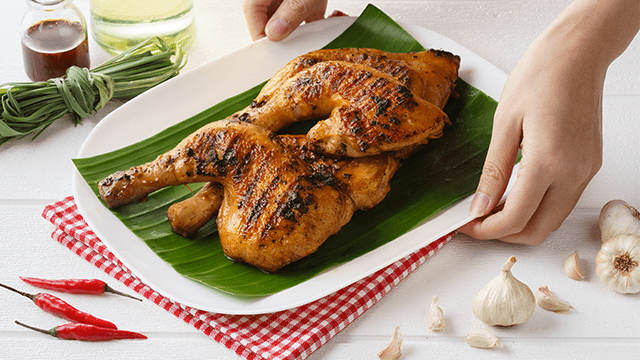 Homestyle Chicken Inasal Recipe
This one is known to be a crowd-pleaser.
Ingredients
Homestyle Chicken Inasal Ingredients
1/2

cup of

sinamak vinegar

1/4

cup of

white vinegar

1/4

cup of

Soy Sauce

2

stalks

Lemongrass (tanglad),

pounded

2

teaspoons

brown sugar

1

clove

Garlic

pounded

1

tablespoon

fish sauce (patis)

2

teaspoons

Salt

1

piece

Knorr chicken cube

1

teaspoon

black pepper

1

kilo

chicken legs

3/4

cup of

Atsuete oil (annatto oil)
Instructions
Make the marinade: Combine all ingredients and Knorr chicken cube in a large bowl. Marinate chicken legs in the mixture for at least 2 hours or overnight in the refrigerator.

Make the atsuete oil: In a pan, add 2 tablespoons atsuete and 1/2 cup oil. Let it simmer until oil changes into an orange color. Strain the atsuete seeds before using.

Make the barbecue: Skewer chicken with barbecue sticks. Cook the chicken on a charcoal grill over a medium flame. Mix together atsuete oil, margarine, and Knorr chicken cube. Baste the chicken with the atsuete oil mixture every few minutes until the meat is well done. Remove barbecue sticks before serving.