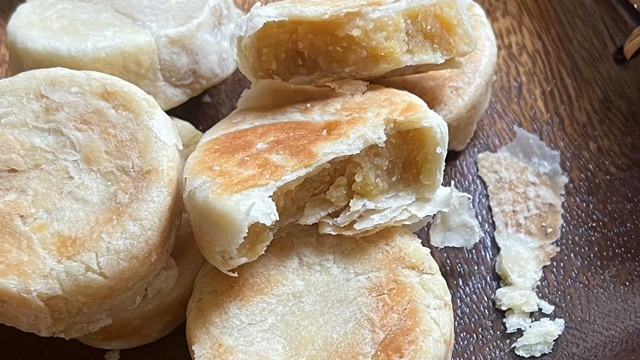 These sweet mung bean cakes or monggo hopia make for a great snack! 
This is a recipe that needs time and effort to make but the resulting pastries are delicious. You can even swap out the munggo filling with your choice of filling, too, such as ube halaya, fruit jam, ground meat, or even a melty cheese.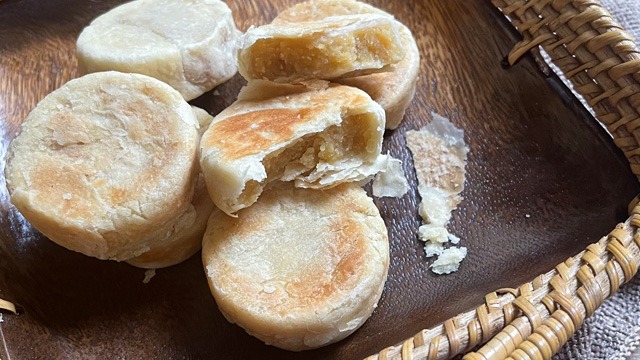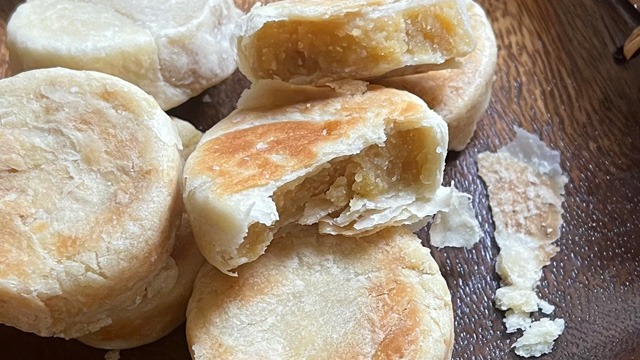 Hopia Recipe
Sweet mung bean paste fills these little pastries!
Ingredients
Hopia Ingredients
1

Cup

monggo beans

use red beans

3/4

Cup

sugar

1/4

Cup

sweetened condensed milk

Optional

1/4

Cup

all-purpose flour

1

Cup

all-purpose flour

for Dough 1

1

tablespoon

sugar

dissolved in 1/4 cup water, for Dough 1

1/4

Cup

Shortening

or lard, for Dough 1

1/8

teaspoon

Salt

or a pinch, for Dough 1

1/2

Cup

all-purpose flour

for Dough 2

1/4

Cup

Shortening

or lard, for Dough 2

1

medium

Egg

diluted with 1/4 cup water for egg wash
Instructions
To make the monggo filling: Soak mung beans overnight. Drain and transfer to a pot. Add enough water to cover then bring to boil. Simmer until the beans start to soften. Reduce heat and cook until water is reduced to just above the beans. Add sugar and continue to cook until mixture starts to thicken. Transfer to a blender or stand mixer. Process until it becomes smooth and fine. Put the mung bean mixture back into the pot and over the heat. Add the condensed milk and flour. Cook while stirring constantly until it turns into a thick paste. Set aside to cool completely.

Make the first dough: Combine flour, sugar water, shortening, and salt. Add water if necessary when mixing to form into a dough ball. Set aside in a bowl and cover with a damp cloth or cling wrap.

Make the second dough: Mix flour and shortening in a bowl using your hands until the mixture forms a smooth ball.

To make hopia: Flatten Dough 1 using a rolling pin and form into a rectangle about 10 x 12 inches (25 x 30 cm) wide. Set aside. Roll out and flatten Dough 2 on plastic wrap. This should measure 1/3 of Dough 1 (about 3.33 x 4 inches or 8.5 x 10 cm). Place Dough 2 on top and in the middle of Dough 1. Combine the two doughs using the Letter fold (aka triple-fold or book fold): Fold one side of Dough 1 over Dough 2 and then do the same to the other side. (Dough 2 should have two layers of Dough 1 on top.)

Roll out and flatten the combined dough and form into a big rectangle again. Use the letter fold again. Repeat this process one more time. Let the dough rest for 5 minutes after the last fold. Cover the dough while resting.

Roll the dough out again into a rectangle then cut the dough into two horizontally. Roll and form each dough into a tight cylinder. Use a knife to cut and divide the rolls into 12 even rounds each.

To fill the dough: Place one round cut side down and flatten. Scoop one tablespoonful of the filling in the center. Pull the sides of the dough up and over the top to cover the filling. Seal closed. Shape the hopia by placing it inside a small round cookie cutter. Press the filled pastry firmly inside the cookie cutter to form the hopia and to seal the top. Repeat with the remaining dough and filling.

When ready to bake, place the formed hopia on a baking sheet lined with baking paper (parchment paper). Repeat the process until the baking sheet is filled. Brush the top of each hopia with egg wash. Bake in a preheated oven to 180 degrees C or 350 degrees F for 15 to 20 minutes. Remove from the oven and let it cool.