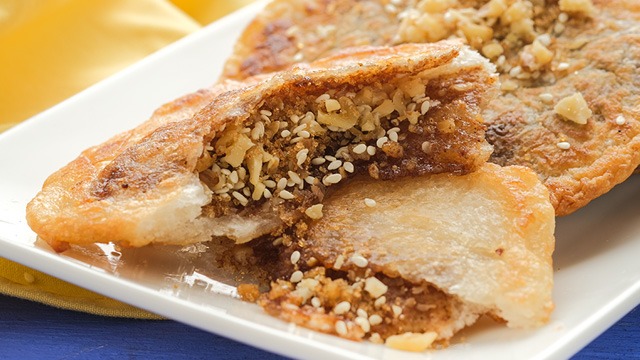 Change your view of pancakes with this awesome Korean version that's stuffed with nuts, sesame seeds, cinnamon, and brown sugar. Called the hotteok, this Korean sweet pancake is a popular street food in South Korea. It's a fried, yeast-puffed pancake that is commonly sweet but there are different kinds that are stuffed with savory, glass noodles instead. 
This version is the sweet kind that you can fill with your choice of nuts if desired.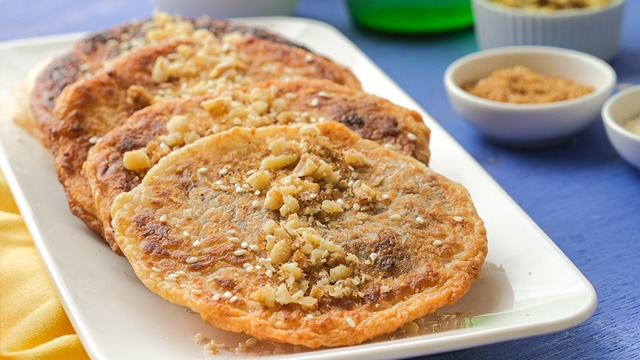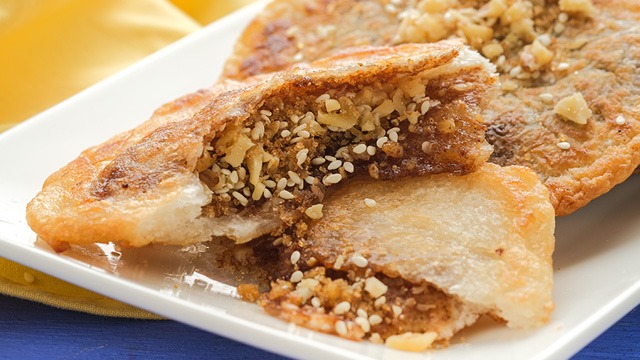 Korean Pancake (Hotteok) Recipe
This pancake is not your usual!
Ingredients
Korean Pancake (Hotteok) Ingredients
1/2

Cup

dark brown sugar

1

tablespoon

ground cinnamon

1/4

Cup

unsalted peanuts

chopped

2

tablespoons

sesame seeds

toasted

1/4

Cup

walnuts

chopped

1

Cup

warm water

2

tablespoons

white sugar

2

teaspoons

active dry yeast

1/2

teaspoon

Salt

1

tablespoon

vegetable oil

2

cups

all-purpose flour

Oil

for frying, as needed
Instructions
Make the filling: Mix dark brown sugar, cinnamon, chopped nuts, and sesame seeds in a small bowl. Set aside.

Make the pancake: Mix warm water, white sugar, yeast, salt and vegetable oil in a bowl. Stir in flour and lightly knead the dough until well combined.

Cover bowl in plastic wrap and let the dough double in size, about 1 hour.

Divide dough into 8 evenly-sized pieces. Form each into a ball.

Flatten a ball and put a tablespoon of filling in the center of the dough. Gather the edges over the filling, and pinch edges to seal. Repeat with remaining dough balls and filling.

Heat a tablespoon of oil in a small nonstick frying pan. Place a dough ball into the hot oil. Flatten the dough ball with a spatula. Fry for 2 minutes while holding it down with a spatula to make a disc. When the bottom is golden brown, flip to the other side and fry until both sides are golden brown.

When both sides have browned, remove the pancake from pan, and transfer onto a paper towel. Repeat with remaining filled dough balls. Best eaten while still hot.