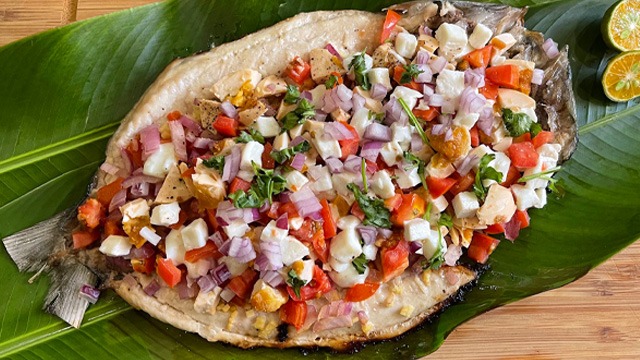 The inihaw na bangus recipe is a classic beach ulam dish. This takes the humble bangus or milkfish and turns it into a meal fit for any feast done on the grill. 
What is inihaw na bangus? 
When you're at the beach and preparing food for the ihawan or grill, preparing the inihaw na bangus may not seem like a dish you need a recipe for. It's usually a simple chopped salad made from tomatoes, onions, garlic, and calamansi juice. This is commonly the usual topping for any butterflied fish. This can be placed on top of the fish, wrapped in foil or banana leaves, and grilled over the hot charcoal. Just 20 minutes is all you need to get that fish heated and cooked through over red hot charcoals and ready to eat. 
However, this is where some go wrong. How much of each ingredient you need per fish can be an intimidating part of prepping for those who normally do not cook. This is where a recipe as simple as this inihaw na bangus recipe can be helpful.
We not only list down the ingredients (and the amounts) you will need but also included more ingredients that will make your version of this grilled fish dish at the boodle fight the dish everyone will be eager to taste.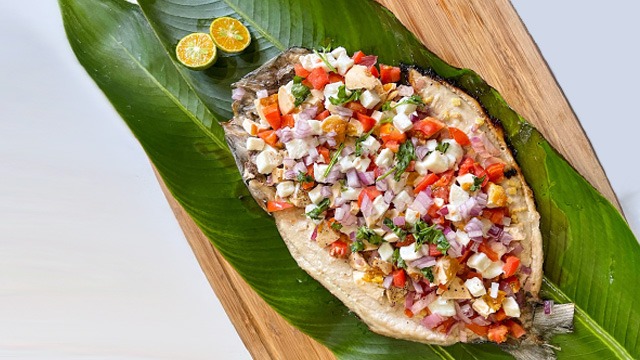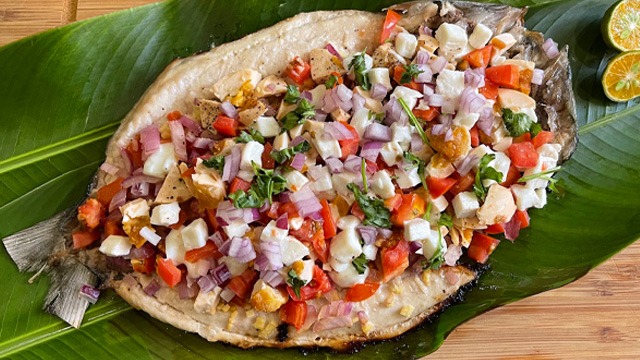 Inihaw Na Bangus Recipe
A classic recipe that takes bangus to another level of delicious.
Ingredients
Inihaw Na Bangus Ingredients
1

tablespoon

patis (fish sauce)

3

pieces

calamansi

juiced, more to serve

2

medium

white onion

chopped

4

medium

ripe tomatoes

chopped

1

-i-inch piece

ginger

grated

1

medium

bangus

butterflied, deboned, scales removed

1/4

teaspoon

Salt

or to taste

1/4

teaspoon

ground black pepper

or to taste

2

pieces

itlog na maalat (salted eggs)

chopped

1/2

Cup

kesong puti

crumbled

banana leaves

or foil

wansoy

chopped (for garnish)
Instructions
Mix patis, calamansi juice, onion, tomatoes, and ginger, and set aside. Season the milkfish with salt and pepper. Rub salt on all sides of the fish.

On a flat surface, lay the foil or banana leaves and place the fish on top of the fool or banana leaves skin side down. Top the fish with the onion and tomato mixture.

Add salted eggs and kesong puti on top of the onion and tomato mixture. Wrap the fish in foil or banana leaves. Make sure that the fish is covered with foil or banana leaves.

Prepare the grill by heating the charcoal. Cook the fish over High Heat for 15 minutes on each side. If a grill is not available, cook the fish in a dry wok over medium heat for 10 to 15 minutes on each side. Garnish the fish with wansoy before serving.