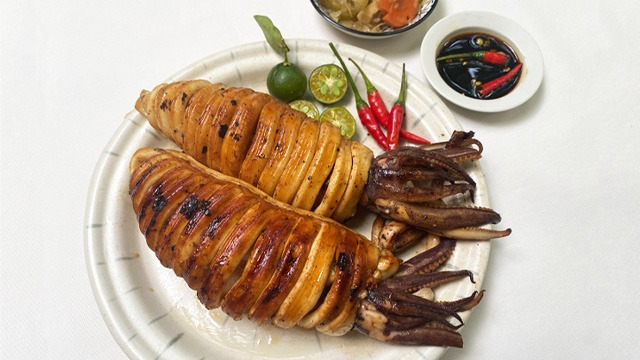 Grilling is common when you're at the beach but it's not always just at the beach that it is done. Backyards are commonplace areas as well but you can even do this right in your kitchen! All you need is a grill pan or an electric grill to bring the taste of the beach to your dinner table anytime you want! 
To elevate that experience, don't settle for just burgers, steaks, and hot dogs. Opt for fresh fish, shellfish, and even squid to put on your red hot grill, too. Inihaw fare definitely calls for inihaw na pusit and this classic recipe is one to try and share with family at the table. It's super easy to prepare and takes only minutes to cook!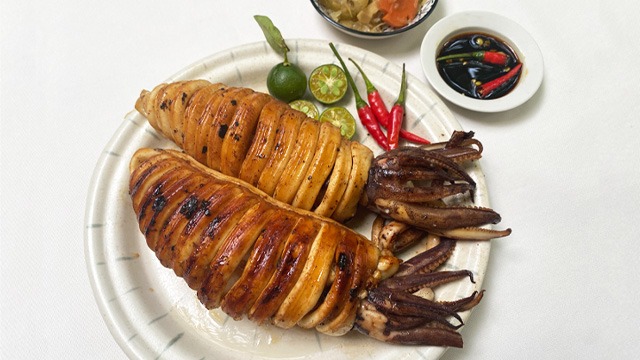 Inihaw na Pusit Recipe
A classic grilled option for those who want seafood.
Ingredients
Inihaw na Pusit Ingredients
2

pieces

medium or large squid

(about 500 grams), cleaned

4

cloves

Garlic

chopped

1

piece

siling labuyo (birds eye chilies)

sliced

1/2

Cup

lemon-lime soda

(we used Sprite)

2

tablespoons

Soy Sauce

1

tablespoon

Calamansi Juice

1/2

teaspoon

liquid seasoning

1/4

teaspoon

ground black pepper
Instructions
Make slits on the squid by slicing through its top portion.

Combine all remaining ingredients in a bowl: garlic, chili, soda, soy sauce, calamansi juice, liquid seasoning, and pepper. Mix well. Add squid to the mixture and marinate for 1 hour.

Preheat a charcoal or stovetop griller. Remove squid from the marinade. Grill until completely cooked, about 3 minutes per side, basting the squid with the marinade throughout grilling. (Make sure not to overcook the squid as it will become tough and rubbery.) Serve immediately with your desired dipping sauce.