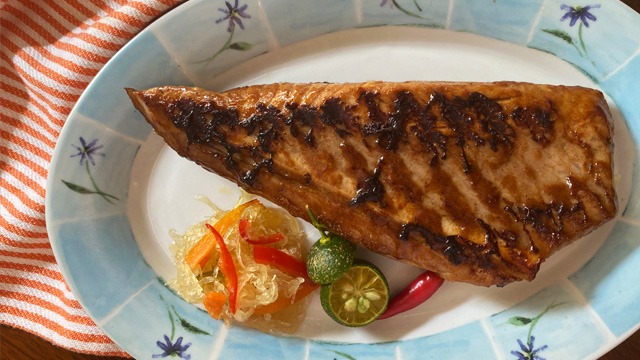 What makes a "sinigang" a "sinigang"? For many of us who love the traditional version of the sinigang, the classic version is commonly made by simmering the ingredients in a broth made from the sampaloc or tamarind fruit. This can be made with seafood such as shrimp and fish or it can be made with pork to make the popular sinigang na baboy recipe version. 
Few people make sinigang from scratch anymore so for many of us, a pack of sinigang sa sampaloc mix is the go-to ingredient of choice when we want our sour soup as our meal of the day. For this recipe, however, there is no soup. The sampaloc flavor is still present but instead, the easy-to-use sinigang sa sampaloc soup mix is used to flavor the fish. 
The soup mix is used as a dry rub. A dry rub is basically a dry mixture of herbs and spices bolstered with sugar and salt. It's a flavor enhancer that is rubbed onto the surface of the meat, infusing the surface with its flavor while allowing the creation of a crust as it is cooked. It's this crust that many people look for when cooking steaks and ribs.
In the case of this recipe, the dry rub is the sinigang mix and together with the sugar, this mix infuses the fresh tuna with the sampaloc flavor. This needs however some time to do its work but don't worry! A quick overnight marination or even a few hours is all it needs, and that is the bulk of the work you don't need to do. The rest is done on the grill. 
One additional part of this recipe that makes this grilled dish so appetizing is the look of this tuna when ready to serve. That's all thanks to two things: the homemade atsuete oil and the charred marks that the grill is sure to leave on the fish. 
The atsuete oil is made with the same kind of ingredients that you might use for your inasal na manok recipe, for your pork barbecue, or even your java rice! This red-orange oil is made simply using two ingredients: atsuete seeds, also known as annatto seeds, and oil. (You can use butter or margarine instead of oil for even more flavor!) 
This oil serves two purposes in this recipe: it's a basting oil to ensure that the tuna gets a gorgeous color that's not pale or unappetizing and it also ensures that the tuna doesn't stick to the grill. Oiling the grill is a trick used for preventing any food from sticking on your grill grates but you can also try placing slices of lemons on the grill and placing the fish on top. This will definitely stop the fish from sticking as it cooks since the fish isn't touching the grill. However, this will give your tuna a lemony flavor that may interfere with the sampaloc flavor. 
If you want your fish to taste like sinigang sa sampaloc without any lemony undertones, skip the lemons and instead, brush the grill with oil. The resulting dish will be a delicious grilled tuna dish that will remind you of the soup version but with an aura of summer.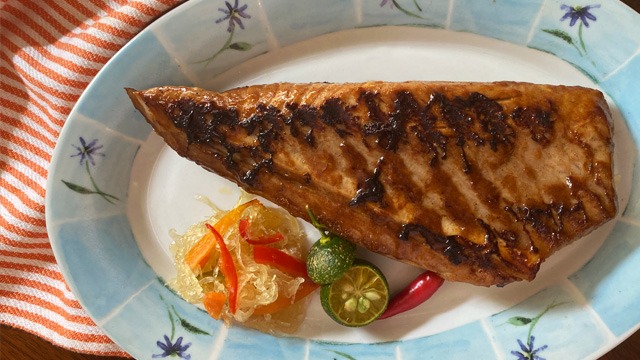 Inihaw Na Sinigang Na Tuna Belly Recipe
This grilled dish tastes like your favorite soup but better!
Ingredients
Inihaw Na Sinigang Na Tuna Belly Ingredients
1

600-700 gram

fresh tuna belly

about 2 whole slabs

1

tablespoon

Soy Sauce

1

22-gram pack

sinigang sa sampaloc mix

2

tablespoons

light brown sugar

1

teaspoon

atsuete seeds

3

tablespoons

vegetable oil
Instructions
Place tuna belly in a shallow bowl. Pour soy sauce over the tuna.

Combine sinigang sa sampaloc powder and sugar. Rub mixture all over tuna. Cover and marinate in the refrigerator for 2 to 4 hours.

Meanwhile, combine atsuete seeds and vegetable oil in a saucepan over low heat. Simmer for 1 minute. Remove from heat and let stand for 2 minutes. Drain and discard seeds. Set aside.

Once tuna is ready, heat a grill pan or a charcoal grill. Brush some of the atsuete oil on the pan or the grill grates.

Baste tuna belly with remaining atsuete oil. Grill tuna belly just until flesh changes color and flakes easily, about 4 minutes per side. Serve immediately.