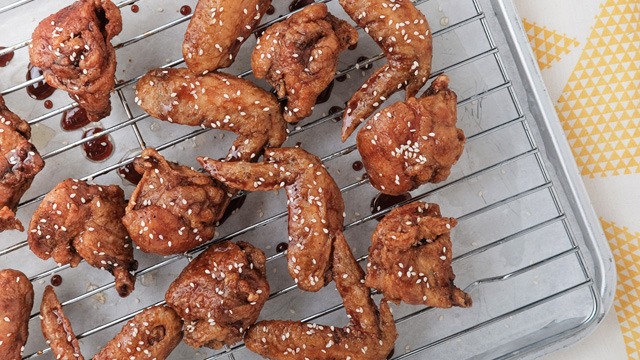 Japanese chicken wings, or chicken tebasaki, are cooked just like the Koreans do it! It's twice-fried, too, so the chicken skin is extra crispy. The glaze is also extra thick but it's made with different ingredients to make a sauce that's still evokes the flavors we know: sweet, sticky, and delicious. What you get is an appetizing bite of crunch and sweetness tempered by the moist chicken that lies underneath.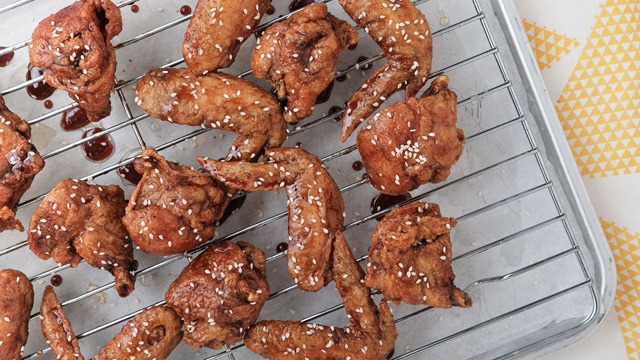 Japanese Chicken Wings Recipe
These aren't your usual chicken wings!
Ingredients
Japanese Chicken Wings Ingredients
12

pieces

chicken wings

wing tips removed, cut into drumsticks and flats

6

tablespoons

dark brown sugar

6

tablespoons

Soy Sauce

6

tablespoons

sake (japanese rice wine)

6

tablespoons

Japanese mirin

3 to 4

slices

fresh ginger

juiced

6

cloves

Garlic

crushed

2

tablespoons

black vinegar

4

tablespoons

Potato starch

vegetable oil

for deep frying

Salt

to taste

ground black pepper

to taste

white sesame seeds

for garnish
Instructions
Put chicken wings in a large bowl, and season with salt and black pepper. Toss to coat evenly and refrigerate for at least an hour or overnight. (This will make the skin crispy. It will draw out the moisture from the chicken.)

Make the glaze: Combine sugar, soy sauce, sake, mirin, ginger juice, garlic in a pan. Cook over medium heat until the glaze starts to thicken. Add and stir in the vinegar. Transfer to a bowl. Allow the glaze to cool. Set aside.

Cook the chicken: Add and heat enough vegetable oil in a heavy-bottomed pot for deep frying. Heat to 320 degrees F or 160 degrees C. Take the chicken out of the refrigerator and use paper towels to blot off as much moisture off the chicken wings. Sprinkle in the potato starch, then toss the chicken to coat evenly.

Fry the chicken wings in batches for 10 minutes each until cooked through. Transfer to a rack over a baking sheet. Turn up the heat and heat the oil again, this time to 375 degrees F or 190 degrees C. Fry the wings again. (Do not over crowd the pot.) Keep cooking the wings about 2 to 3 minutes per batch. Transfer the wings directly to the bowl with the glaze and quickly toss to coat. (Do not let the wings sit in the glaze too long. It will become soggy.)

Transfer the chicken wings to a serving platter. Sprinkle with sesame seeds. Serve immediately while hot.