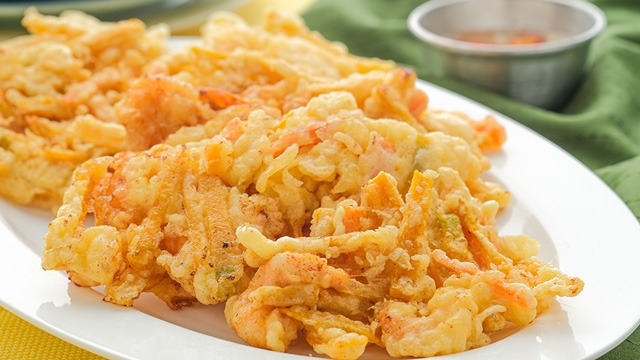 Updated as of April 6, 2023 by Ziggy Naguiat.
What is Okoy with Kalabasa?
Okoy is a Filipino vegetable fritter that some say is Chinese in origin, its etymology coming from the Hokkien word "o-kue", which means "cake made with taro". The okoy most Filipinos know is made with sweet potato, carrots, onions, bean sprouts, and often whole shrimps. Instead of sweet potatoes, this okoy recipe uses squash as the main base that holds everything together
Table of Contents
• How to Serve Okoy with Kalabasa
• How to Cook Okoy with Kalabasa
• Tips to Make the Best Okoy with Kalabasa
• Okoy with Kalabasa Storage Tips
How to Serve Okoy with Kalabasa
Okoy is always best served fresh from frying, to keep it all as crispy as possible. More often than not, spiced vinegar is used as dipping sauce. You can eat the okoy by itself as a midday snack, as a side dish, or as the main viand with some fluffy white rice.
If the okoy has gone cold and soggy, pop it inside a hot toaster to evaporate the absorbed moisture to make it crunchy again. Be sure not to toast it too long or it might get burnt instead!
How to Cook Okoy with Kalabasa
To make okoy, the batter must first be made by mixing flour, cornstarch, water, and egg in a bowl. This batter can be seasoned with a dash of salt and pepper, and even with some minced garlic. Then, the filling should be prepared. Cut the vegetables into long, thin strips (to make it all the more crispy when fried), and peeled and season the shrimps. Add to the prepared batter and mix.
Next, heat oil over medium heat. When it's hot enough, carefully spoon in chunks of the mixed batter. Deep fry until golden and crispy. Serve hot.
Tips to Make the Best Okoy with Kalabasa
1 Cut the vegetables into even shapes and sizes.
Making okoy crispy starts with the preparation of vegetables. This lets all the veggies cook evenly in the oil, lessening the chances of both over and under cooking. Plus, the thinner the vegetable slices are, the crispier they'll get when they're fried!
2 Be sure to heat the oil to the right temperature.
Adding the okoy batter while the oil is still too cold will make the final product oily, while adding it when the oil is hot can burn the outside while leaving the inside raw. Before introducing a new batch of okoy to the oil, add a bit of batter to it. If it's sizzling as it floats on the top, the oil temperature is just right, and you're good to cook!
3 Don't fry too much batter in the oil at once.
Adding too much batter to the oil right away will cause its temperature to drop drastically. Okoy gets fried pretty fast, so it can also be difficult to keep track of so many pieces in your pan! It's best to cook okoy in small batches.
4 Raise the temperature of the oil at the last minute of cooking.
This makes the oil molecules move faster, which means it doesn't stick to the batter once the okoy fully cooked. Less oil in the okoy equals a crispy, crunchy fritter. Be sure to drain on some paper towels as well.
ADVERTISEMENT - CONTINUE READING BELOW
Recommended Videos
How to Store Okoy with Kalabasa
1 Okoy can be stored in the refrigerator.
Okoy will keep well in the refrigerator for up to two weeks. Drying out might actually benefit the okoy as well, because when you reheat it, it will get that much more crunchy!
2 Okoy stores pretty well in a freezer too.
Keep the okoy in a resealable bag, and you can freeze them for up to two months. To reheat, thaw them out to room temperature, then pop them in a toaster or air fryer, or deep-fry quickly in oil.
Okoy with Kalabasa Recipe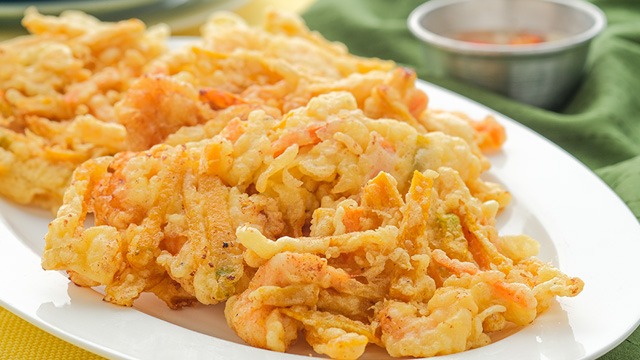 Okoy With Kalabasa Recipe
Make your kalabasa crispy and crunchy.
Ingredients
Okoy With Kalabasa Ingredients
1/2

Cup

all-purpose flour

1/4

Cup

cornstarch

1/4

Cup

water

1

medium

Egg

3

cloves

Garlic

minced

1/2

kilogram

Shrimp

shelled

1

Small

carrot

thinly sliced into strips

1

Cup

kalabasa (squash)

thinly sliced into strips

Oil

for frying

Salt

to taste

ground black pepper

to taste
Instructions
Mix together flour, cornstarch, water, egg and garlic in a large bowl. Season with salt and pepper. In a separate bowl, season shrimp with salt and pepper.

Then add carrots, kalabasa, and shrimp to the mixture. Mix until well combined.

Heat oil in a pan over medium heat. Slowly add about 2 tablespoons of the mixture to the oil and fry in batches. Drain on paper towels. Repeat with the remaining fritter batter. Serve with spiced vinegar.