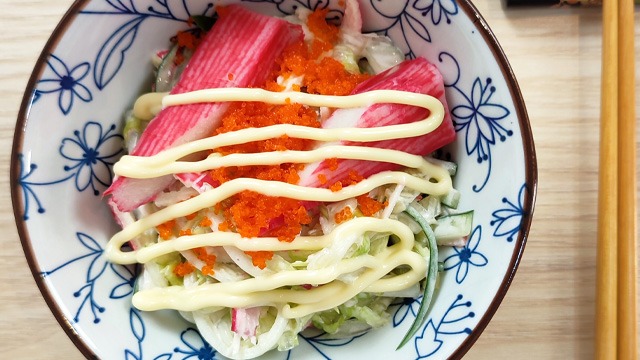 Can't get enough of this refreshing Japanese dish? You can make this kani salad recipe right in your own kitchen! With the use of fresh ingredients such as cucumber and iceberg lettuce, this dish is great as a starter for your Japanese-inspired meal. Kani (imitation crab sticks) and tobiko (red-orange Japanese fish roe) are what truly make this dish. It gives the salad a delicious seafood flavor and a beautiful pop of color.
Here's a tip: Don't settle for regular mayo—make sure to use the Japanese kind. This makes your dish taste authentic and extra good!
What Is Kani Salad?
A kani salad is a simple salad of shredded lettuce, sticks of cucumbers, shredded kani or imitation crab sticks, and Japanese mayonnaise as a dressing. It's also common to see some orange fish roe topping these salads to serve as a burst of color as well as salinity. 
It's usually considered an appetizer or a side dish to sushi, but a heartier serving can be considered a light meal since it's got meat or protein in it, too. 
How To Serve Kani Salad 
Kani salad is typically served as an appetizer in Japanese restaurants. And no-wonder — it's not only easy to make; it also has mild yet delicious flavors that will really whet your appetite.
Serve right away: Once the ingredients have been tossed together and topped with tobiko and mayo, serve it right away. No waiting please! Provide chopsticks for a truly Japanese start to your meal. 
Eat as a snack: When it's served as an appetizer, the kani salad is usually portioned smaller — good for just a few bites while waiting for the main course. However, it can also be eaten as a light snack! With a bigger serving, the kani salad can be a light afternoon (or midnight) snack.
Serve as a side with fried or grilled food: This refreshing salad provides a beautiful contrast with fried Japanese favorites, like tempura or karaage! It also goes well with grilled food; and because the ingredients that go into this kani salad recipe don't spoil easily, you can actually bring it to the beach and serve it with Pinoy-style barbecue or inihaw na liempo!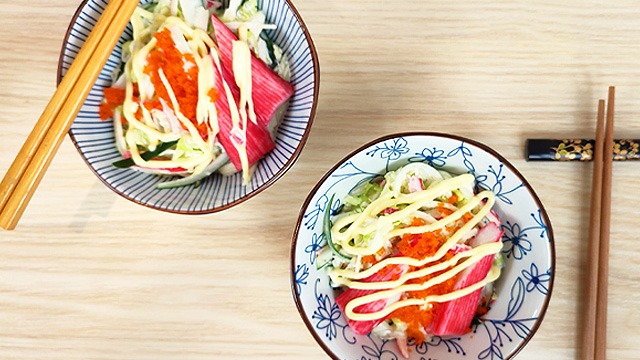 How To Make Kani Salad 
A kani salad is one of the simplest salads to put together. It's shredded lettuce and cucumbers (you can of course slice these thinly using a knife or shred them using a mandoline) tossed with a dressing. The dressing is made with Japanese mayo (It must be Japanese for that unique taste!) and that's it! 
ADVERTISEMENT - CONTINUE READING BELOW
Recommended Videos
Super simple. Just serve it topped with tobiko and more Japanese mayo. 
Tips To Make Delicious Kani Salad 
1 Add mango. 
You know how the California maki is your favorite sushi? This salad can have those same flavors in it if you add mango strips or cubes! You get bursts of sweetness from the mango, umami from the shredded crab sticks, refreshing crunch from the lettuce and cucumber, and creaminess from the mayo. It's a salad molded to be a Califronia maki without the rice or the nori wrapping. 
2  Serve immediately! 
The worse thing you can do is this: toss the salad together and not serve it immediately. You'll have a watery and wilted salad when you finally do serve it! So instead of waiting, be ready to eat before you mix your salad together, and you'll have a fresh and crisp salad to enjoy. 
3 Visit your local Japanese grocery! 
Recent years have seen the rise of different kinds of Asian grocery stores in various areas of the city, so it's easier than ever to find imported ingredients and even special ingredients for certain kinds of cuisine. This includes Japanese groceries and if you have one nearby, you can certainly find all the Japanese ingredients you need for this kani salad.
This includes the kani sticks, the fish roe, and even the shredded nori should you want to top it off with a sprinkle of the dried seaweed and toasted sesame seeds for that authentic taste of Japan in a bowl! 
How To Store Kani Salad
The best way to store this kani salad is by storing the ingredients separately. 
The kani and mayo mix should be in one container, and the lettuce and cucumber mix in another. It's important to store them separately because the lettuce and cucumbers will begin to water and will make your salad watery.
This actually happens quite quickly since cucumbers and lettuce are both loaded with water! Don't worry about time. You can easily put this salad together, which should be done right before serving. Just prep everything and toss it together only when ready to serve and top it off with the fish roe.
Watch: Kani Salad Recipe Video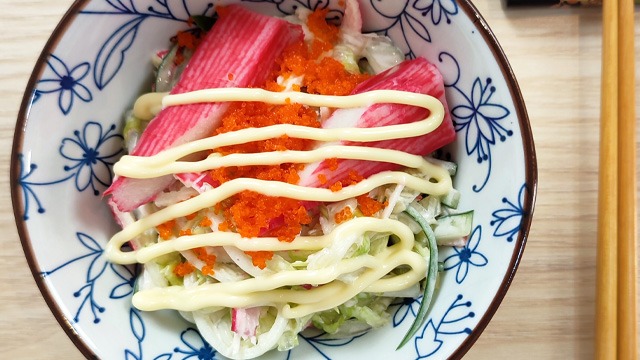 Kani Salad Recipe
To make this truly Japanese, make sure to use Japanese mayo.
Ingredients
Kani Salad Ingredients
3

leaves

Iceberg lettuce

1/4

Cup

Japanese cucumber

2

kani (crab sticks)

3 1/2

tablespoons

Japanese mayonnaise

Japanese mayonnaise

1 1/2

tablespoons

Tobiko (Red-Orange Japanese Fish Roe)

for topping
Instructions
Take the lettuce and cucumber and slice thinly to about matchstick-width strips.

Cut kani sticks in half lengthwise and break apart into very thin strips.

In a bowl, mix together lettuce, cucumber, and kani strips, and mayonnaise in equal parts.

Drizzle salad with mayonnaise, and top with kani sticks and tobiko.
Try These Other Yummy Recipes: