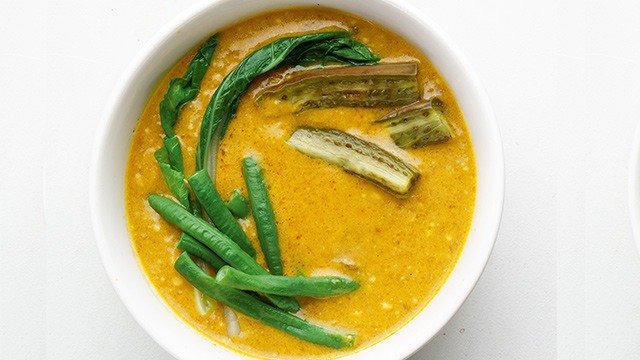 What is Kare-Kare?
Kare-kare is a Filipino classic that has a rich and creamy peanut-based sauce. Traditionally, kare-kare features oxtail, but it can also be substituted with beef shank. Classic kare-kare also has tuwalya or beef tripe, as well as vegetables like sitaw or yardlong beans, pechay, and eggplant. It is also served with bagoong or shrimp paste on the side.
What other kare-kare ingredients can you use?
One of the best things about this classic Filipino dish is how versatile the kare-kare sauce is. It has a rich but mellow flavor that pairs well with different kinds of meats. You can make seafood kare-kare, pork kare-kare, or even make a vegetarian kare-kare. The possibilities are endless!
To make seafood kare-kare, you can saute or boil your choice of seafood before adding them into the sauce. You can even make a simple seafood broth to use for the kare-kare sauce! If you are using shrimp, you can simply boil the heads and skin with laurel leaves and some garlic for 20 minutes and use this as broth. We also have a salmon kare-kare recipe you might want to try!
There are even more options if you want to make pork kare-kare. You can go with the more classic version of cooking the pork with the kare-kare sauce, and you can choose almost any cut you like. You can also kick it up a notch by pairing the kare-kare sauce with crispy fried lechon kawali! The crunch of the skin provides a whole new dimension to the dish, and it can be balanced out by blanched pechay, yardlong beans, and eggplants. 
Whether you choose to make beef, pork, seafood, or vegetables to be the star of your kare-kare, you can't go wrong. Bring this to your next potluck dinner and your kare-kare is sure to be the star of the show!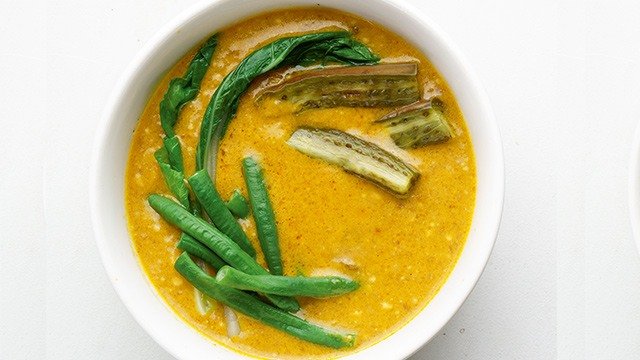 Kare-kare Sauce Recipe
Pair this kare-kare sauce with beef, pork, seafood, or vegetables!
Ingredients
Kare-kare Sauce Ingredients
1/2

Cup

onion

chopped

1 1/2

tablespoons

vegetable oil

or annatto oil

2

teaspoons

Garlic

minced

2

cups

pork broth

reserved

1/4

Cup

peanuts

roasted and finely chopped

3

heaping tablespoons

peanut butter

creamy

1/2

tablespoon

bagoong alamang

Salt

to taste

black pepper

to taste

1 1/2

tablespoons

rice

ground and toasted
Instructions
Sauté red onions in vegetable or annatto oil until translucent. Add garlic; sauté until fragrant.

Add reserved pork broth, peanuts, and creamy peanut butter; mix well. Season with bagoong alamang, salt, and freshly ground black pepper. Boil then lower heat and simmer for 5 to 8 minutes. Add ground toasted rice to thicken sauce. Adjust seasoning.

Top with lechon kawali, blanched pechay leaves, blanched yard-long beans, and blanched eggplant.