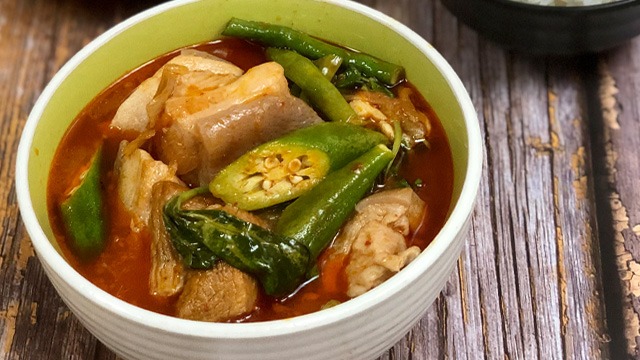 Sinigang na baboy or pork sinigang may be one of your favorite Filipino food but have you ever tried it with Korean kimchi before? Kimchi is one of the most iconic food to come out of Korea. It is a napa or Chinese cabbage fermented in a mixture of red pepper flakes, salt, and water. Green onions or leeks, carrots, daikon radish or labanos, garlic, ginger, and a little sugar is sometimes added to make the kimchi taste better as it ferments. It's the vinegar taste that signals that the kimchi is ready! This sour taste is exactly why it's a great addition to a sour sinigang! The sour flavors are already present, and the kimchi not only delivers a unique sour taste but also a spicy heat that you can't get from a siling pangsigang or green finger chili. This version is a fantastic fusion of dishes from Korea and the Philppines!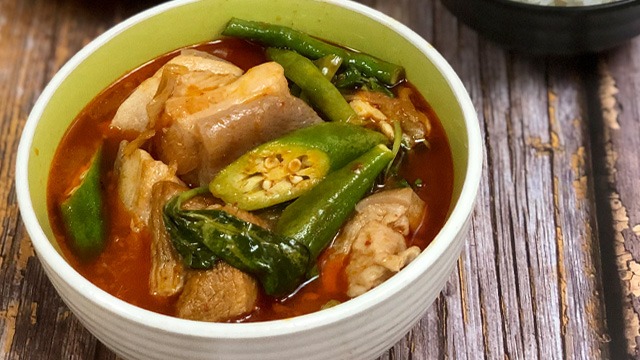 Kimchi Pork Sinigang Recipe
Do you love both kimchi and sinigang?
Ingredients
Kimchi Pork Sinigang Ingredients
1

kilo

Pork

6

cloves

Garlic

2

medium

Onion

1 1/2

cups

Kimchi

1

teaspoon

Gochugaru (Korean Dried Chili Flakes)

6-8

cups

Water

1

22-gram pack

Sinigang Mix

5

pieces

Okra

1/2

Cup

String Beans (Sitaw)

1

teaspoon

Fish Sauce (Patis)

1

Cup

Kangkong (Water Spinach) Leaves
Instructions
Heat oil in a soup pot over medium heat. Add garlic and onions. Saute until fragrant and onions are translucent.

Add kimchi and gochugaru (red chili flakes) powder. Cook for 1 to 2 minutes.

Add pork cubes and make sure that they are coated with the kimchi mixture. Add water and bring to a boil. Reduce heat and simmer for 45 minutes or until pork is tender.

Once the pork is tender, add sinigang mix, okra, and string beans. Cook for 5 minutes. Season with salt, pepper, and fish sauce.

Turn off the heat, and add kang kong. Serve hot with rice.