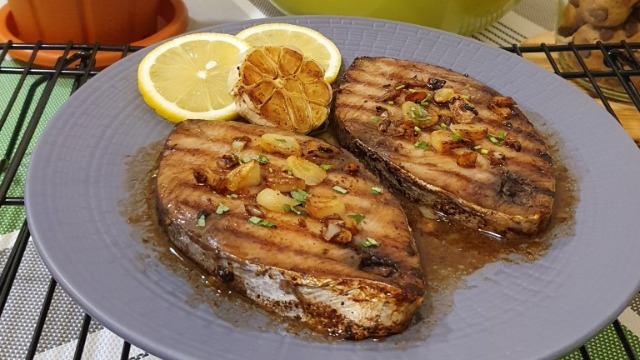 This is a super simple, quick, and easy-to-make fish dish that will instantly satisfy your cravings. Ingredients are mostly pantry staples, so you will not have a hard time finding any of the ingredients. You just need the fish and if you can't find a kingfish steaks, you can use mahi-mahi, lapu-lapu, or even affordable cream dory in a pinch!
Plus, you can never go wrong with the lemon-garlic butter combination, whether it is something to bring on your family weekend lunch or serve on a weekday dinner with your Bae if you're feeling the meal can handle a little extra. Truly, this savory dish will please any King or Queen!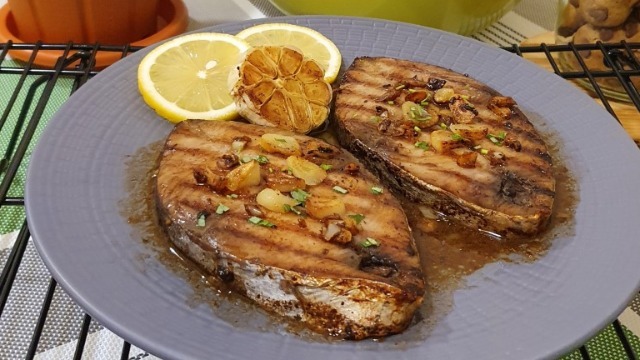 Kingfish Steaks With Lemon Garlic Butter Recipe
This savory dish requires ingredients that you might already have in your pantry!
Ingredients
Kingfish Steaks With Lemon Garlic Butter Ingredients
2

king fish steaks

preferably 1-inch thick

1/2

Cup

Soy Sauce

3

tablespoons

calamansi or lemon juice

2

tablespoons

water

1/4

teaspoon

Garlic powder

1/4

teaspoon

freshly ground black pepper

1/4

teaspoon

Salt

preferably Pink Himalayan salt

1/2

teaspoon

brown sugar

1/2

Cup

unsalted butter

divided

2

tablespoons

olive oil

divided

1/2

head

Garlic

minced

1

tablespoon

calamansi or lemon juice
Instructions
Prepare the fish, rinse well and drain the excess water. While draining the fish, prepare the marinade.

In a container, mix soy sauce, lemon juice, water, garlic powder, black pepper, salt, and brown sugar. Make sure the ingredients were properly dissolved before placing the fish steak. Flip it once to evenly distribute the marinade. Cover it and refrigerate for at least 2 hours before frying.

TIP: Use an airtight container in preparing the marinade so you can just add in the fish and seal it for refrigeration. It's more hygienic and less mess!

In a non-stick grill pan, melt 2 tablespoons of butter and add 1 tablespoon olive oil. Fry for 3 to 4 minutes each side at moderate heat. After 3 to 4 minutes, spread 2 tablespoons of butter on top of the king fish then flip it to fry the other side. Remove the fish from the heat and place in a serving platter.

TIP: You can use any non-stick pan for frying, but the grill marks make it look more enticing and Insta-worthy!

In the same non-stick grill pan, melt ¼ cup unsalted butter or remaining. Once melted, put remaining olive oil and stir fry the minced garlic until fragrant. Add in the remaining marinade plus 1 tablespoon lemon juice. Simmer for at least 3 to 4 minutes.

On a serving platter, pour the sauce over the king fish steaks. Garnish with lemon slice, garlic bits, and parsley as desired.