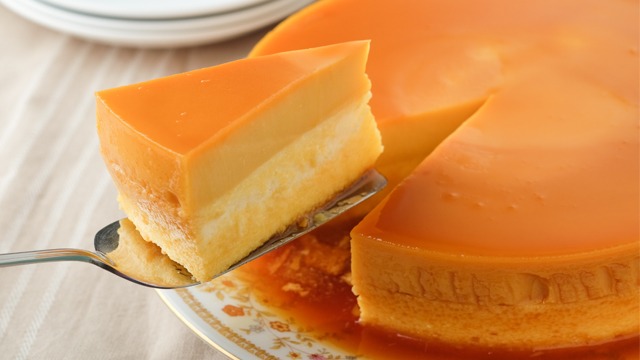 If you love leche flan and cheesecake, this leche flan cheesecake recipe is your dream come true. This creamy, velvety leche flan sits on a fluffy, moist, and tangy cheesecake that's absorbed a touch of bittersweet caramel.
In one slice, you get the perfect ratio of ultra-creamy, smooth, and melt-in-your-mouth leche flan and tangy, jiggly, and creamy Japanese cheesecake. These two decadent, creamy favorites are balanced out by the bright lemon flavors. 
Make this one-pan, layered masterpiece made of two favorites from Japan and the Philippines. Trust us when we say, one slice will not be enough!
Tips To Make Leche Flan Cheesecake:
1 Be careful not to burn your caramel.
 The caramel is what will tie the sweet and creamy leche flan with the tangy and fluffy cheesecake, so this step is crucial. If this is your first time making caramel, here's a nifty trick: after putting the sugar in your pan, add a drizzle of water all around the sides. It should just be enough to moisten the sugar. The water will help the sugar melt more evenly and prevent the granules at the bottom of the pan from browning too fast. Once the sugar begins to melt, swirl the melted sugar around the pan; do not mix the caramel with any utensils. Lastly, cook the caramel over medium-low heat. It should be low and slow so that the sugar has a chance to caramelize evenly.
2 Strain the leche flan mixture. 
The key to making smooth leche flan is making sure that there are no bubbles in your mixture. Aside from using a spatula instead of a whisk to mix it, you can pass it through a fine mesh sieve or a strainer to get rid of any bubbles.
3 Make sure there are no lumps in the cheesecake mixture. 
The reason why the cream cheese, butter, and milk are mixed over a double boiler is to soften the cream cheese and ensure that it incorporates well with the other liquids. This step is crucial because once you add in the whipped egg whites, any lumps that remain will be more difficult to get rid of.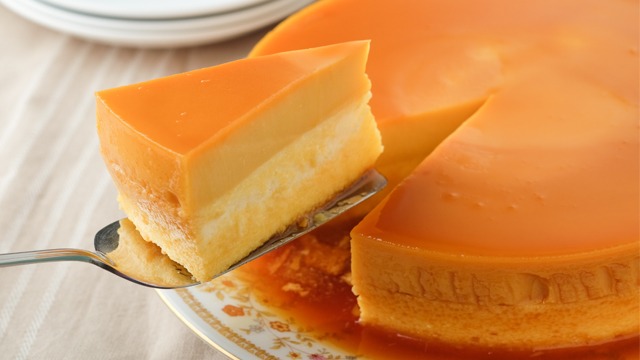 Leche Flan Cheesecake Recipe
What do you get when you combine leche flan and Japanese cheesecake? Perfection.
Ingredients
Leche Flan Cheesecake Ingredients
3/4

Cup

white sugar

1

tablespoon

unsalted butter

1

370-ml can

evaporated milk

1

168-ml can

condensed milk

8

large egg yolks

1

large egg

1

piece

lemon

zested

3/4

(227-gram) block

cream cheese

cubed

3

tablespoons

fresh milk

3

tablespoons

unsalted butter

cubed

6

tablespoons

white sugar

divided

1

tablespoon

lemon juice

3

tablespoons

all-purpose flour

3/4

teaspoon

baking powder

1/2

teaspoon

lemon extract

3

large eggs

separated

1

teaspoon

lemon juice

Butter

as needed, for greasing the pan
Instructions
Preheat oven to 350 degrees F (180 degrees C).

Make the caramel: Add white sugar to your 8-inch aluminum baking pan that's at least 3-inches tall. Using your stove on medium heat, start heating the pan to melt the sugar. When the sides liquefy, using a pair of tongs or pot holders, start swirling to get an even melt. Once the syrup has turned into an even amber color, set aside. Once pan has cooled, grease the sides with 1 tablespoon butter.

Make the leche flan batter: In a large bowl, add evaporated milk, condensed milk, lemon zest, egg yolks, and egg. Whisk gently until well combined. Set aside for at least 20 minutes to let lemon zest steep into the mixture.

Make the cheesecake: Over a double boiler, heat cream cheese, milk, and butter until melted, stirring until the mixture is smooth and creamy. If butter has separated from cream cheese, simply beat, off the heat, until it is incorporated. Set aside to let it cool.

In another bowl, whisk together sugar, lemon juice, egg yolks, flour, baking powder, and lemon extract until well blended. Temper cream cheese mixture into the egg yolk mixture by pouring in the cream cheese mixture into the egg yolk mixture while stirring gently, and set aside.

Using a stand mixer, add egg whites and lemon juice. Whisk on Medium until frothy. Gradually add in remaining 3 tablespoons white sugar. Whisk until soft peaks. Gently whisk in 1/3 of the meringue into your cream cheese mixture. Once combined well, add another 1/3 of the meringue, and gently whisk again. Add in the rest of your meringue, and gently fold in with a spatula.

Assemble the cake: Pour leche flan mixture through a strainer and into your caramel-lined and greased pan. Gently pour your cheesecake mixture over the leche flan batter which will float on top. Place the cake pan in a rectangular tray at least 2 inches deep. Place in the oven and fill the tray with boiling water ½-¾ of the way. Lower the heat to 325 degrees F (160 degrees C). Set the timer for 50 minutes.

At 50 minutes, place a piece of foil on top to cover the whole cake to prevent the top from browning too much. Set the timer for 20 minutes, and continue to cook. Once the timer rings, turn your oven off and leave the cake in the oven with the door open. Let it gently cool down for 30 minutes up to an hour in the oven. Then, chill for 3 hours or more in the refrigerator. Flip on a plate to serve.