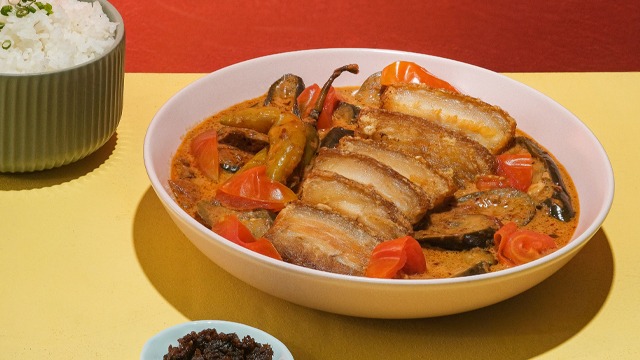 What Is Lechon Kawali Binagoongan Sa Gata?
A lechon kawali is a crispy pork belly dish that is done on the stove. Think of this as the downsized, homemade version of the popular whole lechon served at gatherings and big events. Instead of glistening skin, you get thick, crunchy, and pork rind-like skin instead. What you do get that is the most similar to that whole lechon is the tender, juicy meat, and this combo of crispy skin and tender meat is what makes this dish addictive. 
However, it's common to see lechon kawali served with a sauce. This is because it's common to find it not seasoned too well and that's where the sauce comes in. Filipinos love flavor and the more flavorful it is, the better. This recipe ditches the common lechon sauce made with liver and instead creates a different kind of sauce from bagoong (shrimp paste) and gata (coconut cream). This is popularly known as binagoongan when made into an ulam dish. The resulting dish lechon kawali binagoongan sa gata is incredibly delicious with a good dose of crunch. 
How to Serve Lechon Kawali Binagoongan Sa Gata
This dish is quite rich. It's loaded! Steamed rice, whether it's white, brown, red, or even an alternative to rice, would be perfect for absorbing the delicious thick sauce that this creates. 
If you're thinking of other ways to serve this, you can ditch the rice and try this dish tossed with pasta instead. The sauce is thick enough to coat noodles and the crunchy pork pieces are a delightful meaty topping. 
How To Cook Lechon Kawali Binagoongan Sa Gata
You can use leftover lechon kawali for this recipe, and that will definitely save you time and effort in making it totally from scratch. Just chop it up into pieces and set it aside to create the sauce for the dish. 
The sauce is a classic binagoongan with a twist. It starts with sautéing the basic garlic, onion, and tomatoes. This recipe actually uses more tomatoes than you would normally since it's a vital ingredient in the dish.
Once the tomatoes are tender, add the bagoong alamang or shrimp paste and sauté until heated through. (Watch out for the fumes! Bagoong is powerful stuff!) Add stock and vinegar and simmer this without stirring just yet. (Feel free to indulge in following an old Filipino wife's cooking tip.) 
Add the veggies, gata, and chili and cook this some more until the sauce is thickened and delicious! 
Prepare the lechon kawali by frying it until crispy and serve drizzled with the sauce you just made. 
Tips To Make The Best Lechon Kawali Binagoongan Sa Gata
1 Yes! Use leftover lechon kawali! 
This is one of those dishes that excel when you use leftover food. Since lechon kawali is actually quite tedious to make from scratch, using leftovers is a smart move as well as a good kitchen tactic. 
Leftover lechon kawali ensures the lechon is going to be crispy on the outside and should it lack a little juiciness, the sauce is there to help it out. Win-win! 
ADVERTISEMENT - CONTINUE READING BELOW
Recommended Videos
2 You can swap bagoong. 
Did you know there are other kinds of bagoong beyond the shrimp version? You can use bagoong isda or even bagoong Balayan, the liquid bagoong version. Just temper the amount you add to your dish, so you can control how salty your binagoongan will be.
3 No pork belly? Use any pork cut! 
Pork belly is undoubtedly a favorite with its wonderful layers of fat and meat that ensure tender meat every time. However, it's not always available. When this happens, feel free to use the pork cut that are easy to cook and fry. These cuts would make delicious substitutes in any case.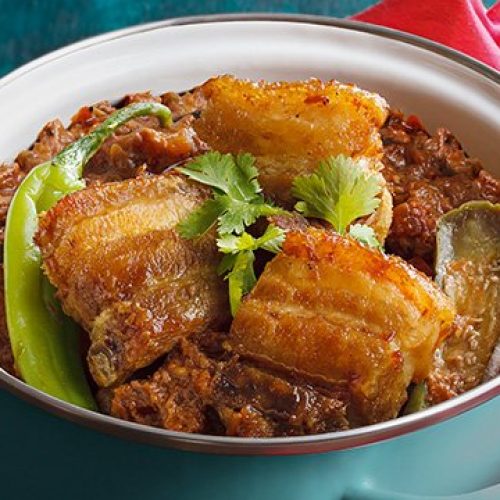 Lechon Kawali Binagoongan Sa Gata Storage Tips
1 Always refrigerate. 
This dish is fantastic refrigerated and served the next day because it is one of those dishes that are better because of it. When the flavors have time to meld and soak into each other after a few hours, the flavors are better, more nuanced, and ultimately, more appetizing. Store in a container with a lid and, for extra protection (for the other food in your refrigerator), wrap in a plastic bag, too. 
2 Pork dishes make great frozen meals! 
This pork dish is great frozen, especially if you separate the veggies from the meat. Eggplants do freeze well too but if you're in a hurry, keep it all in one container with a lid ( to prevent other dishes and food in your freezer from smelling like bagoong) and store for up to a week. 
Watch: How to Make Lechon Kawali Binagoongan Sa Gata Recipe Video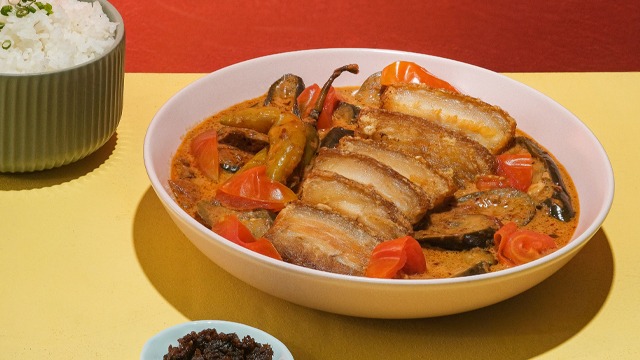 Lechon Kawali Binagoongan sa Gata Recipe
How do you make the classic binagoongan extra special? Make it with crispy pork belly and rich coconut milk.
Ingredients
Lechon Kawali Binagoongan sa Gata Ingredients
1

kilo

pork

sliced into 2inch pieces

1

tablespoon

salt

corn oil

for deep-frying

2

tablespoons

corn oil

1

medium

red onion

chopped

1

tablespoon

garlic

minced

5

native tomatoes

chopped

1/2

cup

shrimp paste (bagoong alamang)

1/2

cup

pork stock

3

tablespoons

cane vinegar

2

medium

eggplant

sliced into 2inch lengths

1/2

cup

coconut cream (kakang gata)

1

green finger chili (siling pangsigang)

black pepper

to taste
Instructions
Make the

 lechon kawali

: Place pork belly and salt in a large stockpot. Fill with water, enough to submerge pork. Bring to a boil then lower to a simmer. Simmer for 1 hour or until pork is fork tender. Remove pork from liquid and pat dry. Reserve 1/2 cup pork stock.

Make the binagoongan sauce: Heat oil in a wok. Sauté onions and garlic until fragrant over medium heat. Add tomatoes and sauté until soft. Add shrimp paste and cook for 1 minute.

 

Add pork stock and vinegar. Cook, without stirring, over medium heat for 5 minutes or until the acidity of the vinegar has evaporated (sauce should no longer be overpoweringly sour).

Add eggplants, coconut cream, and chili. Simmer until mixture is thick, about 8 minutes. Season with pepper.

Heat oil in a heavy bottomed pot. Deep-fry pork belly in batches until golden and crispy. Drain on paper towels to remove excess oil.

To serve, place half of the sauce on a serving platter. Arrange

 lechon

 kawali on top. Pour in remaining sauce.
More Lessons About [Dish]: