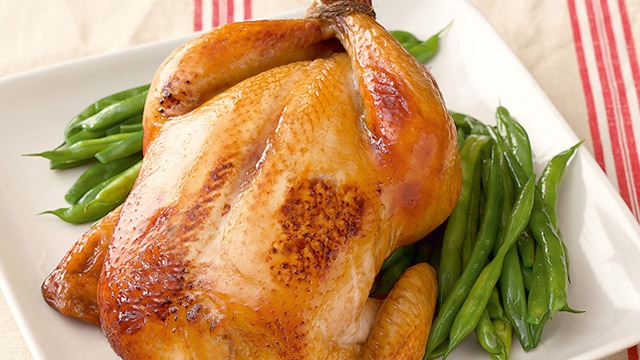 The secret to flavorful roast chicken? Herbs and butter!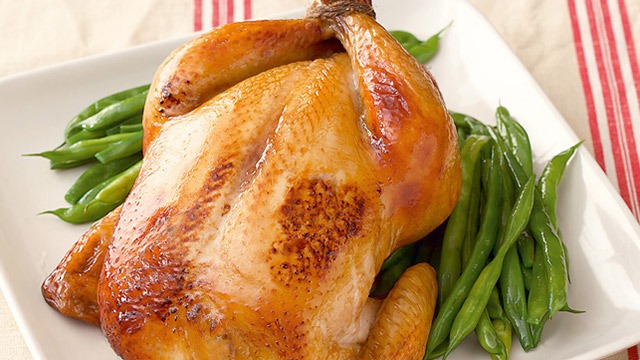 Lechon Manok
The secret to flavorful roast chicken? Herbs and butter!
Ingredients
Lechon Manok
1

(1.2 kilo) Whole

Chicken

washed and dried

1

pack (150ml)

Barbecue marinade

1/4

Cup

Calamansi Juice

Salt

to season

Pepper

to season

4

stalks

lemongrass (tanglad)

trimmed, stalks pounded, and leaves tied in a knot

4

pandan leaf

tied in a knot

2

heads

Garlic

smashed

1/4

Cup

Butter

plus 3 tablespoons melted butter or margarine

gravy

to serve (optional)
Instructions
Marinate chicken in barbecue marinade and calamansi juice for 4 hours or overnight in the refrigerator.

 

 

 Rub chicken skin and cavity with salt and pepper.

 

 

Stuff chicken cavity with lemongrass, pandan leaves, and garlic cloves.

 

 

Spread butter or margarine underneath the skin of the breast and leg parts, being careful not to tear the skin.

 

 

Truss the chicken (position the chicken breast side up on a clean surface. Cross the legs and tie them tightly with kitchen twine then tuck the wings under the breast). Place chicken on a baking rack with a baking sheet or pan underneath.

 

 

Roast in a turbo broiler or in a preheated oven set at 350 degrees fahrenheit for 1 to 1 1/2 hours, occasionally basting the chicken with melted butter. Roast until chicken is golden brown and the juices run clear when the thickest part of the chicken legs or thighs are pierced. If the breast is already cooked but the legs or thighs are not, remove the chicken from the oven or turbo broiler, cover the breast and wings with aluminum foil to keep them from drying out, then place the chicken back in the oven or turbo broiler to cook through. Serve hot with your preferred sauce.