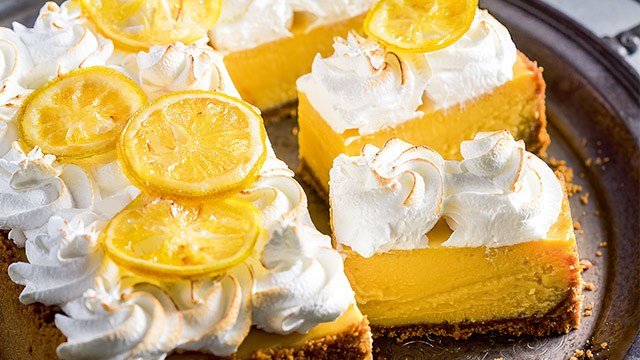 Baking with lemons is always interesting: who doesn't love that sweet and tart combination? This dessert recipe is easy to fall in love with. Finish off your lemon tart with tall, fluffy meringue.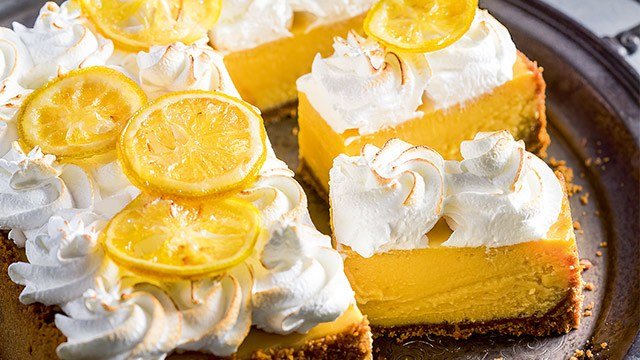 Lemon Meringue Tart Recipe
This lemon meringue dessert recipe is rich, sweet, and tart.
Ingredients
Lemon Meringue Tart Ingredients
2

cups

graham crackers crumbs

1/2

Cup

unsalted butter

melted

8

large

Egg

(yolks only), whisked slightly

2

300-ml cans

condensed milk

1/2

Cup

milk

1/2

Cup

lemon juice

candied lemons

1

cup plus 1 tablespoon

sugar

1/2

tablespoon

corn syrup

1/4

Cup

Egg

whites only

1/4

teaspoon

cream of tartar

1/2

teaspoon

vanilla extract
Instructions
Preheat oven to 350°F. Line and grease a 9-inch pan.

Mix crumbs and butter well. Press onto the bottom and up the sides of the prepared pan. Bake for 15 minutes. Cool.

Place egg yolks in a bowl. Combine condensed milk and fresh milk in a saucepot over low heat. Pour and mix ¹?³ of the hot milk mixture into the yolks. Add yolk mixture back to the saucepot. Stir in lemon juice.

Pour filling onto crust and bake for 20 to 25 minutes or until set. Let tart cool and chill overnight.

Make the meringue: Combine sugar, corn syrup, and ¼ cup water in a pot over medium heat. Cover and boil for 7 minutes. Uncover and clip a candy thermometer on the side. Boil until temperature reads 240°F.

In an electric mixer, whip egg whites and cream of tartar on medium speed. Once syrup reaches 240°F, pour it into the egg whites in a slow, steady stream. Turn speed to high and beat until fluffy. Fold in vanilla.

Pipe meringue immediately on top of tart. Brown meringue with a blowtorch, if desired. Garnish with candied lemons.