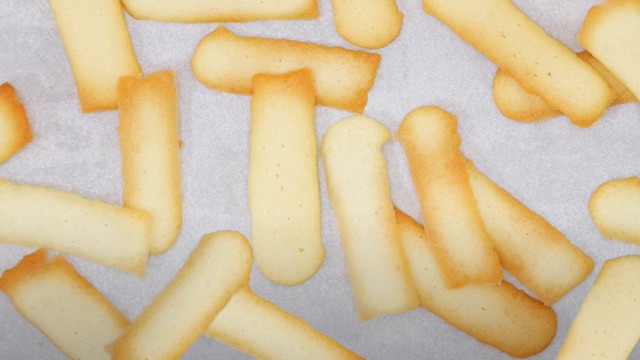 These thin buttery cookies might be containers you see being sold in Baguio. You might be surprised how easy these cookies called lengua de gato are to make a home if you failed to bring a jar home.
What Are Lengua De Gato Cookies
Lengua de gato is Spanish for "cat's tongue", and that's exactly what these thin cookies are supposed to look like. These cat's tongue-shaped cookies are thin buttery crisps that are made with just four ingredients: butter, powdered sugar, flour, and egg whites. It's a little similar to alfajores cookies but the batter is not malleable enough to be cut out or shaped.
You can flavor these with vanilla extract but these are easily customized to also taste like almonds, cinnamon, or even chocolate if you're a chocoholic. You can even stir in grated orange or lemon zest for a punch of citrus flavor that will surprise (and delight!) your friends and family if you plan on making these as a food gift for the holidays or other special occasions.
How To Serve Lengua De Gato Cookies
Lengua de gato cookies are quite delicious on their own and are best served at room temperature, but you can easily make these more appetizing with a little imagination. Since these tiny little cookies are so delicate, you can brush melted chocolate on one and sandwich two together to give the cookie a more hardy structure. Plus, you give these a delicious chocolate flavor, too.
You can also lightly dust these with more powdered sugar to give them a lovely snow-topped appearance.
How To Make Lengua De Gato Cookies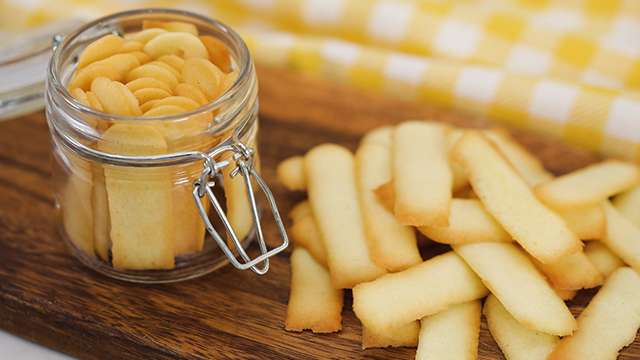 These cookies need four main ingredients plus a flavoring or extract, which in this recipe is vanilla. The batter starts with butter and powdered sugar whisked very well until light and fluffy. This will take a few minutes at least and will help the cookies keep their tender texture when baked.
The egg whites and flavoring are added then finally flour. Seems like a normal cookie recipe but the amounts are quite different. This makes a batter more than a dough which is why it's best to use a piping bag. If you don't have one, you can easily make a piping bag using a plastic bag such as a ziplock bag.
You'll want to pipe the batter into thin strips on a baking sheet about 2 inches apart since these will spread out slightly as it bakes. These bake in 10 minutes and with just this small amount, you can easily make a big batch. You can easily gobble them up just as easily, too, if you're craving!
Tips To Make Delicious Lengua De Gato Cookies
These delicate cookies may only require a few ingredients to make but you can make perfect cookies, or at the least, better cookies with these tips:
1 Use real butter.
Since these cookies only require four ingredients, it's best you use the best ingredients you can get your hands on. The most obvious choice for quality ingredients is butter. Use real butter for these cookies since these are butter cookies and the main flavor you will taste is not just the sugar but also the butter. You can't go wrong with a rich buttery taste when it comes to cookies!
2 Use a piping bag.
It's another step and another item you may have to wash, we know, but trust us when we say a piping bag will make your job making these cookies so much easier. Not only will you have uniformly shaped cookies but it does help in making these cat's tongue cookies look like them, too.
ADVERTISEMENT - CONTINUE READING BELOW
Recommended Videos
3 Feel free to add mix-ins!
We said these are easy cookies to make but it's also easy to make these better. You can shave chocolate and stir it into the batter for a speckled effect. You can grate or finely chop orange, lemon, or even calamansi zest to give these a citrus taste! Finally, you can even gently dip the finished cookies in chocolate to make them more appealing than the normal cookie.
How To Store Lengua De Gato Cookies
Since these are cookies and delicate ones at that, these are best stored in airtight containers. If possible, store these cookies standing upright so they're easy to take from the container and not break any as you do it. These keep well at room temperature and, for even longer storage, can even be stored in the refrigerator. However, once stored in the refrigerator, keep them chilled so they do not lose their crisp texture as it warms and thaws back to room temperature.
Watch: Lengua De Gato Cookies Recipe
Lengua De Gato Cookies Recipe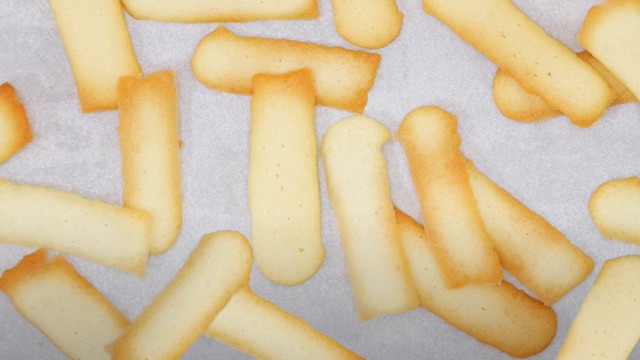 Lengua de Gato Cookies Recipe
These delicate cookies are super buttery!
Ingredients
Lengua de Gato Cookies Ingredients
1/2

Cup

unsalted butter

softened (about 1 stick butter)

3/4

Cup

Powdered SUgar

sifted

2

medium

egg whites

1/2

teaspoon

vanilla exract

3/4

Cup

all-purpose flour

plus 2 tablespoons, sifted
Instructions
Preheat the oven to 375°F. With a stand mixer or hand-held blender, blend the salted butter and powdered sugar on medium speed until the mixture is light and fluffy, around 3 minutes.

Add the egg whites and vanilla and mix on medium speed until the mixture is combined.

Add the flour and mix on low speed until the batter is smooth and uniform. Fill a piping bag with the batter and snip the corner to make a 1-inch opening.

Pipe thin layers, around 3 inches in length, onto a baking sheet lined with parchment paper. Bake for 10 minutes or until the edges turn golden brown and the cookies are crisp.