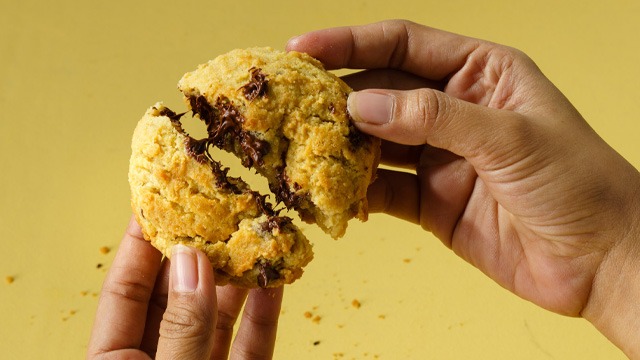 The most popular cookie may possibly be this cookie: chocolate chip cookies.
This is one of six new dessert recipes under the September digital cover recipes so we can satisfy all your sweet cravings here on Yummy.
What is a chocolate chip cookie?
A cookie at its most basic is a pastry dessert made from flour, eggs, butter, sugar, and flavorings. These are made and meant to be eaten as an individual serving. A chocolate chip cookie is a kind of cookie that is a delicious marriage of a soft vanilla-scented cookie with a hint of caramel studded with earthy and sweet chocolate chunks in the form of little tear drops with flat bottoms.
This American dessert invention is credited to Ruth Wakefield who ran a restaurant called Toll House and the recipe which she later sold to Nestle. She allegedly put chopped chocolate into cookie dough expecting the chocolate to melt into the dough as it baked. It didn't but that's the beauty of this now iconic American snack. Those melty pockets of chocolate made each bite decadent and ultimately, irresistible for anyone who loves chocolate.
You can easily make the version she originally made with contained nuts but you can also omit it for a truly chocoholic version that's loaded with only chocolate chips. You can even bulk up the cookie itself with oatmeal which adds a chewiness and nuttiness that you can't get with a regular chocolate chip cookie.
How to Serve Chocolate Chip Cookies
These cookies are honestly best served still warm from the oven where the chocolate is warmed enough to be melted and the cookie still wafting vanilla-scented aromas in and around your kitchen. It's perfect for those who just can't resist having a taste!
If your willpower is strong enough to wait, the second best way to serve these is at room temperature, so the chocolate is soft and the cookie itself tender and moist. A tall glass of milk may be required!
How to Bake Chocolate Chip Cookies
Baking cookies is just like making a cake batter but instead of a batter, you'll be making a soft dough. The dough is made from creaming softened butter with sugar, an egg or two, and a vanilla flavoring. This can be made from real vanilla beans or an artificially or imitation flavored one since vanilla pods are difficult to grow and cultivate.
This creamed mixture has flour, a chemical leavener (usually baking soda or baking powder), and a touch of salt to offset (and complement) the overall sweetness of the cookie. The resulting dough is soft and for some, irresistible enough to eat as is. If you hold off eating it at this point, you can scoop the dough and roll them into equal rounds. These are best chilled overnight before being baked.
Tips to Make the Best Chocolate Chip Cookies
The best chocolate chip cookies are the ones that you make at home because you can better control how much chocolate chips is in every cookie. With that said, here are other tips and tricks that will make your chocolate chip baking session a joy to do every time:
Mix your dough better by allowing the butter to soften and the eggs to thaw to room temperature. Ingredients at different temperatures are more prone to looking like it's curdling rather than mixing.
Aways chill your cookie dough if you have the patience. Chilling the dough after forming and before baking allows the flour to absorb the ingredients and the flavors or more fully meld together. (Think of this step as similar to aging the dough so it tastes better the next day.) Plus,


How to Store Chocolate Chip Cookies
The best way to store any cookie is in an air-tight container so the cookies can last longer. Not only will the cookies stay and taste more fresh, but the cookies won't lose their texture or become stale.
ADVERTISEMENT - CONTINUE READING BELOW
Recommended Videos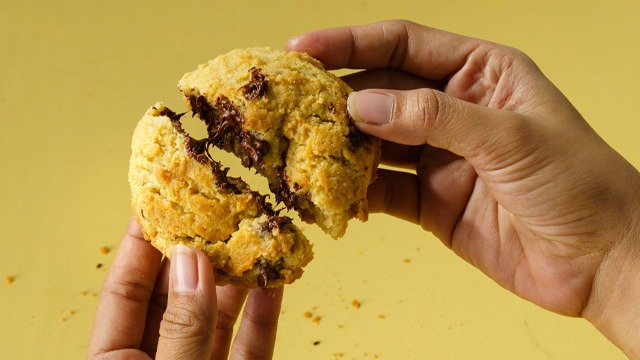 Levain-Style Chocolate Chip Cookie Recipe
These are big, thick cookies like there's cookie dough on the inside.
Ingredients
Levain-Style Chocolate Chip Cookie Ingredients
1

Cup

unsalted butter

softened

3/4

Cup

brown sugar

1/2

Cup

white sugar

1

large

Egg

1

teaspoon

vanilla flavoring

2 1/2

cups

all-purpose flour

1/2

teaspoon

Baking soda

1/2

teaspoon

baking powder

1

teaspoon

Salt

1 1/2

cups

semi-sweet chocolate chips

1

Cup

chopped nuts

Optional
Instructions
In a large bowl using a silicone spatula, cream butter and two sugars until mixture is well mixed and softened.

Add the egg, mixing until well blended. Stir in vanilla flavoring.

Place a sieve over the butter mixture and sift flour, baking powder, baking soda, and salt. Mix just until combined. Stir in chocolate chips. TIP: If you want to add chopped nuts, add it with the chocolate chips to combine evenly.

Portion dough using a scoop onto a baking sheet lined with parchment paper. Cover or wrap with plastic wrap and refrigerate for at least 30 minutes or up to overnight if desired. TIP: Portion it NOW before it gets chilled. It s easier than trying to roll the chilled dough.

Preheat the oven to 350 degrees F or 180 degrees C when ready to bake.

Remove dough from the refrigerator. Place dough balls onto baking sheets, 2 inches apart. Bake for 12 to 15 minutes in the preheated oven or until the edges are golden and firm but the centers are just slightly soft to the touch.

Remove from the oven. Let cool on the baking sheet for several seconds or just until the edges firm up then use a flat spatula to release each cookie from the baking sheet before transferring each onto a wire rack to cool completely.