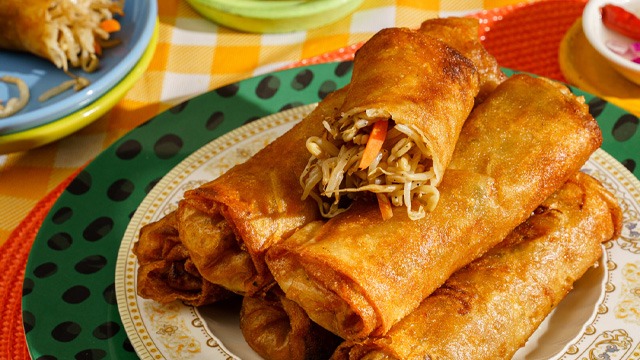 The lumpiang gulay you probably had growing up was filled with vegetables such as togue or bean sprouts, carrots, cabbage, green beans, singkamas or jicama, and shrimps. This lumpiang togue recipe tries to mimic the same flavors of that nostalgic lumpia of long ago with its flavors, textures, and even the sauce that's served with it.
It's also one of six recipes that we are featuring as one of your favorite karinderya recipes you love to eat. As one of Yummy's October digital cover recipes, this karinderya dish is sure to satisfy your love for all things food on Yummy.
What Is Lumpiang Togue
Lumpia is classic finger food for traditional parties and mga handaan. These are normally crispy little rolls filled with either meat or vegetables or a combination of both such as the lumpiang Shanghai. These are popularly fried but can also be served in fresh lumpia wrappers, also known as lumpiang sariwa.
Lumpiang togue is a vegetarian variant of the lumpia. While the main ingredient of the filling is togue or bean sprouts, it can also include other vegetables and even include seafood such as small shrimps or dried hibe or minimal amounts of ground meat to give the dish a meaty flavor. It can even be filled with a sweet filling such as sweetened saba bananas and langka (jackfruit) also known as the turon.
How To Serve Lumpiang Togue
To serve lumpiang togue, it's best served while still hot and crispy, so you don't experience biting into soggy lumpia wrappers.
How To Cook Lumpiang Togue
Most lumpia recipes consist of two components: the filling and the wrapper. The filling can be cooked or uncooked before it's rolled into the lumpia wrappers. For this lumpiang togue recipe, the filling is usually already cooked so that when it's time to deep fry them, it's a simple procedure that doesn't have you worrying if the filling is cooked through or not.
This recipe uses a secret ingredient to add a punch of umami: dried alamang. It adds its flavor without becoming too salty or an overpowering flavor in the filling that bagoong might add. If you long for that delicious veggie lumpia recipe, you can learn how to cook lumpiang togue and get a little taste of home of the past.
Tips To Make Delicious Lumpiang Togue 
Most lumpia recipes will have similar tips when it comes to making the best-tasting lumpia. Here are some tips to make sure the ones you make result in delicious lumpia:
Make the filling delicious even before it's rolled into the lumpia wrappers.
Don't overfill so your lumpia are easy to eat.
On a budget? Use more togue than the other vegetables, and use them as contrasting bursts of texture and flavor when you take a bite.
Serve with easy vinegar-based dipping sauces: use spiced vinegar for those who love some heat and extra flavor and basic vinegar for those who prefer their dips to not interfere with the lumpia filling.
How to Store Lumpiang Togue 
Lumpiang togue is easy to store! In fact, if you're thinking of making these ahead of serving time, you can! Most lumpia can be made and frozen prior to cooking, especially meat-filled ones. However, while veggies last for longer when frozen, togue is best when these have already been cooked, so if you're thinking of storing lumpiang togue, best roll them up in their lumpia wrappers before freezing.
Then, when ready to serve, no need to defrost! Just deep fry in oil over medium heat until the filling is heated through (The filling is already cooked remember?) and the lumpia wrapper is a lovely golden brown.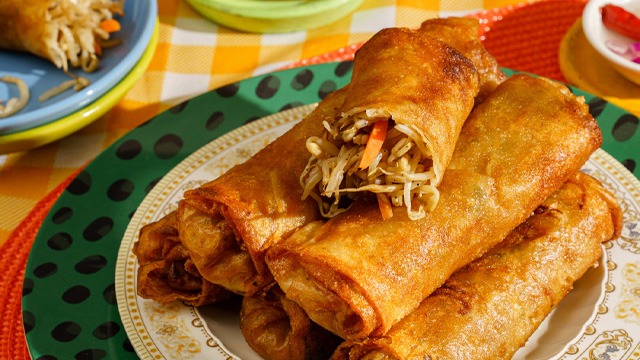 Lumpiang Togue Recipe
These fried spring rolls are the classic lumpia you may have eaten since childhood.
Ingredients
Lumpiang Togue Ingredients
1/4

Cup

Oil

more for pan frying

1

medium

red onion

peeled, sliced thinly

3

cloves

Garlic

peeled, chopped

1

medium

carrot

peeled, cut into thin strips

1/2

medium

jicama (singkamas)

peeled, cut into strips

1/2

bunch

green beans (Baguio beans)

sliced on the diagonal

1/2

small head

cabbage

shredded thinly

3

cups

bean sprouts (togue)

rinsed and drained

1/4

Cup

dried shrimp fry (alamang)

or to taste

1

tablespoon

fish sauce (patis)

or to taste

Salt

to taste

ground black pepper

or to taste

24

pieces

Lumpia wrappers

large, kept chilled

water

as needed or egg for egg wash (optional)

1/4

Cup

Soy Sauce

1/3

Cup

Vinegar

2

cloves

Garlic

peeled, crushed

1

teaspoon

sugar
Instructions
In a wok over medium heat, heat oil. Add and then sauté onion and garlic until fragrant. Add carrots, followed shortly by singkamas, green beans, cabbage, and finally togue. Toss in dried alamang. Season with salt and ground black pepper. Mix well. Remove from the heat and set aside to cool completely. 

Separate lumpia wrappers; keep covered with a damp cloth. Lay one wrapper on a cutting board. Place about 1 heaping tablespoonful of the togue filling in its center. Wet the edges with water or egg wash before rolling. Repeat with the remaining filling and wrappers. Fry immediately or either chill or freeze until ready to cook. 

Heat enough oil in a deep pan for pan frying. Fry lumpia until browned on all sides. Drain on paper towels. Serve with soy sauce-garlic dipping sauce. 

Make the Soy Sauce-Garlic Dipping Sauce: Mix soy sauce, vinegar, crushed garlic, salt, and sugar together. Serve with lumpia. 
ADVERTISEMENT - CONTINUE READING BELOW
Recommended Videos