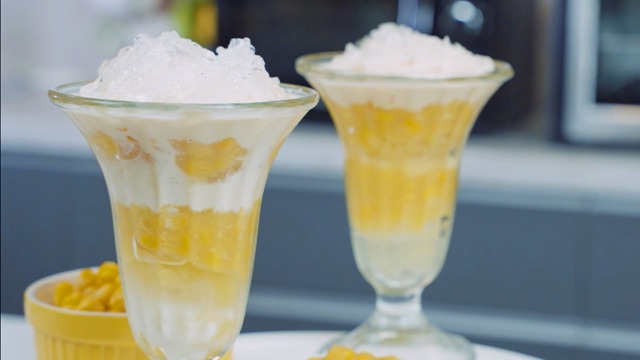 This easy icy dessert made from layers of shaved ice and creamed corn is a great alternative to halo-halo.
What Is Mais con Yelo?
The mais con yelo is a delicious dessert that is similar to the halo-halo. The halo-halo you may recall is a shaved ice dessert that is a combination of ice and numerous sweet ingredients. These toppings range from sweetened beans, creamy and fruity jams, and fruits packed in syrup. All these are packed into a shallow bowl or tall glass and doused in creamy milk. This is commonly mixed well before eating, hence the term "halo-halo " which loosely translates to "mix, mix". 
Mais con yelo is a much more simple version of this shaved ice concoction with only mais or corn as the topping. 
How to Serve Mais con Yelo
Mais con yelo is amazingly refreshing as it is, but there are some tweaks you can do to make it even better!
Pair it with minatamis na saba: Corn and bananas may not sound like a complementary combination but when sweetened, the earthy corn and the sweet hearty saba bananas are a tasty and unique combo. 
Add cherry syrup: You might not think it's a delicious pairing either but maraschino cherries are bright red with a syrup that is delicious when used in other ways beyond keeping the cherries sweet. Use the syrup to sweeten the evaporated milk together with the condensed milk. If you like cherries, this blushed corn slush is one to try.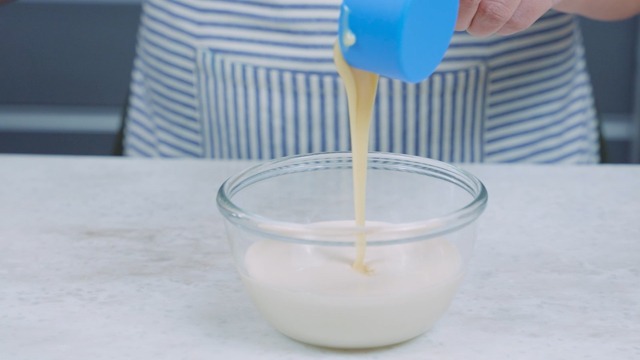 How To Make Mais con Yelo
This is one of the simplest desserts you can make! Shaving the ice is the most challenging part of this recipe, and it can be made easier if you have a shaved ice machine. 
An ice-shaving machine, whether electric or manual,  will change your life if you love halo-halo and other icy desserts and drinks. Shaved ice is a great way to enjoy cold food; if you're eating the ice, shaved is definitely better than crunching on shards of ice. 
Once you have your ice, it's just a matter of putting your ingredients together. The evaporated milk and condensed milk (or sugar) can be added separately but we think mixing the two together creates a much more cohesive dessert that won't mar your eating experience. It's harder to mix condensed milk with the rest of the ingredients when cold and if you're adding sugar, the granules take longer to dissolve. This way, you just need to pour and gently mix to get your dessert perfectly sweetened. 
ADVERTISEMENT - CONTINUE READING BELOW
Recommended Videos
The creamed corn can come straight from the can. No shame here if that's all you do but we do suggest that you stir in some whole-kernel sweet corn bits into the creamed corn so you're not lacking in corn. 
Other than that, you're ready to assemble. Just layer shaved ice and corn in your choice of tall glass or bowl and pour over the milk mixture and voila! Mais con yelo that's so good, you'll want more tomorrow. 
A Tip To Make The Best Mais con Yelo
Hack the creamed corn. 
The creamed corn in a can is good enough but for those times when you want better than just good, you may want to hack that creamed corn can and make it better. It can be as simple as stirring in real corn bits as we did here, but you can also sweeten it some more, cook it again and mash more corn into the mixture to make it taste more corny, or add real cream to it to really bring out the creaminess of the corn for your mais con yelo. 
Better yet, if you have time, make creamed corn from scratch.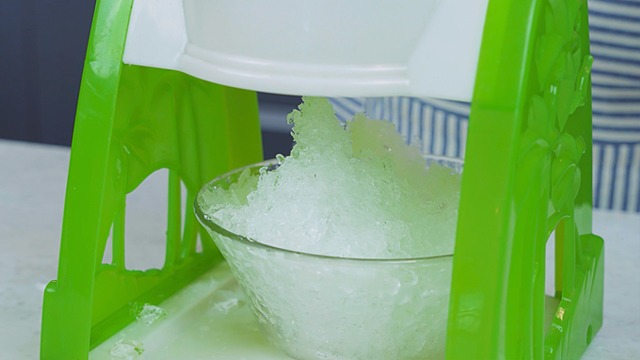 Mais con Yelo Storage Tips
1 Store leftover creamed corn and evaporated milk in the refrigerator. 
Should you not need more than one serving of this mais con yelo, you should refrigerate these, covered. These can keep for about about 3 day. 
2 Have a party? Store shaved ice in the freezer. 
Should you need to make more than a few glasses of mais con yelo, you can load glasses or bowls of shaved ice and store these in the freezer. Just assemble later when ready to eat. 
Watch: How to Make Mais con Yelo Recipe Video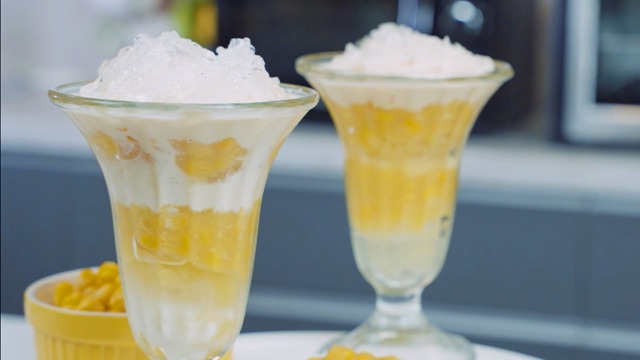 Mais Con Yelo Recipe
This ice-cold corn dessert is a great alternative to halo-halo.
Ingredients
1

cup

evaporated milk

1/2

cup

sweetened condensed milk

1 400-

ml

can cream style corn

1/2

cup

whole sweet kernel corn

drained, optional

5

cups

ice cubes
Instructions
In a medium bowl, mix together the evaporated milk and sweetened condensed milk. Transfer to a container with a spout and set aside.

In a large bowl, combine the creamed corn and the whole sweet kernel corn if using.

When ready to serve, use an ice shaver to make shaved ice: place the ice cubes in the machine and shave the ice until fine. Freeze any shaved ice until ready to assemble.

In a halo-halo glass or a tall glass with a wide rim, transfer shaved ice into the glass, filling it about 1/4 full. Add a layer of about 2 tablespoons corn mixture. Add another layer of shaved ice, then corn mixture, and finally more shaved ice.

Pour about 1/3 cup evaporated milk mixture over the ice and serve immediately or serve with evaporated milk mixture on the side. Repeat with remaining ingredients.
Notes
Mixing creamed corn with whole-kernel corn adds more corn bits to your mais con yelo.
You can use a manual ice-shaving machine like we used in the video or use a power blender or electric chopper to make shaved ice.
Add more condensed milk to your taste to the evaporated milk to make your dessert sweeter.
Try These Other Yummy Recipes: