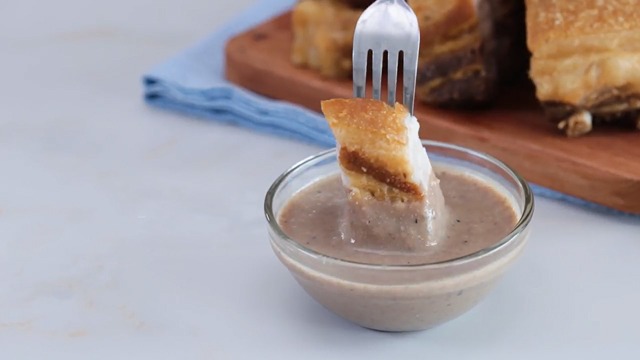 What Is Mang Tomas Lechon Sauce? 
Serve lechon kawali without any sauce, and you'll immediately hear someone ask for the "Mang Tomas" sauce. Yes. Not ketchup, not mustard, not even mayonnaise, but literally, "Nasaan ang Mang Tomas? (Where is the Mang Tomas?)"
This "Mang Tomas" sauce that almost every Filipino is familiar with is universally known by the brand name. The bottled condiment is a liver sauce, sweetened, spiced up, and thickened to coat some of our favorite fried food, including the famous lechon and the home-style lechon kawali.
The sauce was developed by a man named Hernan Reyes, according to the book Superbrands (Philippines, Volume 3, Pages 78-79) in the late 1980s. It was a recipe he bought from an "Aling Pitang" which he thought was the best tasting sauce to serve with native-style lechon. However, he named his bottled sauce after a more successful lechon place called "Mang Tomas", and it was a hit. Originally named Mang Tomas Sarsa or sauce, the all-around condiment is now a staple in many Filipino kitchens and has evolved beyond being just a lechon sauce.
This version of the Mang Tomas lechon sauce is a homage to that original recipe that uses real pork liver in the sauce with a twist.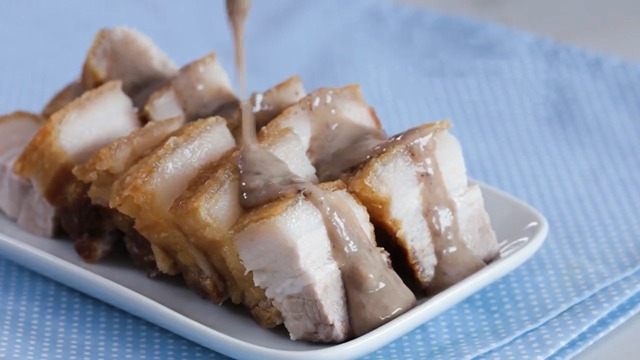 How to Serve Mang Tomas Lechon Sauce Hack 
The lechon sauce is fantastic as a sauce for the original lechon and lechon kawali. This version is thick and delicious and can be a pairing of other fried food as well.
Here are other ways to enjoy this dish:
Pair it with fried fish: The sauce honestly goes well with any fried food and fried fish is no exception. Try it with fleshy fish like fried tilapia or fried bangus instead of plain. This is excellent as a dipping sauce for fried small fish, too, like tawalis, danggit, and other small fish you can eat whole when fried.
Make lechon paksiw. This classic use of the liver sauce is well-loved, and this recipe is a delicious way to use up leftover lechon and lechon kawali.
Serve it with fried chicken. Fried food is really one of the best pairings of this all-around sauce. Fried chicken is delicious with gravy but when you are craving sweetness, not savory, you can swap the chicken gravy and dunk the chicken in this sweet liver sauce instead.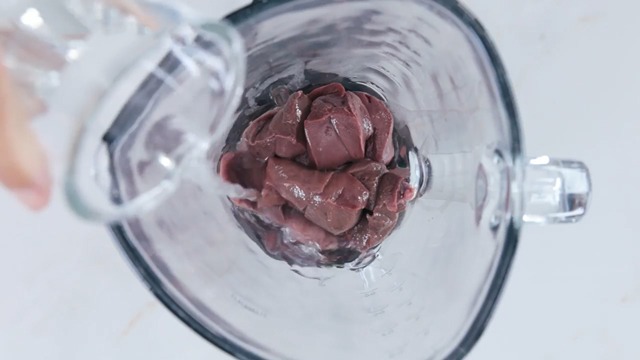 How To Cook Mang Tomas Lechon Sauce Hack 
This sauce starts with the fresh pork liver being ground up as fine as it can be in a blender (You can also use an immersion blender aka hand blender.) You'll need to do this twice, before and after cooking, in some water.
ADVERTISEMENT - CONTINUE READING BELOW
Recommended Videos
Transfer the ground-up liver mixture to a pan and cook. You can add your spices and seasonings at this time: sugar, black pepper, vinegar, and finally, breadcrumbs to thicken the sauce. This is simmered until thickened and the vinegar no longer has a sharp taste. This is again processed in the blender so that the resulting sauce is super smooth.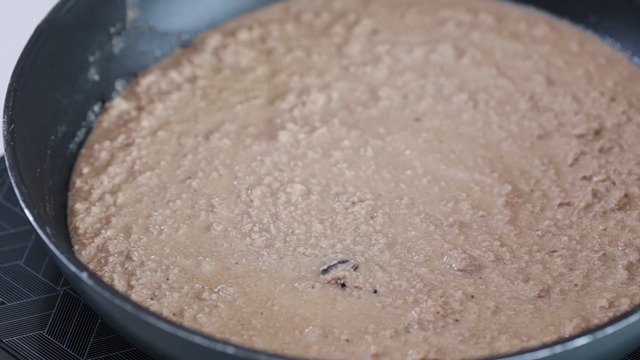 Tips To Make The Best Mang Tomas Lechon Sauce Hack 
1 Use liver spread.
It's okay to use the canned stuff, especially if you're queasy about handling fresh liver. You'll need to thin down the ready-made liver spread with water and simmer to keep it homogenized. You can adjust the seasoning of the sauce by adding sugar since liver spread is not sweet like the sauce.
2 Add sautéed onions and garlic.
The original ingredients of the sarsa include garlic and onions, and you can add this, too, to this version. Just sauté roughly chopped garlic and onions before adding the ground-up liver to the pan. Then, you can transfer the entire mix to a blender jug to liquify everything into a super smooth sauce.
3 Skip the spice.
Not a fan of star anise? You can skip it! It's a delicious flavor addition to the sauce but it can be removed if you do not like the taste and aroma it gives to the sauce.
4 Cook it first.
While we used the blender twice in this recipe, we also think you can skip grinding up the liver while it's raw. However, this means cooking the liver as chunks. This also means you can develop delicious flavor even before you make the sauce! Browning the liver in some oil, and sautéing it together with garlic and onions can make an even more flavorful sauce than the original.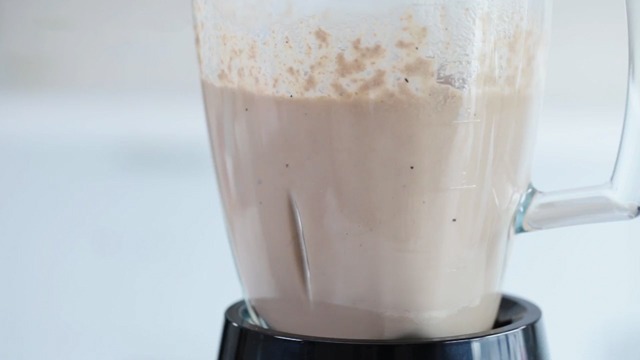 Mang Tomas Lechon Sauce Storage Tips
1 Keep it refrigerated. 
Just like most homemade sauces, this is best stored in the refrigerator so it can keep longer. This doesn't have any preservatives unlike the commercial version so keep it chilled while you're not pouring it over your favorite fried food. 
2 Lechon sauce can be frozen. 
This is made with liver and all of the ingredients can be frozen. So, if you're planning on keeping this sauce in stock for longer than a few weeks, freeze it in a container (not a glass one) that is freezer friendly. 
Watch: How to Make Mang Tomas Lechon Sauce Recipe Hack Video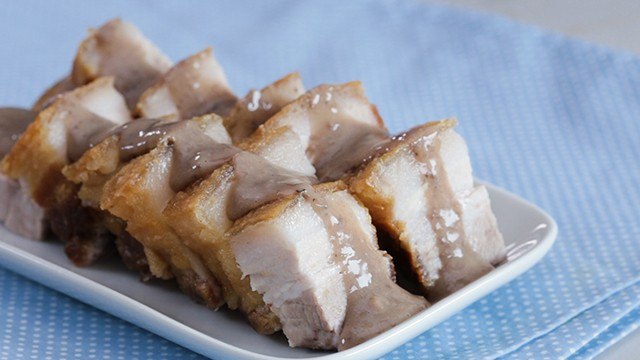 Mang Tomas Lechon Sauce Recipe Hack
You can DIY this popular liver sauce made for crispy pork.
Ingredients
1/4

kilogram

pork liver

1 1/2

cups

water

divided, more as needed

1/4

cup

brown sugar

1

teaspoon

ground black pepper

1/2

teaspoon

salt

or to taste

1

star anise

1/4

cup

vinegar

1/2

cup

breadcrumbs
Instructions
In the jug of a blender, place liver and 1 cup water and process until finely pureed.

Heat deep frying pan over medium heat. Add liver mixture and cook, stirring, until it comes to a simmer. Add brown sugar, pepper, salt, and star anise. Stir, cooking until the mixture has thickened. Pour in vinegar and bring to a simmer. Stir in breadcrumbs. Add remaining water to thin down the mixture into a sauce or until desired texture is achieved. Mixture will be lumpy. Remove and discard star anise.

Transfer mixture back into the jug of the blender and process until pureed. Transfer to a container, cover, and let cool completely before serving. Store in the refrigerator. Best served the next day.
More Lessons About [Dish]: