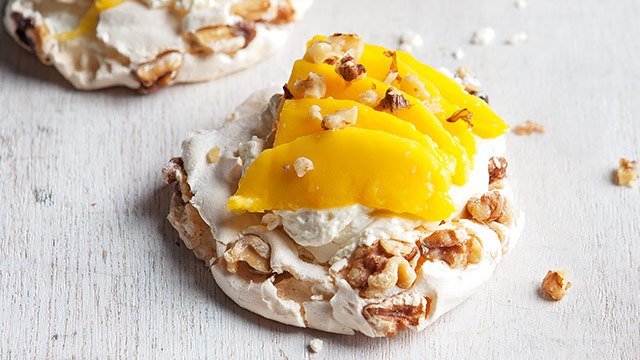 This mango dessert is light and refreshing! The best things about these mini mango tortes? They are so easy to make (even your kids can give it a go!), and can be kept in the freezer for up to a month. Enjoy your summer and keep cool with this treat.
Mango Cream Torte Recipe
Love mangoes? Make this easy dessert!
Ingredients
Mango Cream Torte Ingredients
confectioner's sugar

to dust

2

large

egg whites

1

teaspoon

cream of tartar

1/2

Cup

sugar

1

teaspoon

lemon extract

1/2

Cup

walnuts

chopped, toasted

1

Cup

All-purpose cream

1/4

Cup

sugar

1

teaspoon

vanilla extract

3

large

mangoes

flesh only, cubed

1/4

Cup

walnuts

chopped, toasted
Instructions
Preheat oven to 210ºF. Line a baking sheet with parchment paper and dust with confectioners' sugar. Set aside.

Make the meringue: In the bowl of an electric mixer fitted with the whisk attachment, beat egg whites and cream of tartar on medium speed until foamy. Slowly add sugar. Increase speed to medium-high. Beat until mixture is glossy and stiff peaks form. Fold in lemon extract and walnuts; mix well.

Using a spoon or a spatula, scoop out meringue onto the prepared baking sheet, making 4-inch circles.

Bake for 45 minutes or until the tops of the meringue pieces are hard. Let cool on the pan for 5 minutes, dust with confectioners' sugar, and place in an airtight container at room temperature.

 

Make the topping: Whip cream slightly, add sugar and vanilla, and whip for another 1 to 2 minutes.

Place 1 to 2 tablespoons whipped cream on the center of each meringue piece. Top with mangoes and walnuts. Serve immediately. If storing, wrap each torte in foil then in plastic wrap, and freeze until ready to serve.