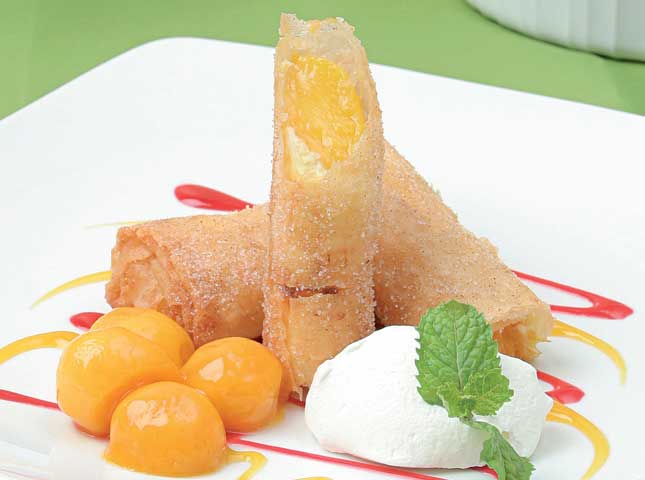 Here's a new take on our favorite fried snack! The sweetness of mangoes goes well with the tart cream cheese. Get a box of good-quality cream cheese when you plan to make this.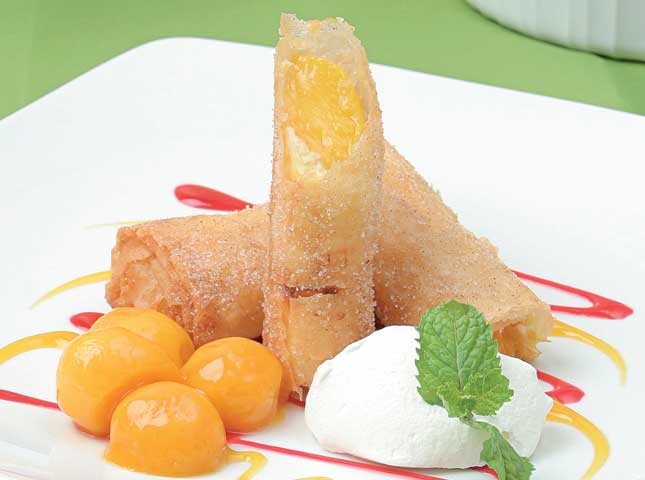 Mango Spring Roll
A new take on our favorite fried snack! Filled with the sweetness of mangoes and tart cream cheese.
Ingredients
Mango Spring Roll
Oil

for deep-frying

1

box

cream cheese

10

sheets

lumpia wrapper

5

mango

sliced 1-inch-thick lengthwise

5

mango

cubed

2

tablespoons

mint leaves

chopped

1/2

teaspoon

confectioners sugar

1/2

Cup

Refined Sugar

1

teaspoon

cinnamon powder

1

tablespoon

all-purpose flour

2

tablespoons

water
Instructions
Heat oil to 350°F for deep-frying the spring rolls.

Make the minted mango salad: In a bowl, mix together mangoes, mint leaves, and confectioner's sugar. Set aside.

In another bowl, mix the sugar and cinnamon powder for dusting. Set aside.

Prepare the paste by mixing together the flour and water. Set aside.

Pipe cream cheese on the lumpia wrapper, approximately 5 inches lengthwise. Put a slice of mango on top and spread paste at the edge of the wrapper. Fold both ends and roll gently.

Deep-fry the spring rolls until golden brown in color.

Drain on a cheesecloth or paper napkins, and keep warm. Cover with cloth if not yet ready to serve. Before serving, dust with cinnamon sugar.