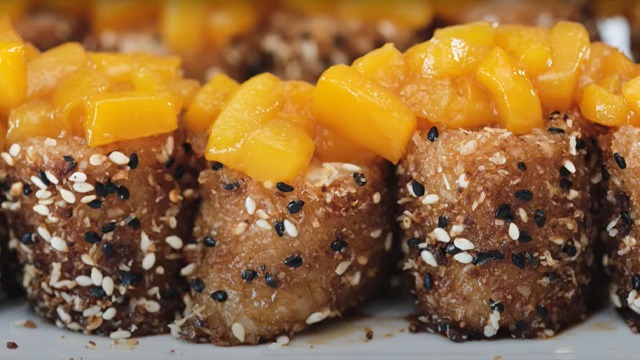 Suman is a hearty merienda that many of us love to eat. It can be served with any number of sweet sides but one of our favorites is definitely when it's served with sweet Philippine mangoes.
When you are having a party, however, you may want to serve your humble suman in an elegant but delicious way.
What Is Mango Suman Sushi 
"Sushi" is an umbrella term that encompasses the dish as well as the different ways of preparation for this kind of dish. That's why you can find different kinds of sushi that can be prepared at your favorite Japanese restaurant.
For this recipe, however, it's loosely called "sushi" because of its looks. It looks like sushi because it's a bite-sized rice roll. It's even coated with a sesame seed mixture similar to some sushi and topped with a delectable sweet topping of diced mangoes flambéed in a Chinese wine.
How To Serve Mango Suman Sushi 
These are made to be served! Just like most sushi, these are prepared to be served immediately, and they look ready to be paraded around on serving plates at an elegant fusion-themed party. You'll want to provide everyone with chopsticks or forks so each can grab a piece with the mangoes teetering on top. Then it's a generous and hearty bite!
How To Make Mango Suman Sushi 
There's no need to make suman from scratch when there are so many you can buy, but if you're feeling extra energetic, you definitely can. Just make sure that the homemade suman you make are slim enough to be bite-sized when cut into pieces.
These suman are rolled in a mixture of toasted sesame seeds and sugar. We added a tablespoon of black sesame seeds to the white to give the sushi an elegant look but you can use all white sesame seeds if that is what you have. We also used muscovado sugar but brown sugar can work just as well.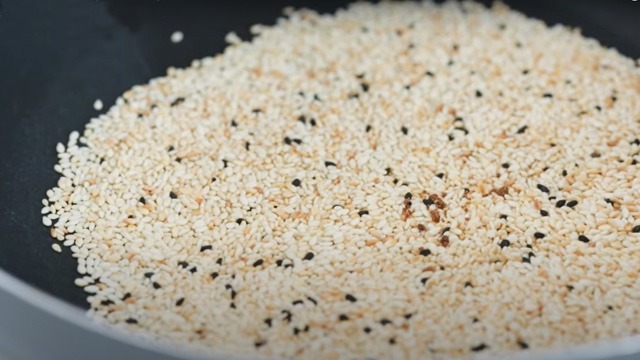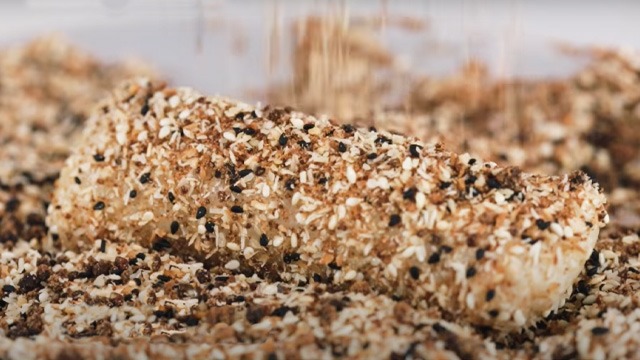 The suman is then cut into bite-sized pieces and topped with a mixture of diced and caramelized mangoes.
ADVERTISEMENT - CONTINUE READING BELOW
Recommended Videos
Tips To Make Mango Suman Sushi 
1 No need to flambé!
Are you afraid to flambé? That's okay! There's no need to flambé the mangoes especially if you're not going to add Chinese wine or rum. You can caramelize the sugar, add the mangoes, and stop there. The topping will still be extra delicious.
2 Roll the mango in the rice.
If you're making homemade suman, why not make a rolled version of this? Instead of dicing all the mangoes, cut a few into slices so you can roll the mango inside the suman before you form it into logs. Then slice and prepare as normal. You get an extra burst of mango flavor with every bite, too!
How To Store Mango Suman Sushi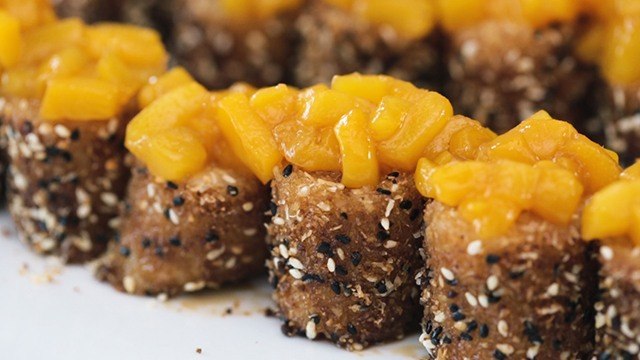 Storing suman is tricky since rice easily spoils. These are best assembled on the day these will be served. The best way to store these is in separate containers: the naked suman, the sesame mix, and the flambéed mangoes.
Mango Suman Sushi Recipe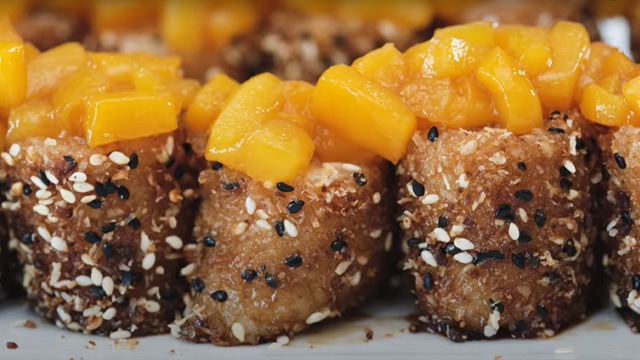 Mango Suman Sushi Recipe
This is the leveled-up mango + suman dessert you want to serve at parties.
Ingredients
Mango Suman Sushi Ingredients
1

Cup

sesame seeds

black and white

80

Grams

muscovado sugar

4

pieces

suman sa Ibus or suman malagkit

2

pieces

mangoes

diced small

50

Grams

white sugar

10

ml

chinese wine

shoktong or rum
Instructions
Roast sesame seeds for 2 to 3 minutes. Take off from heat and let cool. Add muscovado sugar and mix well. Set aside.

Coat sides of suman with sesame seed-and-sugar mixture. Cut suman into sushi size. 

Caramelize white sugar and water. Add mangoes and flambé with shoktong. Season with salt.

Top suman sushi with flambéed mangoes.