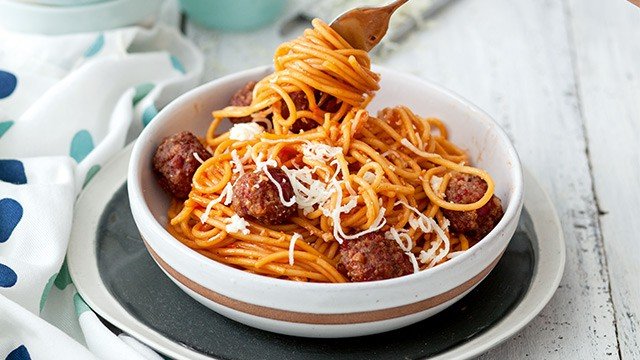 Kids will love this meatball spaghetti dish: chunky kiddie-sized meatballs with sweet and savory spaghetti!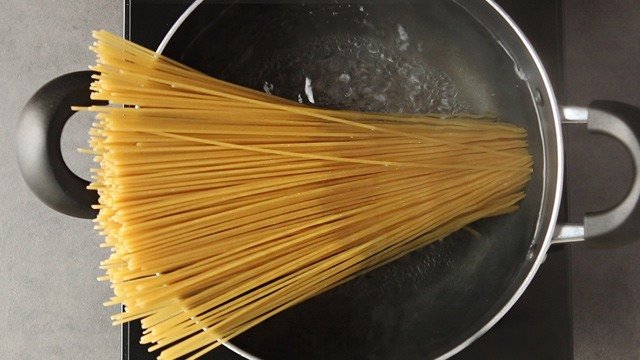 WATCH: Top Tips for Cooking Pasta
Posted in:
Cooking
There's an old American campfire song that goes, "On top of spaghetti, all covered with cheese… I lost my poor meatball when somebody sneezed." It's not the most appetizing visual; it's all fun and games until somebody sneezes on your spaghetti, especially now.
However, there really is something quite inviting about a good plate of spaghetti and meatballs. Instead of the usual meaty spaghetti sauce, this recipe takes it up a notch by pairing up chunky, savory bites of meatballs with the sweet, herby spaghetti sauce we all love. 
The best part about this easy spaghetti recipe is that the different components can be prepared ahead. The meatballs can be made, for example, over the weekend; you can form and freeze them ahead of time. These just need to thaw before pan-frying for lunch or dinner. They could also be pan-fried ahead of time and frozen or refrigerated cooked instead of raw. Just reheat the meatballs before adding them on top of the spaghetti. 
Not a fan of meatballs? You could also just brown the ground pork and hotdogs instead of forming them into balls (No need to add the egg and breadcrumbs either.), and then stir in the sauce to make it more like spaghetti Bolognese.
The spaghetti sauce can be made ahead, too! It can keep in the refrigerator for up to 3 days and in the freezer for up to 1 week. The key is to let it cool completely before storing. To extend its shelf life, you could also omit the milk in the recipe and add it only when you reheat the sauce in a pot. Just bring it to a simmer. This will let you keep the sauce in the refrigerator for up to 5 days and in the freezer for up to 2 weeks.
The spaghetti sauce recipe below calls for milk to enrich the sauce, but depending on your preference, it can be omitted if you want a stronger tomato flavor or substituted with all-purpose or heavy cream for a creamier sauce.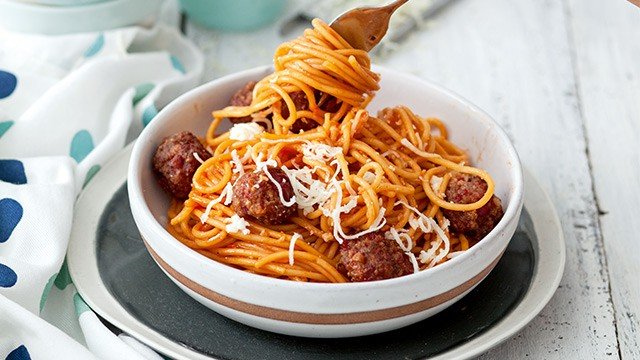 Meatballs Spaghetti Recipe
Make your pasta dish extra hefty with this spaghetti and meatballs recipe.
Ingredients
Meatballs Spaghetti Ingredients
1/4

kilo

pork

(use ground pork)

2

hotdogs

finely chopped

1/4

Cup

breadcrumbs

1

large

Egg

beaten

1

Pack

spaghetti

around 200 grams

1

Small

red onion

finely chopped

2

cloves

Garlic

finely chopped

1

Pack

Tomato sauce

(use Filipino-style sauce, around 250 grams)

1

tablespoon

sugar

or to taste

1

tablespoon

fresh milk

Cheese

grated (optional)

Salt

to taste

ground black pepper

to taste

Oil

for frying
Instructions
In a large bowl, dump pork, hotdogs, breadcrumbs, egg, and salt and ground black pepper. Cook a small portion to test for seasoning, and adjust accordingly. Form into 1/2-inch balls. Set aside.

Meanwhile, bring a pot of salted water to a boil. Cook spaghetti according to package directions. Drain, and keep warm.

Heat a deep sauté pan over medium heat with enough oil for pan frying. Pan fry meatballs, covered, in batches until each meatball has browned on all sides. Transfer to a plate, and set aside.

In the same pan, drain any excess oil. Cook onion, then garlic until softened and translucent. Stir in tomato sauce, sugar, and milk. Bring to a boil, then simmer. Season to taste with sugar, salt, and ground pepper.

To serve, toss spaghetti with sauce. Divide spaghetti among 4 plates. Top with mini meatballs. Sprinkle with cheese, if desired. Recipe originally published in the October 2016 issue of Good Housekeeping.