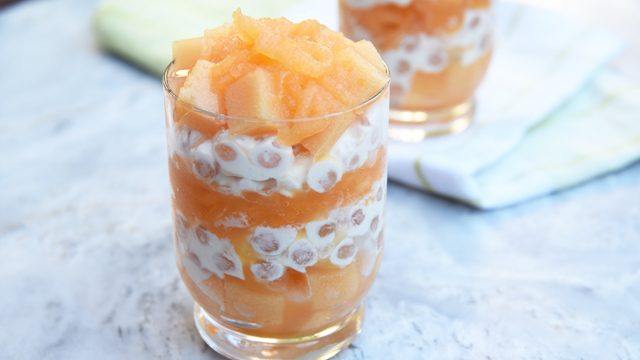 This quick melon gelatin with sago cooler is the perfect summer treat: Remember to get the sweetest melons you can get your hands on—they make all the difference. This quick dessert is a mix of a homemade melon gelatin, soft sago or tapioca pearls, a sweet cream, and shaved fresh melon. Get your sago already precooked at your local market, to make this dessert easier to out together. Dig in!
Melon Gelatin with Sago Recipe
Refreshing melon and a creamy sago pair up to make this cool dessert.
Ingredients
Melon Gelatin with Sago Ingredients
1

medium

melon

ripe (about 3 cups melon shreds)

3

tablespoons

water

cold

1

7-gram packet (3 teaspoons)

unflavored gelatin

2

teaspoons

sugar

1

Cup

sago

cooked

1/3

Cup

heavy whipping cream

cold

1

tablespoon

condensed milk
Instructions
Slice the melon in half. With one half of the melon, scoop out all the meat (approximately 1 1/2 cups) and place in a high-powered blender. Blend until you get a smooth melon juice (approximately 1 cup of juice). Set aside.  

With the second half of the melon, use a melon scraper to scrape out strips of melon meat. Set aside.

In a small bowl, combine the water and the gelatin, and set aside to bloom for 3 minutes. Transfer into a small saucepan, and gently heat, stirring, over the stove until the gelatin melts. Add the melon juice and sugar into the saucepan, and mix until combined and the sugar has dissolved. Pour into a rectangular dish to form a layer of gelatin at least 1/2-inch high, and let set in the refrigerator for at least 2 hours. 

In a small bowl, whip the heavy cream until soft peaks form. Gently fold in the condensed milk, then fold in the sago. Set aside.

When the melon gelatin is set, run a knife through the gelatin in a criss-cross pattern to make 1/2-inch cubes. To make the layers: In a small drinking glass or tall serving dish, start with a layer of 2 tablespoons of melon gelatin, followed by 2 tablespoons of sago, followed by 2 tablespoons of melon strips. Repeat with a second layer and with the remaining glasses. Serve cold.