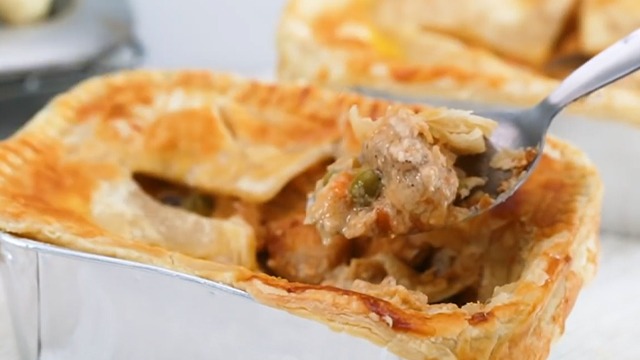 What Is Chicken Pastel?
Chicken pastel is a creamy chicken stew chockful of hearty boneless chicken cubes, mushrooms, carrots, and peas. One would think that the creamy sauce is made from all-purpose cream but for this recipe, evaporated milk is used so it's not just creamy, it's milky in taste, too. The sauce is further bolstered flavorfully with condensed cream of mushroom soup, transforming the mixture into thickened consistency territory without using flour.
One can totally end at this point if this were an everyday dish, but it's actually not. A chicken pastel is a fiesta-worthy dish and as such, it's more elaborately made. The traditional chicken pastel was covered with a crust which was baked until golden brown on the edges and toasted. The buttery crust hid the creamy chicken stew underneath, so it's always subtle surprise whenever one first breaks into the dish. You get a creamy and flavorful chicken stew with shards of buttery crust.
It's very similar to a chicken pot pie but the difference being the flavors of the stew under the crust.
How to Serve Chicken Pastel Pot Pie
The chicken pastel is good as is served straight from the oven, baked with the crust on. You'll need to cut through the crust to spoon out the sew underneath. However, these are individually made in mini foil pans, and these can be served one per person.
Since these are in foil pans, these would also make great food to bring to a picnic or a gathering outdoors, especially when the sun is out. Just keep these warm and serve as soon as possible; these still contain milk and can spoil if left out for too long.
How To Cook Chicken Pastel Pot Pie
The chicken pastel pot pie is a stew, and starts off as one.
The great thing about this recipe is that it's okay if you're not familiar with making crusts; you won't have to make it. Puff pastry is more commonly found in supermarkets in the frozen food section. Just get yourself a package and keep it in the freezer until needed. You'll need to thaw these out and depending on the season, it can take as few as 10 minutes to thaw these out, especially during the dry season aka summer.
Once the chicken stew is in the mini pans, you can preheat the oven and start preparing the crusts. You'll need a rolling pin, a knife, and the kitchen countertop to roll out the puff pastry. You'll need to move quickly so the butter in the puff pastry doesn't melt as you work. Not to worry though. These are easily rolled out since the sheets are already pre-flattened. You just need to cut them to size and create slits in each so steam can escape as the stew simmers in the oven and the crust bakes.
ADVERTISEMENT - CONTINUE READING BELOW
Recommended Videos
To help the crusts become appetizingly appealing, the crusts are brushed with an egg wash to encourage them to turn golden brown. These pies are ready once the crusts are done, too.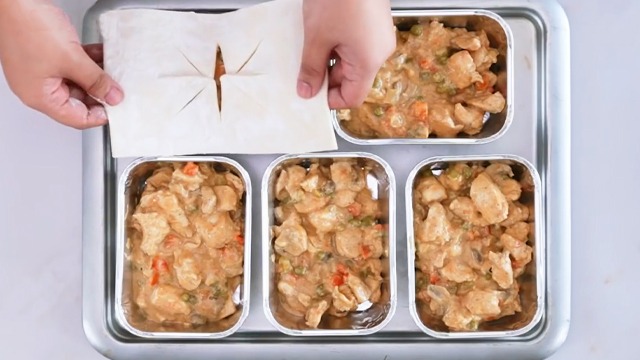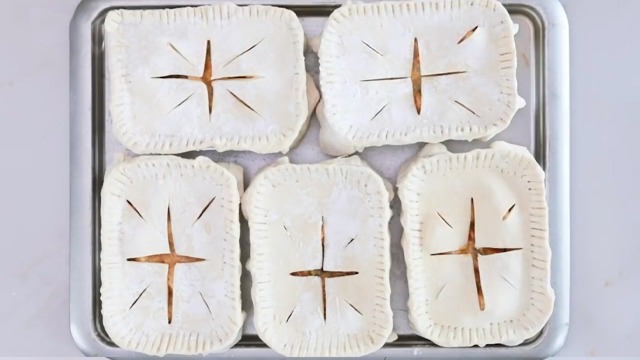 Tips To Make The Best Chicken Pastel Pot Pie
1 Make pie crust from scratch.
Puff pastry may be easy to use but a basic pie crust is actually easy to make from scratch. You just need butter, flour, a little salt, and some cold water to make it. All are basic ingredients.
2 Add other vegetables.
This chicken pastel has mushrooms, carrots, and peas but don't let this stop you from adding other vegetables to this dish. You can swap out the carrots and peas with potatoes, sayote, kamote, garbanzos or chickpeas, and other beans.
3 Swap chicken for seafood.
There is an abundance of seafood at your disposal, and this stew can benefit from being made into a seafood version. Use squid rings, cubed fish fillets, and even peeled shrimp, and scallops as a substitute for the chicken. It will be just as chunky and will be even more flavorful with its taste of the sea than neutral chicken.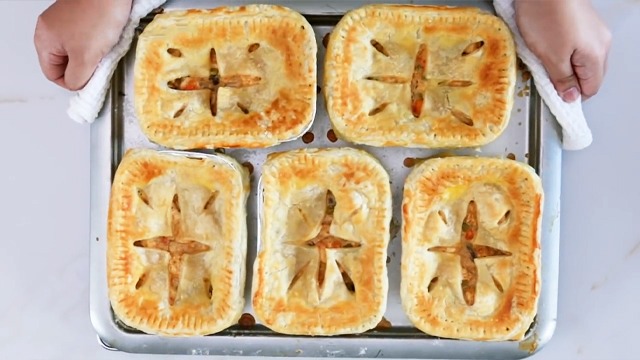 Chicken Pastel Pot Pie Storage Tips
Chicken pastel pot pies can be refrigerated and even frozen.
Any leftovers can be stored in the refrigerator, covered with foil. These pies can even be frozen, also covered with foil. Just reheat in the oven when ready to serve.
If you're planning on making these ahead of time, you can prepare these in advance up to the making of the stew. Transfer the stew into the pans already, top with the puff pastry crusts, cover with plastic wrap and foil, then freeze.
When ready to serve, these can be thawed in the oven, covered with foil, until thawed. Once the stew is thawed, remove the foil so the puff pastry can brown. You can place the foil back on just in case the puff pastry is browning too quickly before the stew is heated through.
Watch: How to Make Chicken Pastel Pot Pie Recipe Video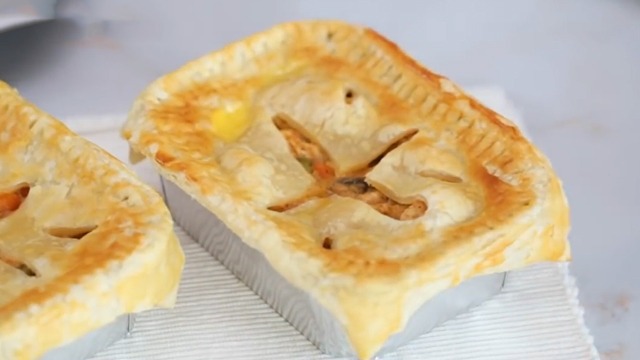 Mini Chicken Pastel Pot Pies Recipe
These small pot pies make perfect servings for small gatherings.
Ingredients
2 1/2

sheets

puff pastry

thawed

1/4

cup

flour

for dusting

1

medium

egg

2

tablespoons

fresh milk

2

tablespoons

unsalted butter

1

tablespoon

oil

1

garlic sausage

chopped

1

cup

white onion

peeled, chopped

1

stalk celery

chopped

3

cloves

garlic

peeled, chopped

1

cup

button mushrooms

sliced

4

chicken breast fillets

skins removed, cubed

1

tablespoon

tomato paste

1/2

cup

evaporated milk

1

298-gram

can condensed cream of mushroom soup

salt

to taste

ground black pepper

to taste

1

411-gram

can peas and carrots

drained
Instructions
For the chicken pastel: In a large sauté pan over medium heat, melt butter then heat oil. Once hot, sauté sausages until pieces start to brown. Remove with a slotted spoon and set aside. Sauté onion, then celery, and then garlic until softened. Add mushrooms and sauté. Lightly season mixture with salt and ground pepper.

Add chicken cubes and sauté until cooked. Push mixture to the side and add tomato paste. Sauté until oil colors. Stir pan contents together. Pour in evaporated milk then dump in condensed soup, stirring until soup melts into the mixture. Stir in peas and carrots, and then simmer until heated through. Taste and season. Remove from heat and ladle contents into five 5"x4"x2" mini foil loaf pans on a baking sheet. Set aside.

Preheat oven to 375 degrees F or 190 degrees C.

For the crust: Whisk together egg and milk for the egg wash. Set aside.

Generously sprinkle a clean surface with flour. Roll out puff pastry dough until it's roughly the size of two pies. Cut pastry sheets a little bigger than needed to cover the top of the pie. Score steam holes with a fork or a sharp knife. (This will allow steam to escape as it bakes.)

Cover each foil pan with a scored crust and press the tines of a fork to seal. Brush crusts with egg wash. Place in the preheated oven and bake for 20 to 30 minutes or until top is golden brown.
Notes
Don't throw away the pastry crust cuttings! You can brush them all with egg wash and bake them until golden brown. You can then dip these crusts into chocolate or jam as a snack. 
Making chicken pastel into adorable little pies isn't just for cutesy's sake. It also makes everyone feel a little special with their own little pie made just for them. So, if you're looking for ideas for an awesome dinner that will surely leave everyone smiling, go for this one!
Try These Other Yummy Recipes:
More Lessons About Chicken Pastel Pot Pie: