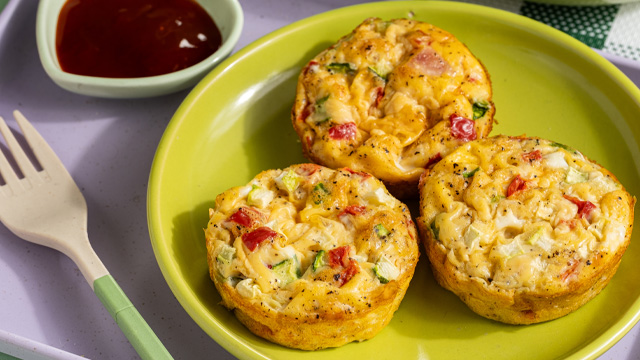 If your mornings are always rushed, then this quick dish is perfect for you. Prep the veggies and cheese in the evening then just mix and bake in the morning. Don't have time to eat? Take them along on your morning commute.
What Is Mini Fiesta Frittata?
The frittata is an egg dish that is similar to an omelet that is loaded with ingredients. It serves more than just one and looks like a pie or a cake but it's savory!
This mini fiesta frittata however is a mini version of a much bigger frying pan-sized frittata that makes it easy to pack into baunans for lunch. 
How to Serve Mini Fiesta Frittata
This frittata is easy and tasty to eat on its own but there are other ways to enjoy this dish:
Pair it with rice: What is more Pinoy — or Asian for that matter —  than serving this with steamed rice? 
Make the full-sized version and slice it into wedges: You do not have to bake this in the oven. In fact, if you want the full-sized version, you can do it on the stove. Just lower the heat to low and cover with a lid until the center is set. 
How To Cook Mini Fiesta Frittatas
The frittata is actually quite easy to make. The hardest part is prepping the mix-ins! You can easily do this by using your mini chopper or food processor to roughly chop your vegetables. It's going to be all mixed in the frittata so their sizes and shapes aren't that important. 
Then it's just a matter of whisking the eggs and mixing it all in. Transfer to a the well oiled cupcake baking pans and bake! 
Tips To Make Easy Mini Fiesta Frittatas
1 Use cupcake liners. 
The cupcake liners are a no-mess hack that is hard to ignore.  However, since these do contain eggs and will deflate like a souffle or a chiffon cake, these will stick to the liners and shrink. That's okay! Just peel off the liner when eating it. No worries! 
2 Liberally oil the baking pan. 
However, if you do use the baking pan without any liners, liberally oil the cups even if your cupcake pan is nonstick. These will stick to the pan despite the nonstick quality of your pan (blame the cheese) but the good news is that if you loosen them as soon as the frittatas exit the oven, these will easily release from the baking pan. 
Mini Fiestas Frittatas Storage Tips
Go ahead and refrigerate and freeze these frittatas. 
These make an excellent baon recipe idea because they not only refrigerate well but also freeze well. Just remember to wrap them in plastic wrap so that the frittatas do not absorb any odd flavors while stored. 
Watch: How to Make Mini Fiesta Frittatas Recipe Video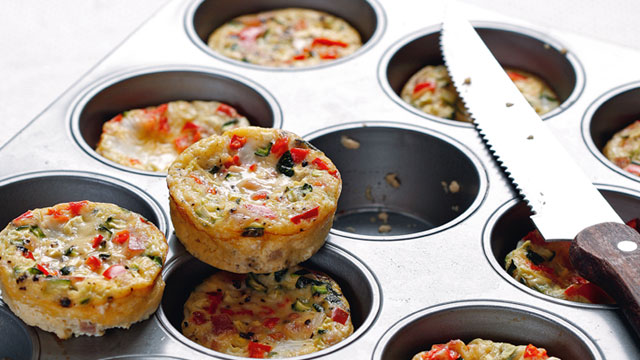 Mini Fiesta Frittatas
If your mornings are always rushed, then this is perfect. Prep this in the evening, mix and bake in the morning.
Ingredients
Mini Fiesta Frittatas
8

large

Egg

1/2

Cup

evaporated milk

1

teaspoon

Salt

1

teaspoon

black pepper

1/3

Cup

ham

diced

1/3

Cup

Cheese

grated

1/2

Cup

zucchini

diced

1/4

Cup

red bell pepper

diced

Oil

for frying
Instructions
In a large bowl, whisk together eggs, milk, salt, and pepper. Stir in ham, cheese, zucchini, and red bell pepper.

Grease a 12-cup regular muffin pan with oil. Using a ladle, fill muffin cups with egg mixture until three-fourths full.

Bake in a preheated 375ºF oven until mixture puffs and sets in the center, about 10 to 12 minutes. Using a rubber spatula, loosen frittatas from the muffin cups and transfer to a platter.
Try These Other Yummy Recipes:
ADVERTISEMENT - CONTINUE READING BELOW
Recommended Videos