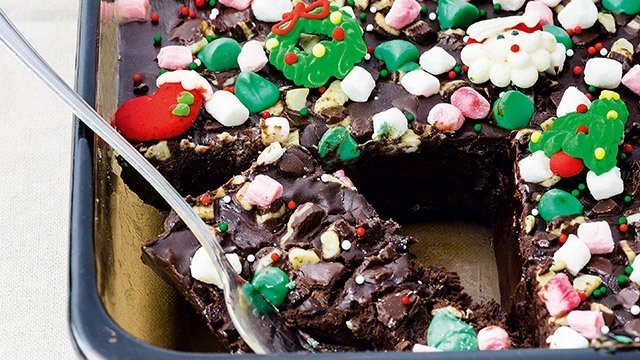 This easy dessert recipe can double as a food gift. It's best to use dark chocolate because it balances out the sweetness of the marshmallows. You can slice this treat into squares or long bars, then stack them up in a mason jar or individually wrap them in parchment paper. You can store it for up to one month in the fridge and, best of all, it only takes five minutes to make.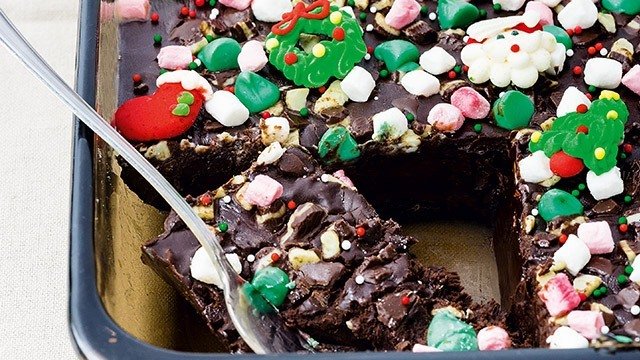 Mint Chocolate Fudge Recipe
This mint-and-chocolate combo will get you feeling a holiday mood.
Ingredients
Mint Chocolate Fudge Ingredients
3

cups

large marshmallows

use white marshmallows

3/4

Cup

heavy cream

1/4

Cup

unsalted butter

1/2

Cup

sugar

1

teaspoon

Salt

2 1/2

cups

dark chocolate

or semin-sweet chocolate, cut into small pieces (use good quality chocolate)

2

teaspoons

vanilla extract

1/2

Cup

mint chocolate

cut into pieces (we used Andes Chocolate)

1/2

Cup

mint chocolate chips

candy sprinkles

to top (optional), you can also use royal icing, Christmas toppers, mini marshmallows, and chopped candy canes
Instructions
Lightly grease a 7x11-inch baking pan. Line with aluminum foil then grease again.

Place marshmallows, cream, butter, sugar, and salt in a nonstick saucepan over medium-high heat. Stir with a spatula until mixture is well combined and has melted, about 5 minutes.

Place dark or semisweet chocolate in a heatproof bowl. Pour marshmallow mixture over chocolate, add vanilla, and mix until well combined.

Pour mixture into prepared baking pan. Sprinkle mint chocolate and mint chocolate chips on top, making sure to press them onto the fudge.

Refrigerate for at least 3 hours before slicing. Top with sprinkles, toppers, mini marshmallows, and candy canes, if desired.