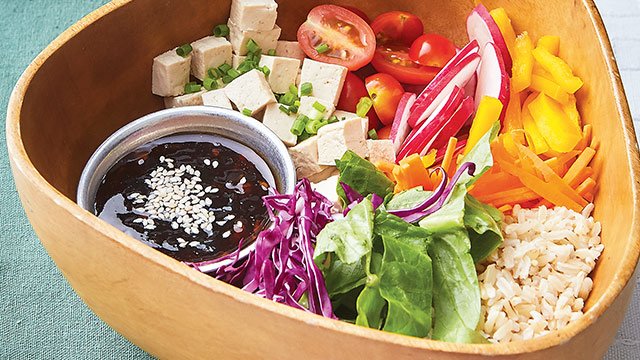 Packing healthy meals takes some planning, but once you learn the basics, it's a cinch to do. Here's a simple tip to keep in mind when preparing good-for-you baon: It should be composed of 50 percent vegetables, 25 percent whole grains (like brown rice), and 25 percent healthy protein (like beans and tofu).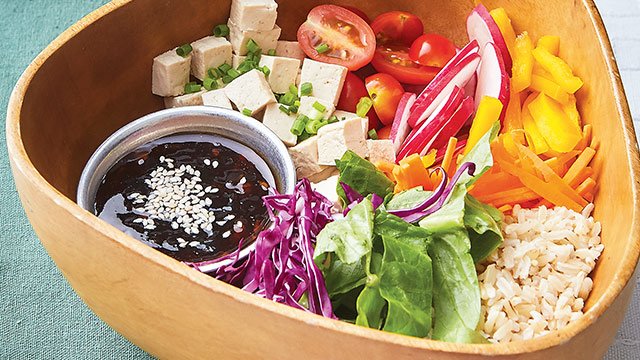 Mixed Vegetable Bowl Recipe
This Buddha bowl is made up of lots of veggies and healthy grains and proteins.
Ingredients
Mixed Vegetable Bowl Ingredients
1 1/2

cups

brown rice

uncooked, or other grains like quinoa, millet, and adlai, rinsed and drained

3

300-gram blocks

firm tofu

sliced into 1/2-inch cubes

7 1/2 to 10

cups

vegetables

like lettuce, purple cabbage, carrots, bell peppers, baby radishes, cherry tomatoes, and cucumbers

green onions

chopped, to garnish

1/2

Cup

muscovado sugar

1/2

Cup

water

1/4

Cup

mirin

1/4

Cup

cane vinegar

or apple cider vinegar

6

tablespoons

Soy Sauce

4

teaspoons

ginger

minced

4

teaspoon

cornstarch

4

cloves

Garlic

minced
Instructions
Cook rice according to package directions. Cool to room temperature.

Bring 2 liters of water to a boil over high heat. Add tofu and blanch for 5 minutes. Rinse, drain, and cool to room temperature.

Make the sauce: Whisk all ingredients in a small saucepan over medium heat. Cook until thick and sauce coats the back of a spoon. Cool to room temperature. Portion sauce into 5 (¼- to ¹?³-cup) servings in small individual containers then store in the refrigerator.

Wash and chop all vegetables.

Assemble the Buddha Bowl in 5 separate containers: Place ¾ cup rice and ½ heaping cup tofu on the bottom of each container. Top with 1½ to 2 cups vegetables on one side. (Place dry vegetables like lettuce and carrots on top of wet vegetables like tomatoes and cucumbers.) Garnish with green onions and sesame seeds, if desired.

Place a container of sauce in each pack. Store in the refrigerator.

Before eating, drizzle sauce over ingredients and toss all components to combine.